Louise BOURGEOIS

1911, France/USA
Also known as: LB
Lived & Active In
New York, USA
Louise Bourgeois began her career as a painter and engraver, turning to sculpture in the late 1940s. Born in Paris, she studied art at various schools there, including the École du Louvre, Académie des Beaux-Arts, Académie Julian, and Atelier Fernand Léger. In 1938 she emigrated to the United States and continued her studies at the Art Students League in New York. During the latter 1940s she produced prints at Atelier 17 in New York where she became friendly with the artists Le Corbusier, Joan Miró, and Yves Tanguy. Since about 1947–49, when she produced her first sculptural works, her imagery has been influenced by Surrealism, a movement that attracted her attention when a great number of European artists came to the New York area during World War II. In 1949 Peridot Gallery in New York exhibited these works for the first time. Her sculptures of the 1940s were composed groupings of elongated, carved wood totems, abstract in shape and painted in a uniform color. In the 1960s her work, which retained its Surrealist undertones, expanded in size and was executed in bronze, carved stone, and rubber latex. Bourgeois\'s highly idiosyncratic style relies on an intensely personal vocabulary of anthropomorphic forms charged with sexual allusions.
Louise Bourgeois hade sin debututställning med teckningar och målningar på Bertha Schaefer Gallery i New York 1945, men förblev länge relativt okänd i konstvärlden. Från att i första hand koncentrerat sig på måleri blev hon under 1960-talet en efter hand allt mer inflytelserik skulptör. Dock hade hon även under det tidiga 1950-talet utfört träkonstruktioner målade i svart och vitt. År 1982 hade hon sitt stora genombrott med en separatutställning på Museum of Modern Art i New York och 1993 var hon USA:s representant på Venedigbiennalen. Hennes mest omtalade konstverk, jättespindeln Maman från 1999, fick en hedersplats som dragplåster vid invigningen av Tate Modern i London 2000. Sedan 1960-talet har Bourgeois lämnat träkonstruktionerna till förmån för modellering av gipsformar vilkas syfte är att gjuta skulpturerna i brons.
I en intervju med Kristina Redz i New York 1998 berättar Louise Bourgeois:
\"Min intuition är alltid sprungen ur en och samma källa, det vill säga jag återvänder till samma tema som tidigare och försöker fördjupa mig i det problem jag arbetar med. Man måste framför allt lita på sina instinkter. Jag arbetar på många skulpturer samtidigt. Om jag är osäker i en pågående arbetsprocess, övergår jag till en annan skuptur eller börjar en ny. Jag arbetar i en spiralrörelse - jag gillar spiralen - det är ett långsamt och mödosamt klättrande och bearbetande av tanken och idén. Spiralformen påminner mig också om min barndom, när vi efter tvättning av gobelänger vred dem och sedan lade dem på tork. I mina drömmar försökte jag bli av med min fars älskarinna genom att vrida halsen av henne. Spiralen symboliserar kontroll över kaos, men också bräcklighet och rädsla. Rädslan får världen att snurra\".
\"Mina arbeten har alltid varit registreringar av mina känslor. Det är inte ett koncept jag är ute efter, utan en känsla som jag vill behålla eller göra mig av med. Alla mina skulpturer förmedlar sårbarhet och ömtålighet. Sexualitet är ett tema som är sammanbundet med dessa två levnadstillstånd.\"
Source: Stockholms Auktionsverk, Stockholm Sweden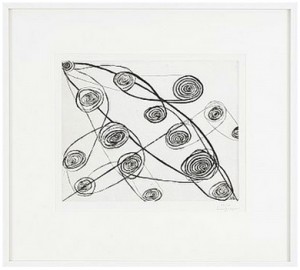 Untitled (safety Pins)
(1991)
Price SEK 21,000 (€2,382)
Estimated SEK 10,000–12,000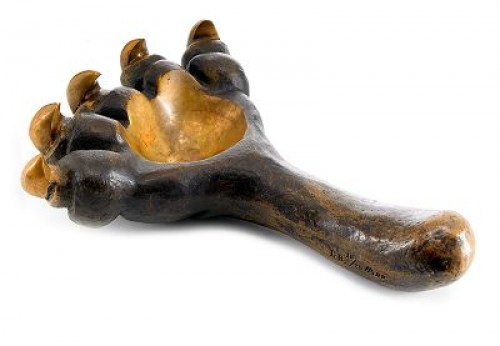 Price SEK 130,000 (€1,028)
Estimated SEK 150,000–200,000