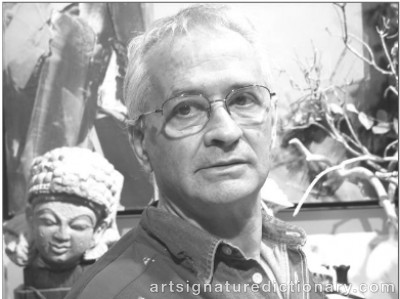 Luis FEITO LOPEZ

1929, Spain
Luis Feito biography:

The painter, graphic artist and sculptor Luis Feito López counts among the most important artist of gestural abstraction in Spain.
Luis Feito López was born in Madrid in 1929. From 1950 to 1954 he studied at the Real Academia de Bellas Artes de S. Fernando. In 1956 Luis Feito went to Paris on a scholarship issued by both the Spanish and French state. In Paris the young artist soon came in contact with the Spanish avant-garde artists active in France. In 1957 Luis Feito López, Antonio Saura, Manuel Rivera, Rafael Canogar and Manolo Millares were the founding fathers of "El Paso", an artist group of Spanish Informel.
As painter and graphic artist, Luis Feito is mostly occupied with informal, gestural abstraction. At times Luis Feito López also tried out methods of geometrical abstraction. Figuration can only be found in works from the artist's early period of creation.
In early abstract works from the 1950s, monochrome pictures stand next to linear works, at the end of the decade Luis Feito López also integrated materials like sand into his paintings. Dramatic colors, for instance a very strong red as of 1961, characterize works by Luis Feito, which often seem to display universal structures.
Luis Feito López stayed in Paris for a long time. He moved to Montreal in 1981and to New York in 1983. Luis Feito began sculpting at around that time. Bronze, wood and steel count among his preferred materials.
In 1991 Luis Feito López moved back to his hometown Madrid. In the second half of the 1990s Luis Feito was predominantly occupied with geometrical shapes. As of 1999 a new series of paintings was the focal point of his work. Works from this complex are based on strong shades of red contrasted with black, they break up geometric forms.
Works by Luis Feito are in possession of international museums, such as the National Gallery of Canada in Ottawa, the Museo Nacional Centro de Arte Reina Sofía in Madrid or the Ulster Museum in Belfast. Luis Feito lives and works in Madrid and Paris.
Source: http://www.kettererkunst.com
Luis Feito López (Madrid, 31 de octubre de 1929) pintor español de origen madrileño y asturiano, practicante de meditación zen.

1950 - Ingresa en la Real Academia de Bellas Artes de San Fernando de Madrid. Breve periodo figurativo, seguido de experimentación cubista.
1954 - Primera exposición individual con obra de tendencia no figurativa, en la Galería Buchholz, Madrid. Expone en la Galería Santa Fe, Madrid.
A partir de este momento Feito expone regularmente en las ciudades más importantes del mundo, como Madrid, París, Milán, Nueva York, Helsinki, Tokio, Roma, etc.
1956 - Tras completar sus estudios se instala en París, con una beca que le permite estudiar la pintura de vanguardia, lo que no le impide mantener sus contactos con el grupo de pintores que más tarde formarían en grupo El Paso. Recibe influencias del automatismo y la pintura matérica.
1957 - Formación del grupo El Paso, del cual es uno de los fundadores, junto con los también pintores Antonio Saura, Manolo Millares y Rafael Canogar, y los escritores Manuel Conde y José Ayllón. Posteriormente se les unieron los pintores Manuel Rivera, Manuel Viola y el escultor Martín Chirino. Entre los logros de la agrupación sobresale el estudio y la práctica en el arte de vanguardia español del informalismo o del expresionismo abstracto. La pintura de Feito en esta época está influida por el automatismo, con superficies matéricas en colores blancos, negros y ocres, realizadas con mezcla de óleo y arena.
1962 - Introduce el color rojo con contrapunto en sus cuadros.
1963 - Creciente simplificación formal y material, con motivos predominantemente circulares.
1970 - Se impone la plenitud del color.
1975 - Tedencia a la geometrización, que culminará al finalizar la década en su depurada etapa de cuadros blancos.
1981 - Tras París pasa a instalarse en Montreal por un periodo de dos años.
1983 - Se traslada a Nueva York, donde reside y trabaja hasta primeros de los noventa.
1985 - Es nombrado Oficial de las Artes y las Letras de Francia.
1993 - Es nombrado Comendador de la Orden de las Artes y las Letras de Francia.
1998 - Medalla de Oro de Bellas Artes. Es nombrado miembro de la Real Academia de Bellas Artes de San Fernando, Madrid.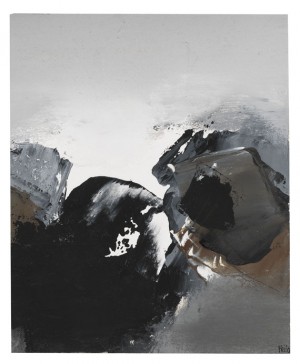 Price EUR 3,000
Estimated EUR 3,000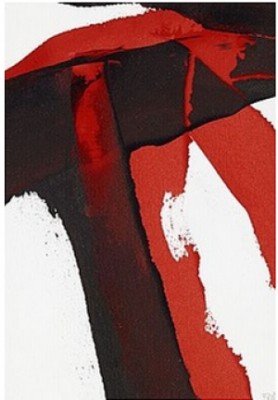 Untitled
Price SEK 12,000 (€1,326)
Estimated SEK 15,000–20,000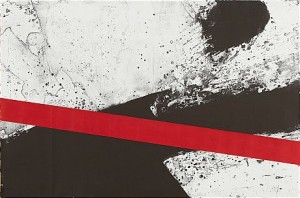 Untitled
Price SEK 1,000 (€115)
Estimated SEK 2,000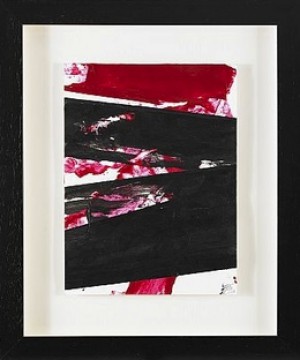 Price SEK 25,000 (€2,810)
Estimated SEK 30,000–40,000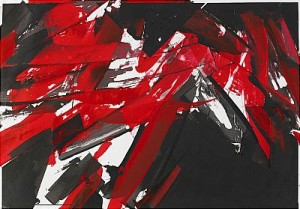 Price SEK 65,000 (€7,060)
Estimated SEK 70,000–80,000