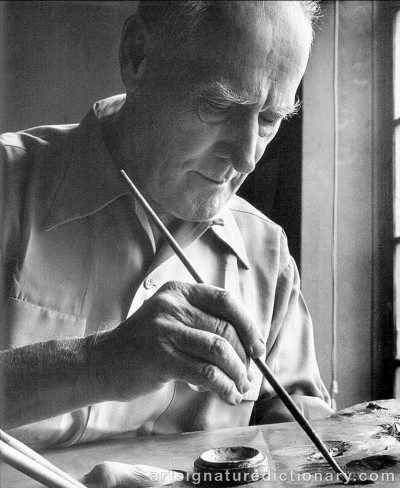 Lyonel FEININGER

1871–1956, USA/Germany
Der deutsch-amerikanische Maler und Grafiker Lyonel Feininger wird am 17.7.1871 in New York geboren. Sein Vater Karl Feininger ist Geiger und Komponist, seine Mutter Elizabeth Cecilia ist Sängerin. 1887 beginnt Lyonel Feininger ein Studium an der Kunstgewerbeschule in Hamburg. 1888 besteht er die Aufnahmeprüfung an der Berliner Kunstakademie. Er arbeitet nebenher als Karikaturenzeichner für die "Humoristischen Blätter" und andere Berliner Zeitungen. 1890-91 ist er Schüler am Jesuiten-Collège in Lüttich. 1891 besucht er das Atelier Schlabitz in Berlin und setzt sein Studium an der Berliner Akademie fort.
Im November 1892 reist Feininger erstmals nach Paris und besucht dort die Académie Colarossi. Im Mai 1893 kehrt er nach Berlin zurück. Ab 1894 zeichnet er für die New Yorker Verleger Harper Brothers. 1895 wird er Mitarbeiter der humoristischen Wochenbeilage "Ulk" des "Berliner Tageblatts", 1897-98 mit fester Anstellung. Des Weiteren zeichnet Lyonel Feininger 1897-98 für die "Lustigen Blätter", 1898 auch für das "Narrenschiff". 1904 werden Feiningers Zeichnungen und Karikaturen auf der Großen Kunstausstellung in Berlin gezeigt. 1906-07 entstehen Bildergeschichten für die Humorbeilage "Comic-Supplement" der "Chicago Tribune" ("The Kin-der-Kids", 6.5.-18.11.1906, und "Wee Willie Winkie's World", 19.8.1906-27.1.1907), die einen ersten Höhepunkt in der Frühgeschichte des Comics darstellen.
1906-08 lebt Lyonel Feininger in Paris, er begegnet Robert Delaunay, dessen Kunst ihn sehr beeindruckt. 1910 nimmt Lyonel Feininger an der 20. Ausstellung der "Berliner Secession" erstmals mit einem Gemälde teil. Ebenso zeigt er im "Salon des Artistes Indépendants" sechs Gemälde. Hier begegnet er dem Kubismus erstmals.
1912 lernt Feininger die Kunst der "Brücke" kennen und schließt Freundschaft mit Erich Heckel und Karl Schmidt-Rottluff. 1913 reist Lyonel Feininger von Weimar aus durch die thüringischen Dörfer. Das erste Gemälde des Ortes Gelmeroda entsteht, dessen Kirche zu Feiningers Lieblingsmotiven gehört und wo erste Zeichnungen bereits 1906 entstehen.
1917 findet Lyonel Feiningers erste Einzelausstellung in der Galerie "Der Sturm" statt. 1919 entsteht für das "Bauhaus-Manifest" der Titelholzschnitt "Kathedrale des Sozialismus". Walter Gropius beruft Feininger als Meister für die grafische Werkstätte. Die ersten Bauhaus-Mappen der "Neuen europäischen Grafik" entstehen 1921-24 unter seiner Leitung. 1926-33 lebt Feininger in Dessau, ist nach der Bauhaus-Umsiedelung zwar noch Meister, aber ohne Lehrverpflichtung. 1926 bildet er mit Paul Klee, Wassily Kandinsky und Alexej von Jawlensky die Ausstellungsgemeinschaft "Blaue Vier". 1929-31 entstehen die Halle-Bilder. 1937 verlässt Lyonel Feininger Deutschland und kehrt in sein Geburtsland zurück. Seine Werke werden in der Ausstellung "Entartete Kunst" gezeigt. 1947 wird Feininger zum Präsident der "Federation of American Painters and Sculptors" gewählt.
Am 13.1.1956 verstirbt Lyonel Feininger in New York.
Source: http://www.lyonel-feininger.de/
Lyonel Feininger was born on July 17, 1871, as the son of a concert violinist and a singer and pianist from Germany. In 1887 Feininger followed his parents to Europe, where he attended the drawing and painting class at the "Gewerbeschule" in Hamburg and then studied at the "Königliche Kunst-Akademie" in Berlin from 1888 to 1892.
For one year he subsequently attended the private art school of the Italian sculptor Filippo Colarossi in Paris. In 1893 Feininger returned to Berlin, where he worked as an illustrator among other things until 1906. For the next two years Lyonel Feiniger stayed in Paris, where he got in contact with the "Café du Dôme" circle of the German students of Matisse and with Robert Delaunay. In 1909 Lyonel Feininger joined the "Berliner Sezession", in whose exhibitions Feininger first participated a year later.
For the occasion of his exhibition at the "Salon des Indépendants" the artist traveled to Paris in 1911, where he made contact with Cubism. His acquantance with Alfred Kubin and the "Brücke" painters Karl Schmidt-Rottluff and Erich Heckel opened up new dimensions in his works in 1912. Feininger produced his first architectural compositions with his typical Cubist fragmentations.
In 1913, upon invitation by Franz Marc, Feininger participated in the "Erster Deutscher Herbstsalon" at Herwarth Walden's "Sturm" gallery in Berlin, where he also held his first solo exhibition in 1917. In 1919 Walter Gropius invited Feininger to the "Bauhaus", where he taught graphic art and painting until 1926.
Together with Wassily Kandinsky, Paul Klee and Alexej von Jawlensky, Lyonel Feininger founded the group "Die Blauen Vier" in 1924.
In 1931 there was a first comprehensive retrospective at the "Kronprinzen-Palais" in Berlin, to where the artist moved in 1933.
In 1937 Lyonel Feininger moved to New York. That same year more than 400 of his works were confiscated by the Nazis in Germany. Feininger had to wait for his breakthrough as an artist in the US until 1944, when he had a successful retrospective at the New York Museum of Modern Art.
From 1945 Feininger held a summer course at the Black Mountain College in North Carolina, where he met Gropius and Einstein. Feininger's classes, his texts and later watercolors set a trend for the development of Abstract Expressionist painting in the US.
Source: http://www.lyonel-feininger.com/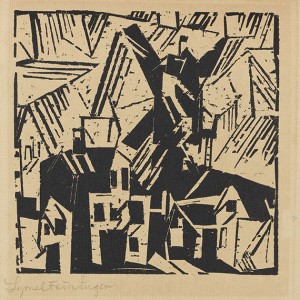 Windmühle In Werder
(1918)
Price EUR 4,750 Incl. buyer's premium
Estimated EUR 2,000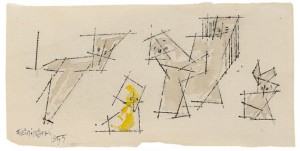 Price EUR 17,500 Incl. buyer's premium
Estimated EUR 9,000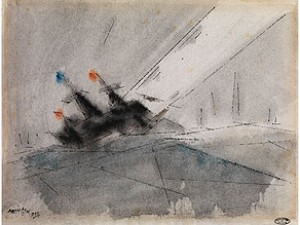 Price EUR 39,000
Estimated –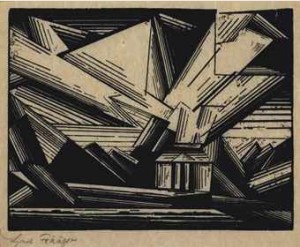 Villa Am Strande, 4, From Bauhaus Drucke: Neue Europaïsche Graphik I: Erste Mappe: Meister Des Staatlichen Bauhauses In Weimar (prasse W 226)
(1920)
Price USD 9,375 (€7,325)
Estimated USD 6,000–8,000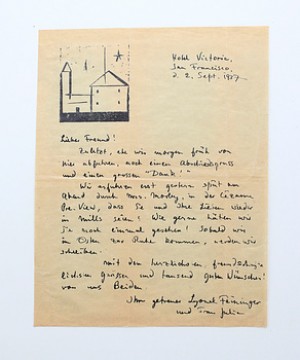 Price SEK 5,500 (€581)
Estimated SEK 1,500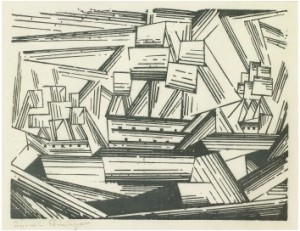 Kreuzende Segelschiffe Ii
Price SEK 19,000 (€2,090)
Estimated SEK 15,000–20,000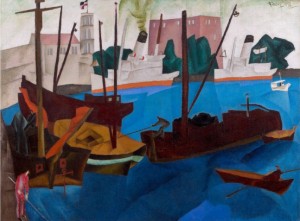 Hafen Von Swinemünde (port De Swinemünde)
(1915)
Price EUR 5,648,450
Estimated EUR 1,500,000–2,000,000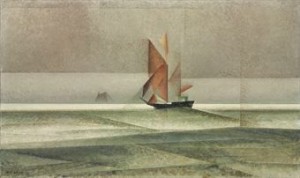 Price GBP 993,250 (€1,139,059)
Estimated GBP 700,000–900,000