Maurice MOBERG

1923, Sweden
Maurice Moberg studied at the Académie Libre, and when Isaac Grünewald\'s painting school in Stockholm. He made study trips and work in France, Spain, Italy, Mexico, the Caribbean, Israel and the U.S. (New York). His paintings of nature have a strong paint spontaneity and lush vegetation, sun, bright with an abundance of rich colourism.
Represented: Stockholm Metro. SE-Banken, Swedish Engineering Society, Waxholmsbolaget, Wennergren Center and the majority of Stockholm\'s hospital.
Maurice Moberg studerade vid Académie Libre, samt vid Isaac Grünewalds målarskola i Stockholm. Han företog resor till Frankrike, Spanien, Italien, Mexico, Västindien, Israel och USA (New York).

Separatutställningar:
Paris, Stockholm, Linköping och Ängelholm.
Han har även deltagit i Vårsalongen på Liljevalchs och Höstsalongen i Malmö.

Representerad:
Stockholms Tunnelbana. SE-Banken, Svenska Verkstadsföreningen, Waxholmsbolaget, Wennergren Center och flertalet av Stockholms sjukhus.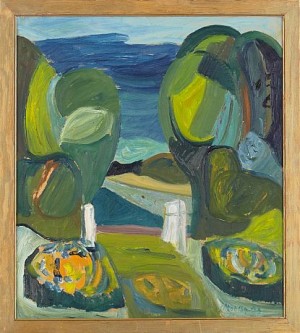 Price SEK 1,500 (€166)
Estimated SEK 1,200

(2 St) Spisen Samt Husfasad
Price SEK 800 (€85)
Estimated SEK 1,500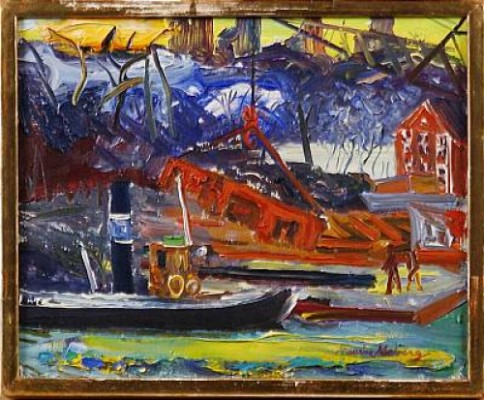 En Liten Bit Stockholm
Price SEK 600 (€59)
Estimated SEK 1,000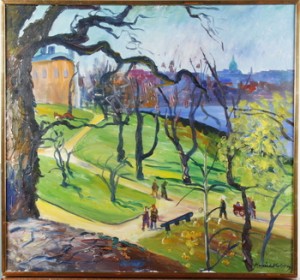 Skeppsholmen
Price SEK 4,700 (€508)
Estimated SEK 800