Maybrit 'Wallina' WALLIN
1940, Sweden
Name
Maybrit 'Wallina' WALLIN
Wallina (Maybrit Wallin)

Wallina was born in a south-west region of Sweden, Västergötland, in a wide field, between two high mountains. One had a lookout tower from which she could see the whole world, and the other housed a bounch of knights, in full harness, sleeping until they were called to wake up and defend her. On the same mountain, she picked flowers for her own wedding-dress some years later. She thinks, she really is the Darling of the Gods.

Wallina feels at home in the jungle on Bali, as well as in a bamboo hut on Tonga, as well as in a two floor flat in Cote d´Azur, as well as in the shadow of Alhambra or at the foot of the volcano Mount Eden in New Zeeland.
Every day is a big adventure.
Back to facts, Wallina has been very successful with her painting. She has been studying and using all kind of technique, watercolor, graphic art, oil, acrylic etc.

Finally she found a unique way to use cold enamel with special color pigments in, what she says, a happy marriage. That technique is called, Glaçure à Froid and is a long process. She took her first lesson at the Beckmans School of Fine Art in Stockholm in 1959. Since then she has been a student at various wellknown swedish schools until 1976. At that time she developed the Glaçure à Froid technique and that is what she prefers todo since that day.

Her pictures very often tells about fables and myths, zodiacs or star constellations. Her paintings have been shown at at least 230 exhibitions in Sweden, Italy, France, Spain, New Zeeland, Belgium and Japan. She has got several customers (collectors) in the US too.
Source: http://www.wallina.nu/
Maybritt Wallina CV:

Medlem
Miembro de le Centre de Liaison des Artistes Peintres at Amateurs d´Art de France
Association des Artistes du Cannet flocheville, France Société des Arnis des Arts et des Lettres de Menton, France

Studier
Anders Beckmans Skola, Stockholm 1959-62
Reibekiels Konstskola, Stockholm 1962-63
Roy Evertsen, Landskrona 1973-76
Gerlesborgsskolan i Gerlesborg och Stockholm

Studieresor
Europa, Afrika, Asien, Oceanien och Mexico

Stipendier
Swedish Center Foundation, Japan 1996

Representerad
Falbygdens Museum
Skaraborgs - Södermanlands - Örebro läns landsting
Auckland, Nya Zeeland
Caja Rural Granada, Spanien
Muséer och kommuner

Officiella utsmyckningar
Tullgarns slott
Rådhus i Oxelösund
Oxelösund servicehus
Globen
Royal Palace, Kalhmandu Nepal
Sweden Hills Village, Japan
Centrum Åkersberga

Skolor
Uddevalla och Visingsö

Sjukhus
Örebro sjukhus
Auckland, Nya Zeeland

Privata samlare
Australien, Belgien, Danmark, England, Frankrike, Grekland,
Guatemala, Indien, Indonesien, Italien, Japan, Nepal, Norge,
Nya Zeeland, Schweiz, Spanien, Sverige, Tonga och USA

Utställningar
MALMÖ 1973 Sverige
MILANO 1975 Italien
CANNES 1982 Frankrie
GRANADA 1984 Spanien
AUKLAND 1987 Nya Zeeland
STOCKHOLM 1993 Sverige
BRYSSEL 1996 Belgien
TOKYO 1996 Japan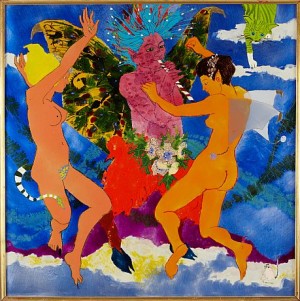 Lucky Devil
Price SEK 4,000 (€432)
Estimated SEK 5,000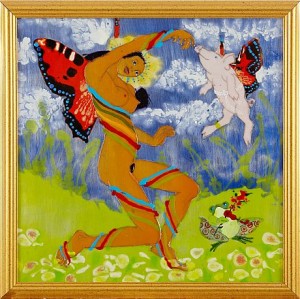 Sommardans
Price SEK 2,800 (€314)
Estimated SEK 2,000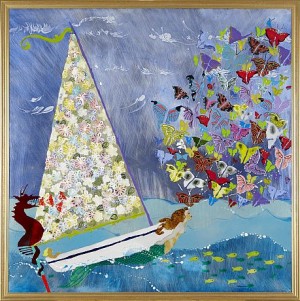 Au Revoir
Price SEK 5,800 (€670)
Estimated SEK 3,000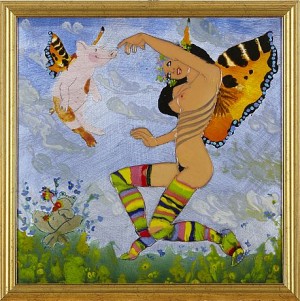 Visst Kan Grisar Flyga
Price SEK 3,000 (€347)
Estimated SEK 3,000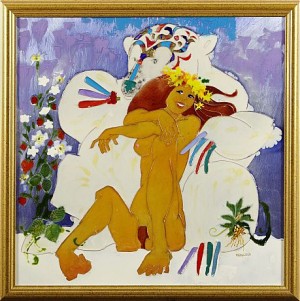 Första Jordgubben
Price SEK 2,200 (€242)
Estimated SEK 2,000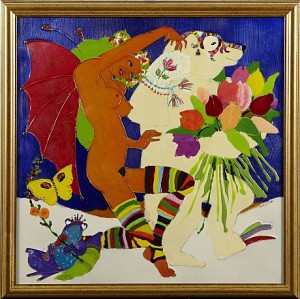 Lycklig Nalle
Price SEK 2,800 (€307)
Estimated SEK 2,000