Mick JAGGER
1943, England
Name
Sir Michael Philip, Mick, JAGGER
Sir Michael Philip \"Mick\" Jagger is an English musician, singer-songwriter and record producer, best known as the lead vocalist of The Rolling Stones. Jagger has also acted in and produced several films.
The Rolling Stones started in the early 1960s as a rhythm and blues cover band with Jagger as frontman. Jagger and guitarist Keith Richards developed a songwriting partnership and by the mid-1960s the group had evolved into a major rock band. Frequent conflict with the authorities (including alleged drug use and his romantic involvements) ensured that during this time Jagger was never far from the headlines, and he was often portrayed as a counterculture figure. In the late 1960s Jagger began acting in films (starting with Performance and Ned Kelly), to mixed reception.
In the 1970s, Jagger, with the rest of the Stones, became tax exiles, consolidated their global position and gained more control over their business affairs with the formation of the Rolling Stones Records label. During this time, Jagger was also known for his high-profile marriages to Bianca Jagger and later to Jerry Hall. In the 1980s Jagger released his first solo album. He was knighted in 2003. In 2006, Jagger was ranked by Hit Parader as the fifteenth greatest heavy metal singer of all time, despite not being at all associated with the genre…..
Source: From Wikipedia, the free encyclopedia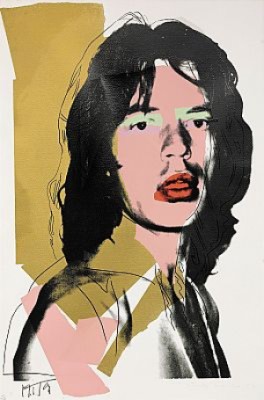 Mick Jagger By Andy Warhol
(1975)
Price SEK 160,000 (€17,453)
Estimated SEK 150,000–175,000