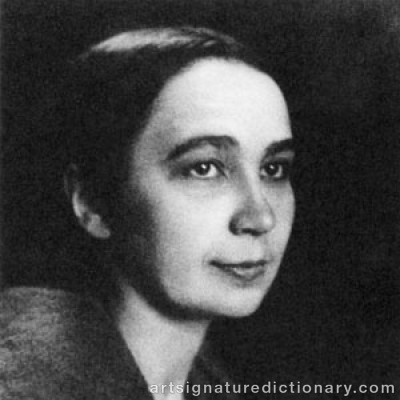 Natalia Sergeievna GONCHAROVA

1881–1962, Russia
Also known as: NSG, HG, NG, Gontcharova, Gontscharowa
Natalya Goncharova, Russian Nataliya Sergeyevna Goncharova, Goncharova also spelled Gontcharova, (born June 4, 1881, Nagayevo, Russia—died October 17, 1962, Paris, France), innovative Russian painter, sculptor, and stage designer who was a founder, with Mikhail Larionov, of Rayonism (c. 1910) and was a designer for the Ballets Russes. In the 21st-century art market, Goncharova's paintings brought some of the highest prices for works by women artists.

The daughter of an aristocratic family, Goncharova studied painting and sculpture at the Moscow School of Painting, Sculpture, and Architecture. After an early preoccupation with sculpture, she met Larionov and shifted her focus to painting. In 1910 she was a founding member of the Jack of Diamonds avant-garde artists group in Moscow. She and Larionov soon broke with that group and formed the short-lived Donkey's Tail Group in 1911, with the aim to cultivate a Russian Modernism inspired by Russian art traditions and not broader Western traditions and the reigning Paris School aesthetic. Goncharova's paintings were heavily inspired by Russian folk art, popular woodblock prints (lubki), and medieval icons. She also experimented with Cubism and Futurism during that period. It was as a synthesis of those movements that Goncharova and Larionov conceived of Rayonism in 1912, an approach that sought to portray in two dimensions the spatial qualities of reflected light. That year Goncharova also took part in Roger Fry's Post-Impressionist exhibition in London and in the second exhibition of Der Blaue Reiter ("The Blue Rider") in Munich. In 1913 a major Goncharova retrospective in Moscow showed more than 700 of her paintings.

Goncharova earned a high reputation in Moscow for her scenery and costume designs for the Kamerny Theatre. She also became a designer for Serge Diaghilev's Ballets Russes in Paris; her vibrant Byzantine-inspired designs for the ballet Coq d'or (1914) were especially notable. After the close of World War I, Goncharova and Larionov moved to Paris permanently. They became French citizens in 1938, and, after more than five decades together, they married in 1955. Destitute, she died of cancer seven years later.

In 2008 Goncharova's painting Les Fleurs (c. 1912) sold for $10.8 million, and in 2010 Espagnole (c. 1916) sold at auction for $10.2 million, setting new records among women artists. Because of her popularity, it is thought, a great number of Goncharova forgeries surfaced in the art market. Books on Goncharova that were published in the 21st century have been criticized for including reproductions of fake paintings alongside authentic ones. She is one of a group of Russian avant-garde artists whose works are tracked by the London-based Russian Avant-Garde Research Project, whose goal it is to fill in the gaps in provenance of works by major Russian artists and to eliminate as many forgeries from circulation as possible.
Source: Encyclopaedia Britannica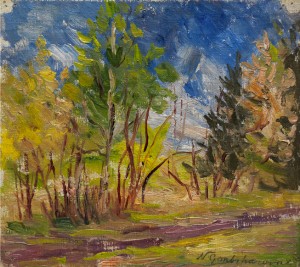 Landschaft Mit Bäumen
(1903-1904)
Price EUR 0 Not sold
Estimated EUR 7,000–9,000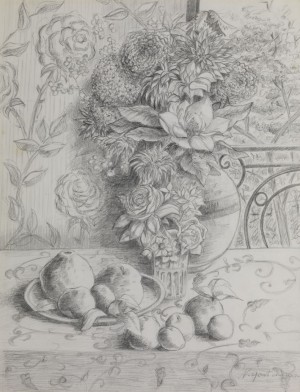 Stilleben Mit Blumenbukett In Einer Vase Und Früchten
Price EUR 4,000
Estimated –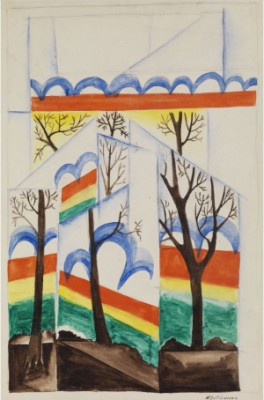 Landschaftsstudie
Price EUR 4,500
Estimated –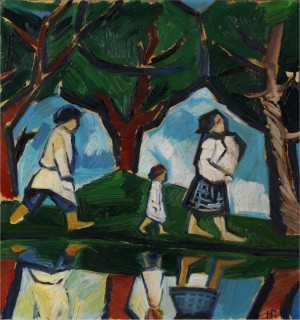 Promenade Au Bord De L' Eau, 1910 Studie Zum Gemälde "fishing" (sammlung Thyssen Bornemisza, Madrid)
(1910)
Price EUR 0 Not sold
Estimated EUR 60,000–80,000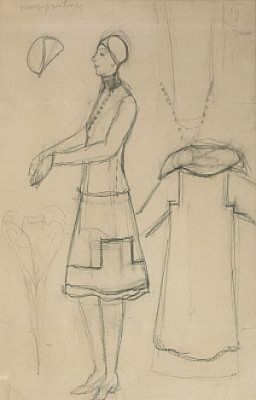 Costume Design
Price SEK 40,000 (€4,466)
Estimated SEK 40,000–50,000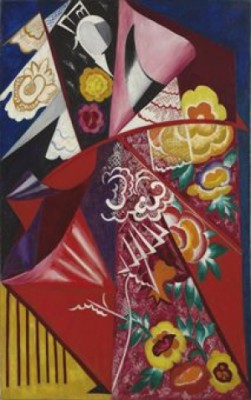 Price GBP 6,425,250 (€7,368,477)
Estimated GBP 4,000,000–6,000,000