Nils KREUGER

1858–1930, Sweden
Also known as: NK
Name
Nils, Edvard KREUGER
Nils Kreuger biography:

Nils Kreuger attended Konstakdemien, and later in Paris. He settled in the artist colony in Monparnasse in France. 1882 he joined the artists in Grez. He visited Concarneau in Brittany, in company with Richard Berg and also outside Katwijk Leiden in Holland. During a certain period he painted his paintings in line and point style of the outline drawn up into a full, black line, which strongly emphasizes the paintings monumental character. Under the influence of neoimpressionisterna he began to paint with uniform patches and inflated with more colors.
Public art: A mural in the People\'s Matthew school in Stockholm, 1905.
Represented: Prince Eugen Waldemarsudde, Malmö Art Museum, Art Museum of Gävle, Kalmar Art Museum, Thiel Gallery, and the Oslo National Gallery.
Source: Art Signature Dictionary
Nils Kreuger biografi:

Nils Kreuger studerade vid Konstakdemien, för Perséus och senare i Paris. Han bosatte sig i konstnärskolonin i Monparnasse i Frankrike. 1882 anslöt han sig till konstnärerna i Grez. Han besökte Concarneau i Bretagne i sällskap med Richard Berg och även Katwijk utanför Leiden i Holland. Han anslöt sig till Opponenterna och när utställningen i Stockholm, Från Seines strand, öppnade så var han med. Under en viss period målade han sina tavlor i streck och punktmanér med konturerna uppdragna i en hel, svart linje, som kraftigt poängterar målningarnas monumentala karaktär. Under inflytande av neoimpressionisterna började han måla med likformiga fläckar och med mer uppdrivna färger.
Offentlig utsmyckning: Väggmålning i Matteusfolkskolan i Stockholm, 1905.
Representerad: Prins Eugens Waldemarsudde, Malmö Konstmuseum, Gävle Konstmuseum, Kalmar Konstmuseum, Thielska galleriet, samt på Oslo Nationalgalleri.
Source: Art Signature Dictionary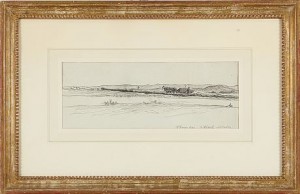 Price SEK 4,000 (€480)
Estimated SEK 4,000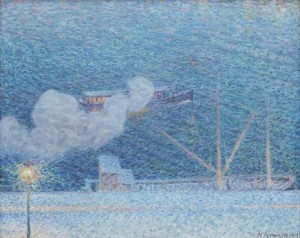 "ångslupen" - Stockholm
(1917)
Price SEK 78,000 (€8,395)
Estimated SEK 40,000–60,000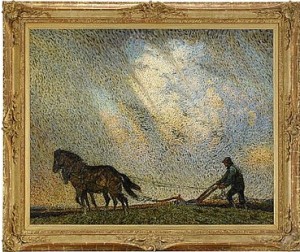 Price SEK 200,000 (€21,600)
Estimated SEK 200,000–250,000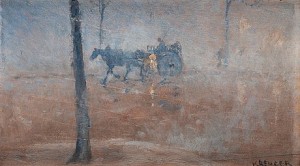 Hästekipage I Regnväder, Paris
(Executed ca. 1885-86)
Price SEK 75,000 (€8,100)
Estimated SEK 80,000–100,000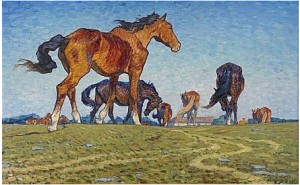 Unghästar I Spridd Flock
(1913)
Price SEK 250,000 (€27,593)
Estimated SEK 250,000–300,000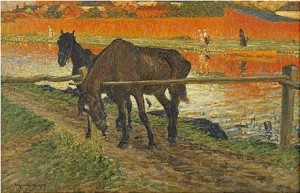 Hästar Vid Ett Led (kalmar)
(1919)
Price SEK 170,000 (€18,763)
Estimated SEK 200,000–250,000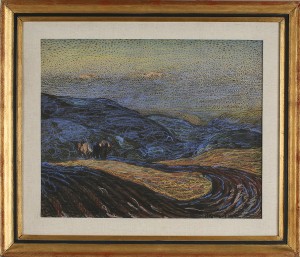 åker Med Plöjande Hästar
(c. 1907)
Price SEK 22,000 (€2,431)
Estimated SEK 20,000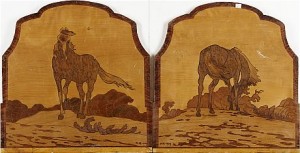 2 St, Hästar
Price SEK 3,200 (€371) Not sold
Estimated SEK 5,000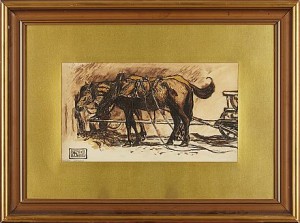 Price SEK 0 (€0) Not sold
Estimated SEK 6,000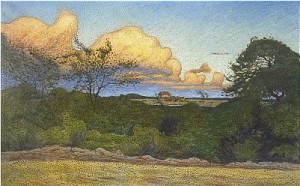 Price SEK 250,000 (€28,210)
Estimated SEK 250,000–300,000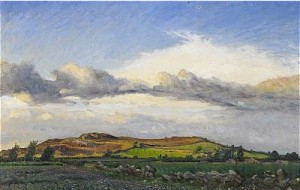 Håstensberget Vid Varberg
Price SEK 44,000 (€4,965)
Estimated SEK 60,000–80,000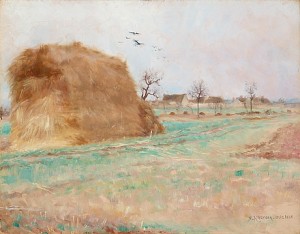 Halmstack På åkern
(1885)
Price SEK 49,000 (€5,508) Incl. buyer's premium
Estimated SEK 40,000–60,000

Hölasset Vid Muren
(1884)
Price SEK 61,250 (€6,885) Incl. buyer's premium
Estimated SEK 40,000–60,000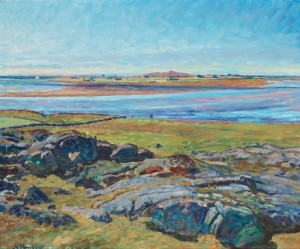 Getterön Vid Varberg
(1908)
Price SEK 66,150 (€7,435) Incl. buyer's premium
Estimated SEK 30,000–40,000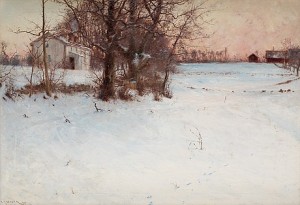 Price SEK 183,750 (€20,654) Incl. buyer's premium
Estimated SEK 150,000–200,000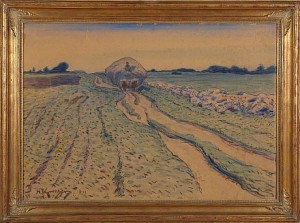 Ocar Med Hölass, öländskt Landskap
Price SEK 10,500 (€1,187)
Estimated SEK 10,000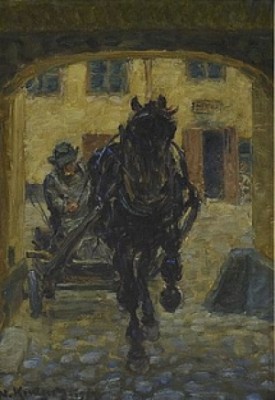 Hästskjuts I Portal
(1919)
Price SEK 28,000 (€3,094)
Estimated SEK 15,000–18,000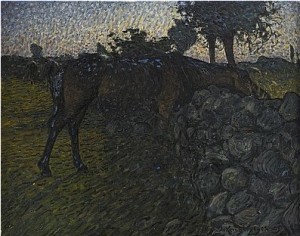 Price SEK 18,000 (€1,989)
Estimated SEK 10,000–12,000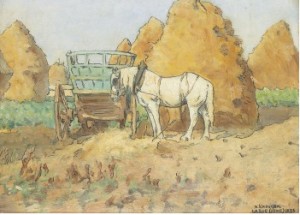 Price SEK 10,000 (€1,125)
Estimated SEK 10,000–12,000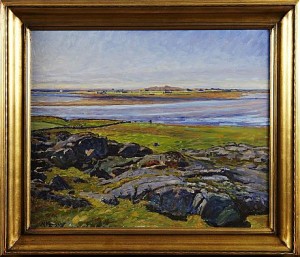 Getterön Vid Varberg
(1908)
Price SEK 21,000 (€2,348)
Estimated SEK 15,000
Porträtt Föreställande Bessie (konstnärens Dotter)
(1917)
Price SEK 13,000 (€1,430)
Estimated SEK 8,000–10,000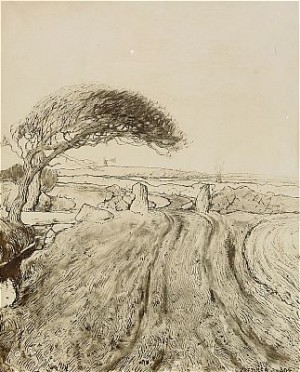 Price SEK 21,000 (€2,303)
Estimated SEK 10,000–12,000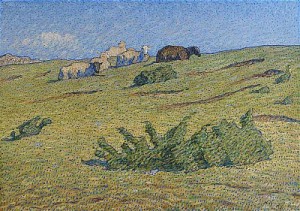 Liggande Får
Price SEK 68,500 (€7,514)
Estimated SEK 100,000–125,000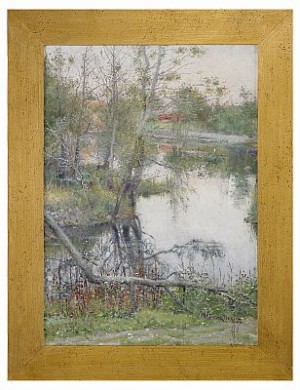 Vid ån - Knapegård
(1890)
Price SEK 380,000 (€41,682)
Estimated SEK 400,000–450,000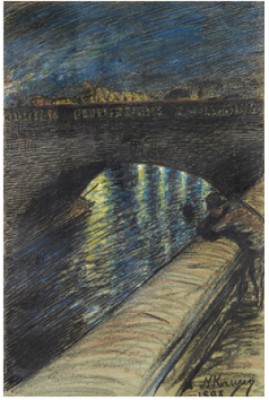 Price SEK 13,000 (€1,347)
Estimated SEK 8,000–10,000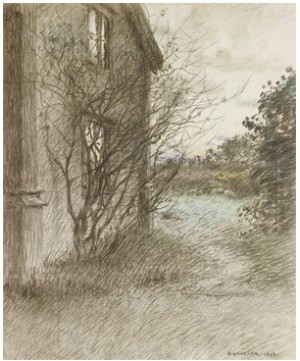 Husgavel I Morgonljus
(1893)
Price SEK 9,000 (€932)
Estimated SEK 8,000–10,000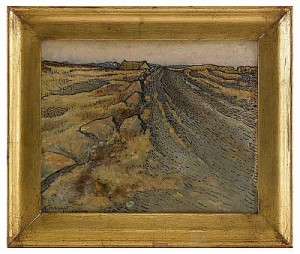 Norra Vägen - Varberg
(1893)
Price SEK 75,000 (€7,807)
Estimated SEK 30,000–35,000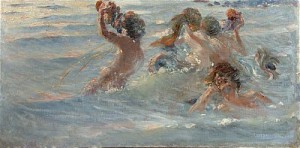 Price SEK 120,000 (€12,491)
Estimated SEK 50,000–60,000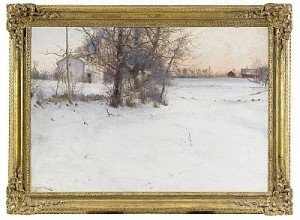 Vinter - Knapegård
(1887)
Price SEK 140,000 (€14,573)
Estimated SEK 150,000–200,000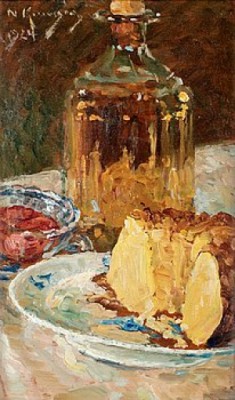 Tårta Och Brännvinskaraff
(1924)
Price SEK 23,000 (€2,390)
Estimated SEK 12,000–15,000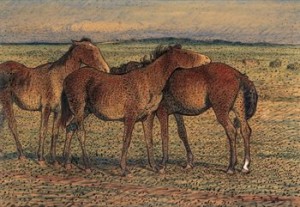 Tre Föl (öland)
Price SEK 44,000 (€4,572)
Estimated SEK 25,000–30,000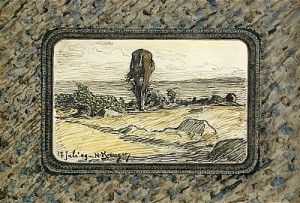 Price SEK 11,000 (€1,052)
Estimated SEK 8,000–10,000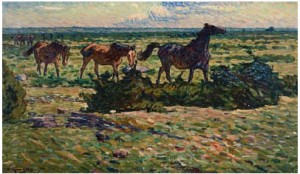 Price NOK 45,000 (€5,372)
Estimated NOK 60,000–80,000
Price SEK 21,000 (€2,061)
Estimated SEK 8,000–10,000
Slottsruinen (borgholm)
(1899)
Price SEK 14,000 (€1,374)
Estimated SEK 15,000–18,000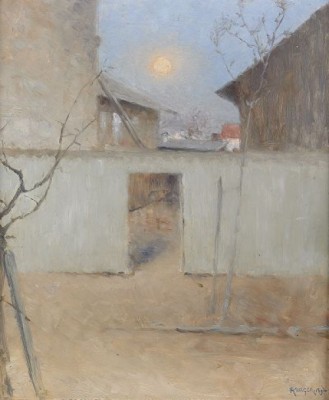 Aprilafton - Varberg
(1892)
Price SEK 52,000 (€4,902)
Estimated SEK 60,000–80,000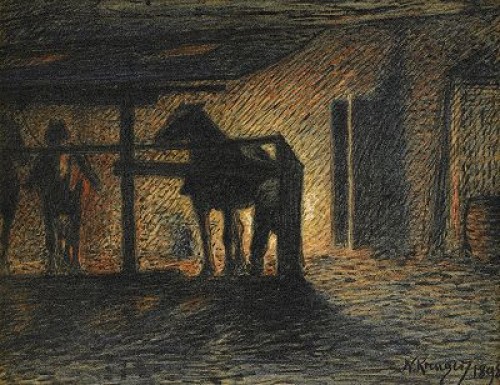 Ett Hovslageri - Motiv Från Södermalm, Stockholm
(1898)
Price SEK 11,000 (€1,037)
Estimated SEK 12,000–15,000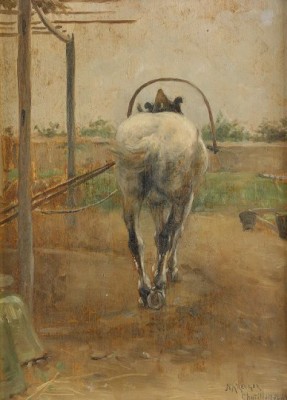 Labor - Häst Som Drar Ett Tröskverk
(1884)
Price SEK 50,000 (€4,714)
Estimated SEK 30,000–40,000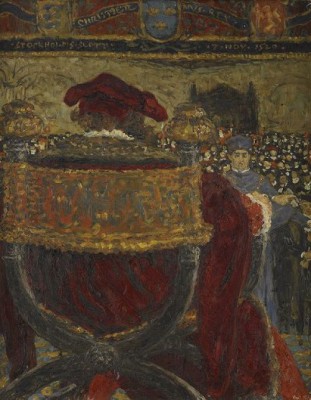 Historisk Scen Med Christian 2, I Sverige Kallad Kristian Tyrann
Price SEK 8,000 (€754)
Estimated SEK 10,000–12,000
Maria Fattighus - Stockholm
Price SEK 4,000 (€377)
Estimated SEK 8,000–10,000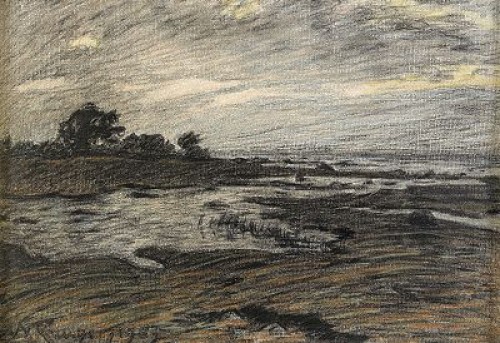 Price SEK 11,000 (€1,037)
Estimated SEK 8,000–10,000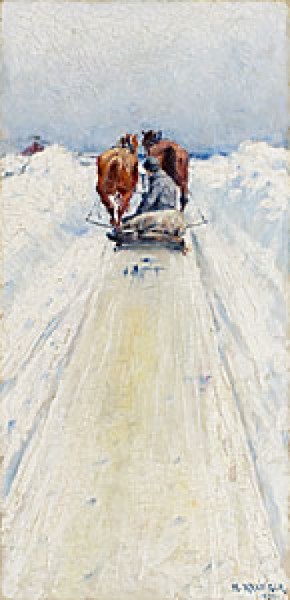 Mellan Snövallarna
(1891)
Price SEK 125,000 (€11,364)
Estimated SEK 30,000–40,000