Olof AHLBERG

1876–1956, Sweden
Birth
1876, 18/11, Sweden
Olof Ahlberg was a Swedish sculptor. He studied at the Technical School in Sweden, he received a scholarship of Trade 1906th He undertook trips to Germany, France and Italy. His sculptures are mostly made of bronze or marble.

Represented:
National Museum of Sweden, the City Library in Stockholm, Sweden, Olof Ahlberg belongs to one of the foremost sculptors in Sweden.
Olof Ahlberg, född 18 november 1876 i Häggenås, Jämtland, död 8 juni 1956[1], var en svensk skulptör.
Olof Ahlberg föddes i Häggenås i Jämtland som son till hemmansägaren Olof Olofsson och Sara Olofsdotter. Det var inte förrän vid 22 års ålder han bestämde sig för att bli konstnär; dessförinnan verkade han som jordbrukare. 1901 inskrevs han vid Tekniska skolan och var tvungen att bekosta sina studier med extraarbete tills han erhöll Kommerskollegiums stipendium 1906. För de pengarna reste han till Tyskland och Paris. Andra studieresor till Italien 1921 och 1923 fick inflytande på hans stil; hans skulpturer bär tydliga drag av antik estetik och jugend. Huvudsakligen är verken gjorda av brons eller marmor, men han har även experimenterat med trä och granit.
Representerad på Nationalmuseum, i Budapest, och på Stadsbiblioteket i Stockholm, tillhör Olof Ahlberg en av de främsta skulptörerna i Sverige. Han har även deltagit i utsmyckningen av rådhuset i Östersund, torget i Strängnäs samt flera kyrkor. \\\"Far och son\\\" är egentligen två olika statyer varav en skapades 1917 och skänktes till Samfundet Manhem, och den andra 1922 finns på Östersunds torg. Trots att skulpturerna bär samma namn är det två olika motiv. Andra verk är \\\"Innerlighet\\\" (1923), \\\"Moderslycka\\\", och \\\"Sorg\\\", uppförd i granit vid A. Wallanders grav.
Privat tillhörde Olof Ahlberg den högerextrema Samfundet Manhem, där han ingick i dess konstnärliga råd, och till vilket han skänkte en staty.
Source: From Wikipedia, the free encyclopedia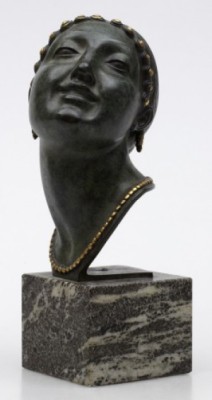 Antikiserande Kvinnohuvud
(1919)
Price SEK 5,500 (€589)
Estimated SEK 4,000–5,000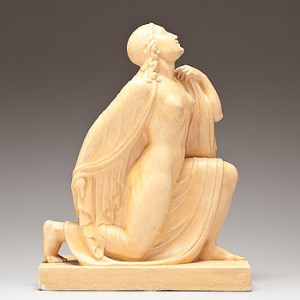 Untitled
(Executed in 1922)
Price SEK 2,501 (€301)
Estimated SEK 1,500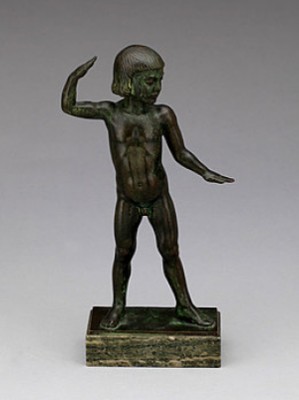 Price SEK 0 (€0) Not sold
Estimated SEK 6,000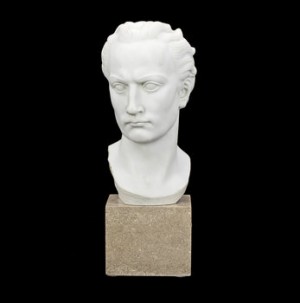 Manshuvud, Stensockel
Price SEK 4,500 (€504)
Estimated SEK 3,000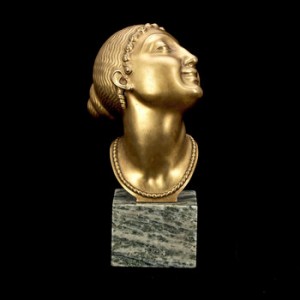 Kvinnohuvud. Marmorsockel
Price SEK 6,200 (€694)
Estimated SEK 4,000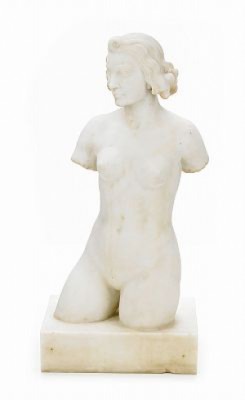 Price SEK 23,000 (€2,507)
Estimated SEK 15,000–20,000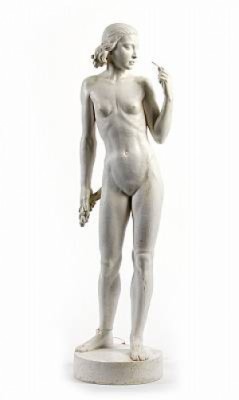 Price SEK 4,200 (€438)
Estimated SEK 1,000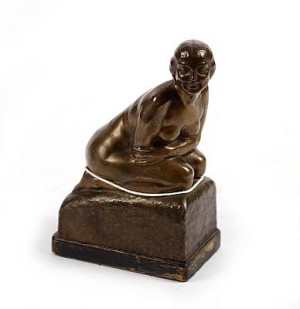 Sittande Kvinna, Brons
Price SEK 3,000 (€309)
Estimated SEK 1,500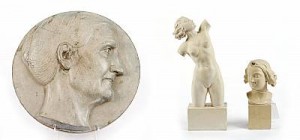 (3) Kvinnotorso, Byst Resp Relief
Price SEK 1,500 (€147)
Estimated SEK 2,000