On Kawara (河原温 Kawara On) is a Japanese conceptual artist living in New York City since 1965. He has shown in many solo and group exhibitions, including the Venice Biennale in 1976. He is represented by David Zwirner, New York.
Since 1966 he has made a long series of \"date paintings\" (the Today series), which consist entirely of the date on which the painting was executed in simple white lettering set against a solid background. If Kawara is unable to complete the painting on the day it was started he immediately destroys it. Other series of works include the I Went and I Met series of postcards sent to his friends detailing aspects of his life, another series of postcards, I Got Up At, rubber-stamped with the time he got up that morning, and a series of telegrams sent to various people bearing the message \"I AM STILL ALIVE\".
Much like the Today series, Kawara uses a number of days followed by date the work was executed as his life-dates. So the piece entitled Title at the National Gallery of Art has Kawara\'s life-dates as 26,697 (January 27, 2006) which, when calculated, place Kawara\'s birthdate at December 24, 1932.
Kawara does not give interviews nor comments about his work.
On Kawara is represented in Paris by Yvon Lambert Gallery.
Source: http://en.wikipedia.org/wiki/On_Kawara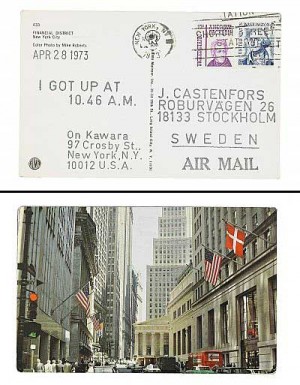 I Got Up. (41 Sent Postcards. Each With Stamped Signature And Date In Ink.)
Price SEK 390,000 (€41,449)
Estimated SEK 400,000–500,000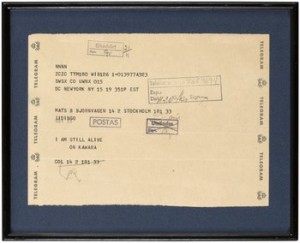 Price SEK 44,000 (€4,209)
Estimated SEK 30,000–40,000