Paul DELVAUX
1897–1994, Belgium
Paul Delvaux

Delvaux once said about his own work that: "one painting follows from the other, they are connected ... the same figure reappears, links are forged ... we go out through one door and come back in again through another, so that a development can be discerned".

Despite the fact that he lived to be almost a hundred and was one of the leading figures of the Belgian artistic scene for the best part of half a century, Delvaux was careful to avoid over-explaining his prolific oeuvre, choosing instead to shroud his work in mystery, as far as his growing fame would allow. Seen in retrospect the freedom with which Delvaux moves in a myriad of different directions with apparently illogical steps is further proof of his great integrity and authenticity.

Equally the transition which his work undergoes, around 1930, from a robust Expressionism - with a primitive flavour to it - to a Surrealism in which the narrative elements of his paintings are depicted with great precision, was a process that he approached with caution and hesitancy and which, in retrospect, reveals the inner struggle of an extremely sensitive artist.

Delvaux grew up in a privileged, bourgeois milieu. The son of a famous lawyer, he seemed destined to follow in his father's footsteps. However, the young Delvaux was profoundly influenced by the novels of Jules Verne and by the Iliad and Odyssey of Homer. In his teens it became increasingly apparent that his interests inclined more towards art than to the law. He decided to train as an architect at the Brusselse Academie, but his lack of aptitude for math proved an insuperable barrier. In the meantime he had been spotted by the Belgian artist Frans Courtens, who was one of the first in seeing Delvaux's potential as a painter and who finally succeeded in persuading Delvaux's parents to let their son take up painting as a career.

In the late 1930's Delvaux started to push beyond the boundaries of the Surrealist school. He was working towards an art that could not be found within the confines of a single school of painting. He mixed elements drawn from the subconscious with scenes from his childhood. Thanks to his superb visual memory and his accurate recollections of his youth, Delvaux shows us a rich oeuvre in which buildings and stations are peopled by ethereal, mysterious characters seemingly drawn more from the world of Greek literature than from the Belgium of his day. Many admirers of Delvaux`s work consider that his greatness as an artist lies more in his drawings than in his paintings, as his drawings often exude a spontaneous enthusiasm, which is sometimes absent in his paintings.
Source: http://www.paol-co.com/search_artist_uk.asp?ArtistID=117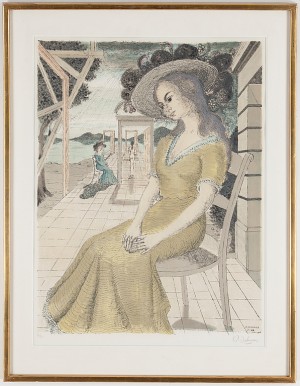 Anne Songeuse
Price SEK 24,000 (€2,592)
Estimated SEK 30,000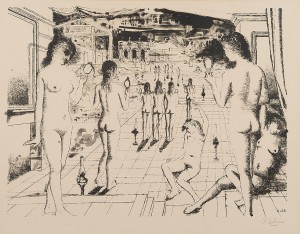 Price EUR 1,000
Estimated EUR 1,200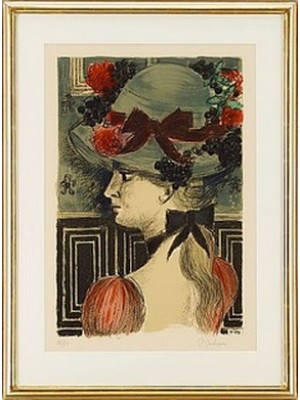 Price SEK 35,000 (€3,868)
Estimated SEK 35,000–40,000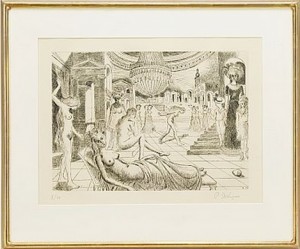 The Complete Suite Comprising 10 Etchings And One Drypoint
(1971-1975)
Price SEK 90,000 (€9,945)
Estimated SEK 60,000–80,000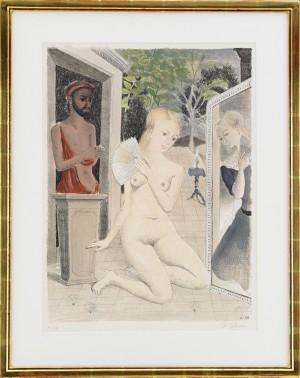 Price SEK 25,000 (€2,913)
Estimated SEK 25,000–30,000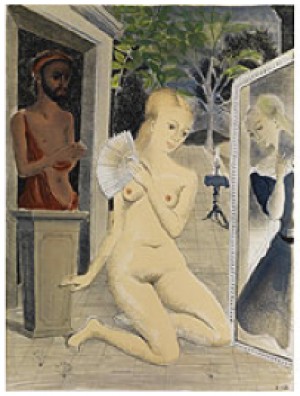 Price EUR 5,000
Estimated –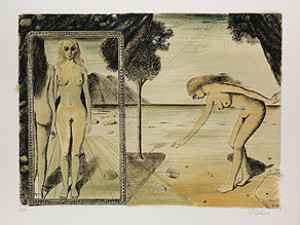 Price EUR 0 Not sold
Estimated EUR 6,500–6,800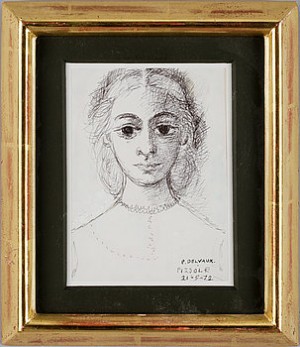 Price SEK 15,800 (€1,729)
Estimated SEK 8,000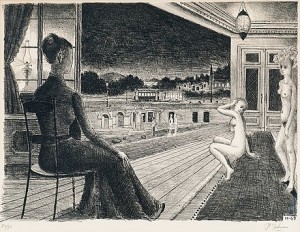 Devant La Ville
Price EUR 2,000
Estimated EUR 2,000–2,500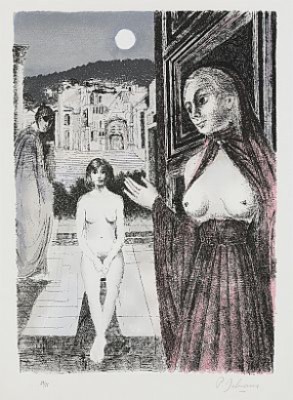 La Reine De Saba
Price SEK 7,500 (€784)
Estimated SEK 10,000–12,000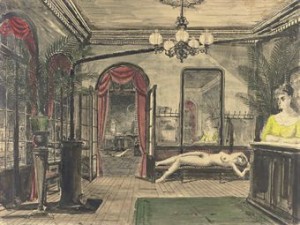 Le Train De Nuit (étude)
(1947)
Price GBP 253,250 (€290,427) Incl. buyer's premium
Estimated GBP 80,000–120,000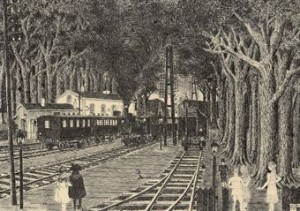 La Gare Forestière
(1960)
Price GBP 169,250 (€194,096) Incl. buyer's premium
Estimated GBP 50,000–70,000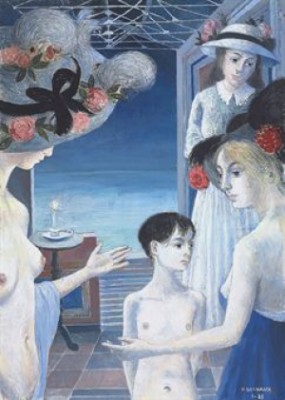 Price GBP 253,250 (€290,427) Incl. buyer's premium
Estimated GBP 120,000–180,000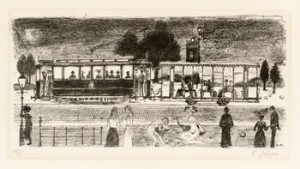 Le Tramway"
Price SEK 0 (€0) Not sold
Estimated SEK 15,000–20,000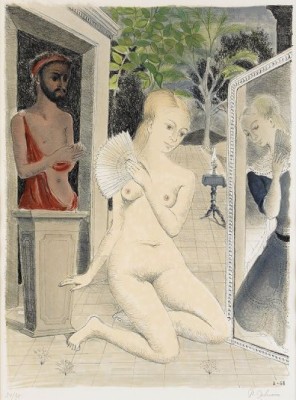 L éventail, (lit: Jacob 21)
(1968)
Price SEK 0 (€0)
Estimated SEK 30,000–40,000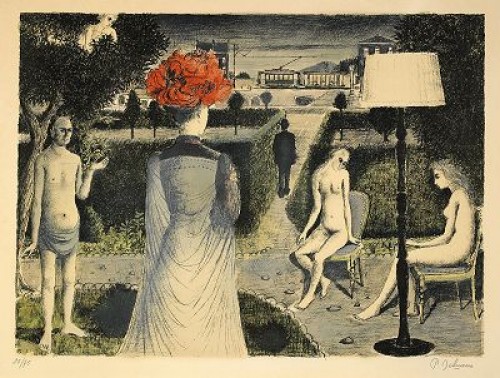 The Garden, (lit: Jacob 48)
(1971)
Price SEK 28,000 (€2,601)
Estimated SEK 30,000–40,000