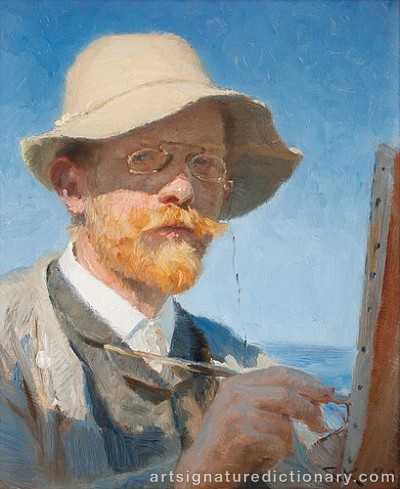 Peder Severin KRØYER

1851–1909, Denmark
Also known as: SK, Kröyer
Name
Peder Severin KRØYER
Birth
1851, 23/7, Denmark
Died
1909, 21/11, Denmark
Peder Severin Krøyer (23 July 1851, Stavanger – 21 November 1909, Skagen), known as P. S. Krøyer, was a Danish painter. He is one of the best known and beloved, and undeniably the most colorful of the Skagen Painters, a community of Danish and Nordic artists who lived, gathered or worked in Skagen, Denmark, especially during the final decades of the 19th century. Krøyer was the unofficial leader of the group.
Krøyer was born in Stavanger, Norway, on 23 July 1851 to Ellen Cecilie Gjesdal. He was raised by Gjesdal's sister, Bertha Cecilie (born 1817) and brother-in-law, the Danish zoologist Henrik Nikolai Krøyer, after his mother was judged unfit to care for him. Krøyer moved to Copenhagen to live with his foster parents soon afterward. Having begun his art education at the age of nine under private tutelage, he was enrolled in Copenhagen's Technical Institute the following year.
In 1870 at the age of 19 Krøyer completed his studies at the Royal Danish Academy of Art (Det Kongelige Danske Kunstakademi), where he had studied with Frederik Vermehren. In 1873 he was awarded the gold medal, as well as a scholarship.
His official debut as a painter was in 1871 at Charlottenborg with a portrait of a friend, the painter Frans Schwartz. He exhibited regularly at Charlottenborg throughout his life.
In 1874 Heinrich Hirschsprung bought his first painting from Krøyer, establishing a long-standing patronage. Hirschsprung's collection of art forms the basis of the Hirschsprung Museum in Copenhagen.
Between 1877 and 1881, Krøyer travelled extensively in Europe, meeting artists, studying art, and developing his skills and outlook. He stayed in Paris and studied under Léon Bonnat, and undoubtedly came under the influence of contemporary impressionists – Claude Monet, Alfred Sisley, Edgar Degas, Pierre-Auguste Renoir and Édouard Manet.
He continued to travel throughout his life, constantly drawing inspiration from foreign artists and cultures. Hirschsprung provided financial support during the early travels, and Krøyer continued exhibiting in Denmark throughout this period...
Source: http://en.wikipedia.org/wiki/Peder_Severin_Kr%C3%B8yer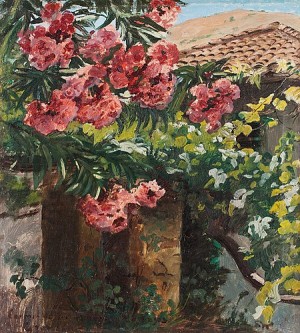 Spansk Trädgård, Motiv Från Granada
Price SEK 91,875 (€10,334) Incl. buyer's premium
Estimated SEK 80,000–100,000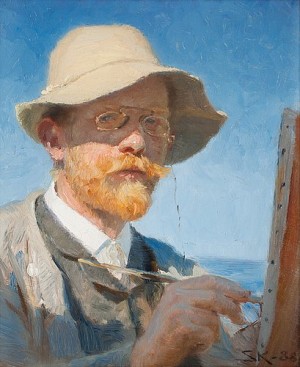 Price SEK 882,000 (€99,207) Incl. buyer's premium
Estimated SEK 300,000–350,000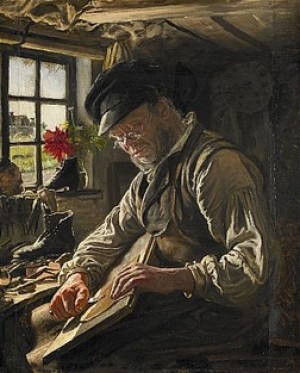 Price SEK 0 (€0) Not sold
Estimated SEK 200,000–250,000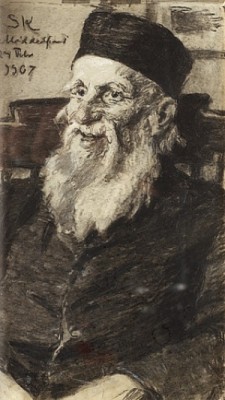 Porträtt Av En Gammal Man På Middelfart Mentalsjukhus
(1907)
Price SEK 9,188 (€1,033) Incl. buyer's premium
Estimated SEK 10,000–12,000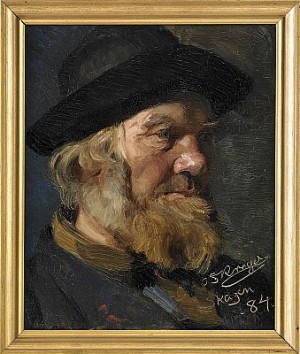 Price SEK 45,000 (€5,024)
Estimated SEK 60,000–80,000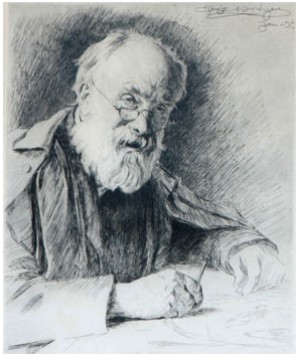 Porträtt Av Just. Min. Frölich
(1899)
Price SEK 300 (€29)
Estimated SEK 800–1,000