Pehr HÖRBERG

1746–1816, Sweden
Also known as: PH

Verdict of guilty
PHM Nr.63
Oil on canvas, 69x57 cm, signed "P Hörberg". The motif represents the "Herdarnas tillbedjan", a very common motif in religious art. The painting dates from the mid-1700s, contemporary with Hörberg but is painted in a completely different way than how Per Hörberg worked. What differs is the way to paint and lighting. Per Hörberg Signed in general with monogram P H. He never signed P Hörberg. This painting is probably made by an unknown Flemish artist, and probably was certainly unsigned from the beginning but has since been signed. In the lower left corner is painted area. The signature is located outside of the varnish in the bottom right corner.
Oljemålning på duk, 69x57 cm, signerad "P Hörberg". Motivet föreställer "Herdarnas tillbedjan", ett mycket vanligt motiv i kyrklig konst. Målningen är från 1700-talets mitt, samtida med Hörberg men är målad på ett helt annat sätt än hur Per Hörberg arbetade. Det som skiljer är själva handlaget, sättet att måla och ljussättningen. Per Hörberg signerade i allmänhet med monogram P H hopskrivet, på vissa teckningar skrev han ut sitt namn. Han signerade aldrig P hörberg. Den här tavlan är gjord av en okänd troligen flamländsk konstnär och var säkerligen osignerad från början men har senare åsatts signatur. I nedre vänstra hörnet finns ett övermålat område. Signaturen sitter utanpå fernissan i nedre högra hörnet.

Oil on canvas, 52x98 cm, signed "Per Hörberg" Anno 1796. This painting is done on a canvas of coarser structure than Pehr Hörberg worked with. Stylistically, it differs from Pehr Hörberg paintings. It is roughly painted and has not the finesse that Pehr Hörberg portrays in his religious figures. It is certainly a Swedish artist who painted this painting. Pehr Hörberg always spelled her first name Pehr. In this painting, the signature was added later than the painting. This is relatively freshly prepared. The Signing is below the varnish. The District Court's assessment: This Hörberg-signed painting is a forgery.
Oljemålning på duk, 52x98 cm, signerad "Per Hörberg" Anno 1796. Den här målningen är gjord på en grövre duk än vad Pehr Hörberg arbetade med. Stilmässigt skiljer den sig avsevärt från Pehr Hörbergs målningar. Den är grövre och har inte den finess som Pehr Hörberg gestaltar i sina religiösa figurer. Det är säkerligen en svensk konstnär som målat denna tavlan. Pehr Hörberg stavade alltid sitt förnamn Pehr. På denna tavla har signaturen tillkommit senare än tavlan. Denna är relativt nygjord. Signeringen ligger under fernissan. Pehr Hörbergs tavlor säljs för omkring 10.000kr. Tingsrättens bedömning: den ovan behandlade Hörberg-signerade tavlan är en s.k. oäkta förfalskning.




Pehr (Per) Hörberg började som yrkesmålare på landet, blev "häradsmålare" i Småland och fick slutligen tillfälle att studera vid akademien. Från flera socknar, särskilt i Småland och Östergötland fick han beställning på altartavlor, som han utförde i stundom väldigt mått – altartavlan i Årstad kyrka är över 42 kvm han målade dessutom religiösa stafflitavlor, mytologiska och historiska motiv, stilleben och porträtt samt gjorde etsningar och träsnitt. Han är representerad med 17 målning i Nationalmuseum, Stockholm, ett 15-tal tavlor i Göteborgs konstmuseum etc.

Representerad:
Nationalmuseum, Göteborgs konstmuseum, Lunds Museum, Smålands museum, Växjö, Linköpings Stadsmuseum, Finspångs stottskyrka Altartavla 1794 och i Lunds Universitet, Stockholms Frimurarorden och Norrköpings museum.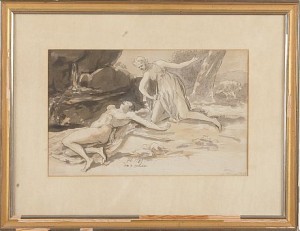 Price SEK 4,200 (€468)
Estimated SEK 1,500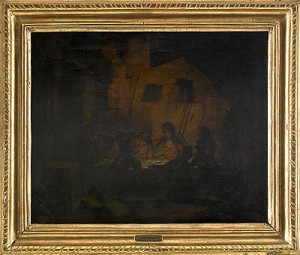 Price SEK 52,000 (€5,824)
Estimated SEK 15,000–20,000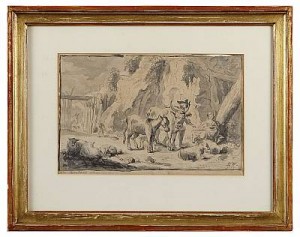 Pastoralt Landskap
(1779)
Price SEK 1,900 (€205)
Estimated SEK 2,000