Peter BOROTINSKIJ
1948, Finland/Sweden
Lived & Active In
Live In Sweden From 1976
Peter Borotinskij is one of Scandinavia\'s most significant contemporary artists. Born in Vaasa in Finland in 1948 and principally resident in Sweden since 1976. In the traditional sense, he has no extensive training. Perhaps partly because he has escaped the conformist pressures of way is on Scandinavian art schools.
Borotinskij, Peter.

Peter Borotinskij är en av Nordens mest betydande samtida konstnärer. Född i Vasa i Finland 1948 och huvudsakligen bosatt i Sverige sedan 1976. I traditionell mening har han inte någon omfattande utbildning. Kanske delvis därför har han undgått det konformistiska tryck som nns i skandinaviska konstskolor.
Eleverna där åstadkommer ofta bleka kopior av populära amerikanska
och västeuropeiska föregångares verk. Peter Borotinskijs arbeten, däremot, är i högsta grad nydanande. Framvuxna ur djupet av hans fosterjord, spartanska, skarpt linjära och djupt koloristiska. De är emellertid inte enbart dekorativa på ett naivistiskt sätt. Många av dem, såväl oljor, gouacher som grafik, äger i själva verket en djup andlighet. De skildrar inte enbart vad man skulle kunna kalla den nordiska själen utan låter också ana allmängiltiga existentiella realiteter.
Vilhelm Hammershøi och Reinhold Ljunggren kan ses som föregångare. Men
Peter Borotinskij har dessutom givit sina målningar en religiös dimension som går tillbaka till hans ryskortodoxa rötter. Många av dessa verk har en likhet med ikoner i sitt bildspråk. Men humorn är sällan helt frånvarande ens i de mest seriösa verken. Hans guldinfattade korsfästelsescen (1983) är kanske mest extrem. En svävande Kristus mot en öppen horisont, med en knappt skönjbar kärnreaktor, omramad av en skuldtyngd oval. Denna ram visar sig vid närmare betraktande vara sitsen till en toalettstol. Blasfemi? Nej inte alls. När sitsen fälls upp reflekteras betraktarens eget ansikte i spegeln som är placerad nere i skålen. Skulden vilar vid betraktaren. Inte vid den korsfäste Kristus vars jord är plågad av människans övermod och bristande respekt.

Samlingsutställningar

Människan och hennes miljö, Kulturhuset, Stockholm 1979

Sverigefinska Bildkonsten, Konsthuset, Helsingfors 1980

Karleby Stadsbibliotek, Karleby, Finland 1981

Konstmuséet i Kemi, Finland 1982

Hässelby Slott, nordiskt kulturcentrum, Stockholm 1983, 1997

Stadsbiblioteket i Avesta, Sverige 1985

Tema katter, Galleri Max, Avesta 1985

Tre Sverigefinska grafiker, Suomi Galleri, Stockholm 1985

Original prints from Finland, Scandinavian Art Ltd, London 1986

Stockholm Art Fair, Sollentuna, Sverige 1986, 93,-94,-95,-96,-98,-00, -01,-02

Sverigefinska konstnärer, Åbo, Finland 1986

Sverigefinska konstnärer, Köpenhamn, Danmark 1986

Painters from the north, Scandinavian Art Ltd, London 1987

Nordic Art Fair, Sundsvall, Sverige 1988,-94,-97,-98

Galleri Fjäderholmarna, Stockholm 1988

Vi Topelii folk, Nordiska muséet , Stockholm 1991

Galleri Oljemark, Helsingfors 1992

Lineart Fair, Gent, Belgien 1995

I Premio Internationale di Pittura, Palazzo Baberini Roma 1996

Vårsalong, Upplands Väsby konsthall 1998

Euroart´-99, III Saló Internacional d´Artistes, Barcelona 1999

Julsalong, Väsby konsthall 1999

SK- 25 års jubileums uts. Väsby konsthall 2000

The Baer Gallery, Philadelphia, USA 2001 STRAW, Lantlif, Grafikens Hus, Mariefred 2002

Haga Vår- och Höstsalong, Stockholm, 2000,-01,-02 Finlandia Music and Art Festival, Poulsbo, WA, USA 2004

Upplands Väsby Konsthall, 10-års jub. uts. 2005

Suomi Galleri, Jubileumsutställning , Stockholm 2007

Silja Festival 2007

Kvarnen Nymölla 2008



Separatutställningar

Suomi Galleri, Stockholm 1983-84

Galleri Artic, Vasa, Finland 1983

Liimattala konsthem, Konginkangas, Finland 1984

Joerns Galleri, Köpenhamn, Danmark 1985

Kunsthjornet, Köpenhamn, Danmark 1985

Klostergalleriet, Stockholm 1985

Galleri Viktor Rydberg, Göteborg 1985

Galleri Max, Avesta, Sverige 1986

Galleri Picture Palace, Säffle, Sverige 1986

Arsti, Siilinjärvi, Finland 1986

SAGA, Scandinavian Art Ltd, London 1986

Galleri Linné, Uppsala, Sverige 1987

Galleri Vättern, Motala, Sverige 1987

Galleri MP, Oslo, Norge 1988

Galleri Fjäderholmarna, Stockholm 1989-90-95-96

The Finland Trade Centre, London 1990

Finnische Aussenhandelsstelle, Wien 1992

Universität Klagenfurt, Österreich 1992

Galleri Dianahuset, Norrtälje, Sverige 1993

Galleri Sprako, Luleå, Sverige 1993

Galleri Gothia, Linköping, Sverige 1993

Svensk-Finska Folkhögskolan, Haparanda, Sverige 1994

Kalix folkhögskola, Sverige 1995 Chateau dÁrgenteuil, Waterloo, Bryssel, Belgien 1996

Galleria Pintura, Helsingfors, Finland 1997

Konsthallen i Hallstavik, Sverige 1997

Galleri Sjöhästen, Nyköping, Sverige 1998

Grafioteket, Stockholm 1998 Stora Nolia, Piteå 1998

Konsthallen i Närpes, Finland 1998

Galleri Fryksta station, Kil, Sverige 1998

City Art Gallery, Stockholm 1999

Postens Galleri,Eckerö, Åland 1999

Atelier Z, Galerie de l`Art Contemporain, Paris 1999

Finnland Institut in Deutschland, Berlin 2000

Galleri Trekanten, Sigtuna 2000

Väsby Konsthall , Upplands Väsby 2000 Galleri Vilunda, Upplands Väsby 2000

Det Lilla Galleri, Stavanger, Norge 2001

The American Swedish Institute, Minneapolis, USA 2001

Galleri M, Örnsköldsvik, Sverige 2002

Galleri 17, Stockholm, 2003

Galleri Trekanten, Sigtuna 2003

Nordic Heritage Museum, Seattle, USA 2004

Galleri Fokus, Oxelösund, Sverige 2005

Österbottens museum, Vasa, Finland 2006

Galleri Infra, Stockholm 2007

Galleri Trekanten, Sigtuna 2007

Regeringkansliet, Stockholm 2007

Edsvikens Konsthall - Stallet 2007

Nordanstig, Bergsjö Konsthall 2007

Representerad
i bl. a i Karleby stads, Liimattala Konsthems, Amos Anderson Museums i Helsingfors, Österbottens Museum i Vasa, Finland, Nationalmuseum i Stockholm, Eskilstuna konstmuseum, samt i olika landstings samlingar, bl.a. i Västernorrlands, Värmlands, Stockholms, Östergötlands läns landsting samt landstinget i Blekinge.

I olika företags samlingar i samtliga västeuropeiska länder samt i USA, American Swedish Institute, Minneapolis, The Nordic Heritage Museum, Seattle samt i Kanada och Japan.

Medlem i Grafikens Hus, Mariefred.



Stipendier

Urho Kekkonen stipendiet 1985

Kulturfonden för Sverige och Finland 1988

Svenska kulturfonden i Finland, 1-årigt arbetsstipendium 2005



Offentliga utsmyckningar

HSB, Tibble torg, trapphusmålningar,

Vasa Sparbank, Vasa, Finland

Svensk-Finska folkhögskolan, Haparanda

Blekingesjukhuset, Karlskrona

Övriga:

UNICEF – Julkort 1998
Source: http://www.borotinskij.com/cv.html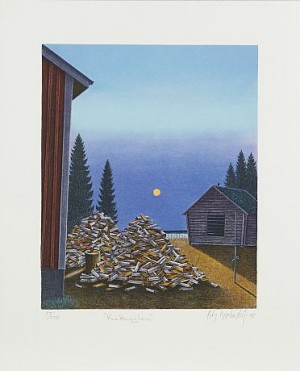 (4) "kattugglan" "eterneller" "blåklinten" "ladusvalan"
(97, 98)
Price SEK 1,000 (€115)
Estimated SEK 800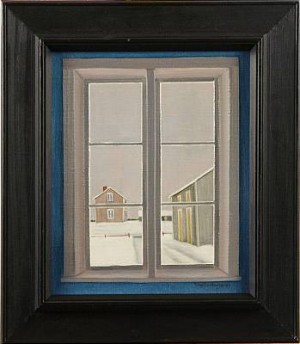 Price SEK 2,000 (€207)
Estimated SEK 1,500