Pierre Jules MENE
1810–1879, France
Birth
1810, March, France
Born in Paris, France, in March of 1810.

Mêne learned the basic principles of sculpture from his father, a metal turner. Later, after working for a while modeling for porcelain manufactures in a style popularized at Sèvres by Marie Antoinette, he studied with René Compaire, showing a clear preference for modeling animals. Mêne, along with other animalier sculptors, studied, modeled and sketched his subjects at the Jardin des Plantes as well as in the studio. He also studied animal anatomy in order to improve the accuracy of his work. He began exhibiting at the Paris Salon in 1838.

Mêne worked out of his own foundry for several years early in his career, selling his work through catalogues such as the one he issued jointly with his son-in-law, the sculptor August Nicholas Cain. He was very successful and never found it necessary to seek government commissions. He lived his entire life in Paris, although he traveled from time to time; he took part in the Great Exhibitions of 1851 and 1862 in London and attained popularity in England second only to that he enjoyed in France. He modeled mostly domestic animals, frequently horses; his bronzes of horses and jockeys were among his most popular, and other equestrian subjects also attracted favorable attention. His models of pointers, setters and foxhounds suggest a familiarity with shooting and foxhunting, although nothing is known of his participation in field sports.

Mêne died in Paris in 1879.
Source: http://www.redfoxfineart.com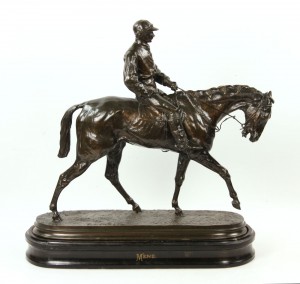 Jockey
Price USD 3,750 (€3,333)
Estimated USD 5,000–8,000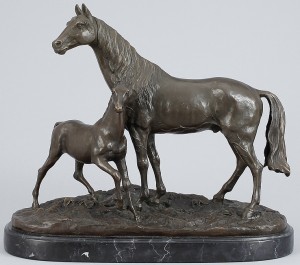 Häst Och Föl
Price SEK 7,400 (€796)
Estimated SEK 8,000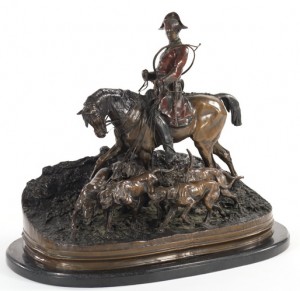 Valet De Chiens A Cheval Menant Sa Harde
(1869)
Price USD 1,035 (€750) Incl. buyer's premium
Estimated USD 2,000–3,000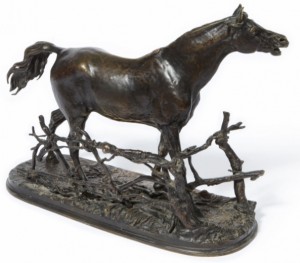 Dijn, Cheval à La Barière
Price EUR 1,300
Estimated EUR 1,000–1,200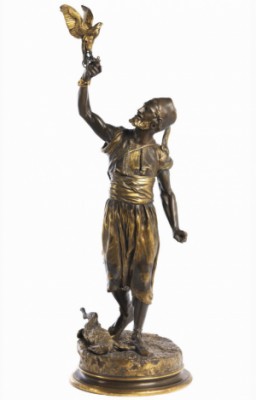 Orientalischer Falkner
(1873)
Price EUR 0 Not sold
Estimated EUR 12,000–15,000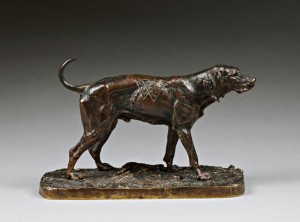 Chien De L'équipage Du Prince De Wagram
Price EUR 2,100
Estimated EUR 1,600–1,700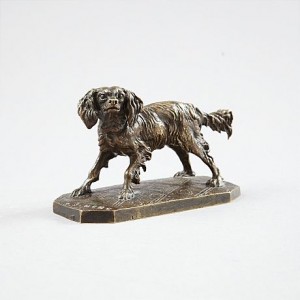 Fågelhund
Price SEK 3,400 (€393)
Estimated SEK 1,500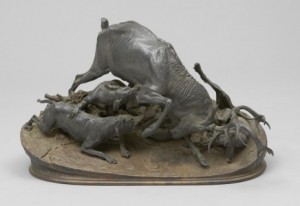 Combat De Cerfs
Price SEK 9,500 (€1,100)
Estimated SEK 12,000–15,000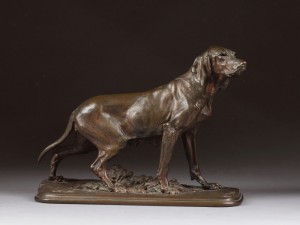 Chienne Française (belotte)
Price EUR 2,100
Estimated EUR 2,000–2,500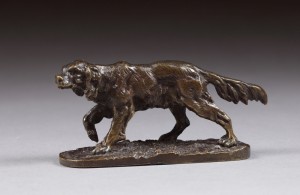 Chien épagneul Anglais Pur Sang (mignonette)
Price EUR 440
Estimated EUR 400–500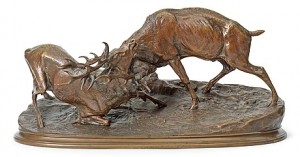 Hjortar I Kamp
Price SEK 0 (€0) Not sold, incl. buyer's premium
Estimated SEK 30,000–40,000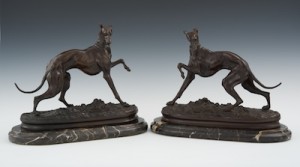 A Pair Of Hunting Dogs
Price USD 1,092 (€771)
Estimated USD 1,000–2,000
Cerf à La Branche
Price SEK 6,500 (€622)
Estimated SEK 8,000–10,000