Rafael CANOGAR
1935, Spain
Also known as: Garcia Gomez
Rafael Canogar, well-known for paintings and sculpture, studied in Madrid, where in 1957 he was a founder member of the group El Paso, which was hostile to the Franco regime. His work at this time had developed from Social Realism to aggressively expressive abstraction, but in the 1960s he reintroduced representational elements, with overtones of humour and satire, through which he expressed human alienation in the modern world: 'The protagonist of my work, man, is a clear denunciation of industrial society, which enslaves our urban existence and reduces the human being to pure functionalism, incapable of the most elementary co-existence and brotherhood.' Canogar has travelled and exhibited widely and is regarded as one of the leading Spanish painters of his generation. In 1971 he won the Grand Prix at the São Paulo Bienal.
Rafael Canogar är en av nyckelfigurerna inom efterkrigstidens spanska konstliv. Med rötterna hos moderna konstnärer som Braque, Picasso och Miró, ändrar Canogar inriktning i mitten av 1950-talet och närmar sig det abstrakta som senare utvecklas till ett informellt måleri. År 1957 bildar han tillsammans med andra konstnärer och kritiker gruppen El Paso i Madrid och verkade därigenom för att etablera Art Informel i Spanien.
Canogar har växlat mellan figurativt och abstrakt måleri i en strävan efter att ständigt utforska konsten. År 1971 erhöll han Grand Prix vid Biennalen i Sao Paulo för sina bilder med karaktär av socialreportage om människans liv här på jorden.
Åter till det abstrakta måleriet ställer Canogar ut 1976 där utställningskatalogen avslutas med orden:
Ett nytt avsnitt. En ny väg. Densamme Canogar.
Source: Stockholms Auktionsverk, Stockholm Sweden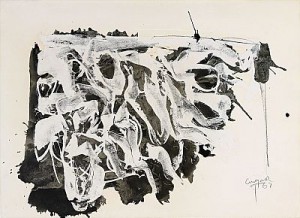 Price SEK 18,000 (€1,955)
Estimated SEK 30,000–35,000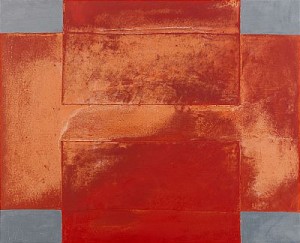 Price SEK 100,000 (€9,658)
Estimated SEK 100,000–125,000