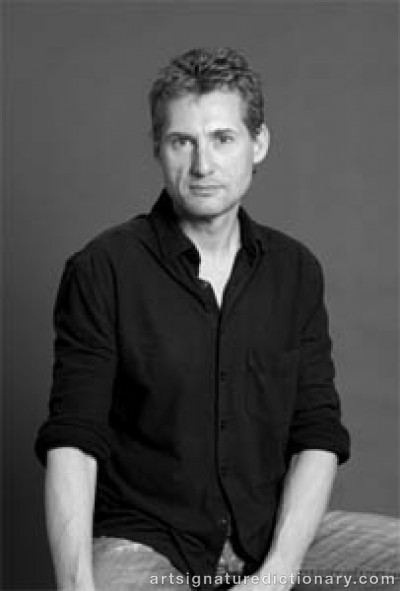 Born in Stockholm, Sweden, tutored in Nice, France by Beaux arts teacher Christian Geai.

In 2001 began an international collaboration with Opera Gallery, with galleries in Paris, New York, London, Singapore and Hong Kong. Also represented in galleries in Monaco, Hamburg, Oslo and Copenhagen.
Since 2012 represented in London at Albemarle Gallery.

Represented in Sweden at Mollbrinks Konst in Uppsala and at quality art auctions since 1998.

For me art is a thing of beauty, but even if the women I paint are very beautiful, I cannot profess to putting beauty at the forefront. It is all about capturing the soul, charisma and mysticism in a given moment of a fleeting situation and being able to relate this emotion to others.
The constant seeking for my own mode of expression is what drives me most when I create.

My art is greatly inspired by modern photo art. Expression-wise I am in the borderland between painting and photography.
In my painting I aim to create a feeling of modern photo art, thus combining the best of both worlds. The photo's ability to capture the soul and charisma of a fleeting moment; the painting with its surface, finish and exclusive feel that the photo could never hope to reproduce.

To achieve this I have adapted my techniques more towards photographic expression than painted art.
This allows me to erase the borders between the photographic and painted art modes of expression.
I use a technically advanced and time-consuming layer by layer technique, building up my painting in many thin layers with no traces of brushwork. I use techniques like schumring and glaze painting, which gives the impression of photo art but with a painted finish. The layer by layer painting gives the colours depth and lustre.

My aim is to create contemporary, figurative painting that belongs in the here and now.
Source: http://ralfarzt.com/welcome.htm
Född i Stockholm, utbildad i Frankrike hos Beaux-art läraren Cristian Geai i Nice.

Inledde 2001 internationellt samarbete med Opera Gallery med gallerier i Paris, New York, London, Singapore och Hong Kong. Även representerad på gallerier i Monaco, Hamburg, Oslo och Köpenhamn.
Sedan 2012 representerad i London av Albemarle Gallery.

Representerad i Sverige av Mollbrinks konst Uppsala samt på kvalitetsauktioner för konst sedan 1998.

Konst är för mig något vackert men jag vill inte påstå att skönhet är det jag främst sätter i fokus även om kvinnorna jag målar ofta är mycket vackra. Att fånga själen, utstrålningen och mystiken i ett visst ögonblick, i en viss situation och förhoppningsvis kunna förmedla denna känsla till andra.
Detta jämte sökandet efter mitt eget uttrycksätt, är det som driver mig mest när jag skapar.

Mitt måleri är starkt inspirerat av modernt konstfotografi.
Uttrycksmässigt befinner jag mig i gränslandet mellan måleriet och den fotografiska konsten.
Ambitionen med mitt skapande är att få en känsla av modern fotokonst i mitt måleri och på så sätt kombinera det bästa ur dessa två världar. Fotografiets förmåga att fånga själen och utstrålningen i ett speciellt unikt ögonblick, måleriet med sin yta, finish och känsla av exklusivitet som fotografiet inte förmår att ge.

För att göra detta har jag anpassat mina tekniker som snarare närmar sig det
fotografiska uttryckssättet än den målande konsten. På så sätt suddar jag ut gränserna mellan den fotografiska och den målande konstens uttryckssätt. Jag arbetar med ett tekniskt avancerat och tidskrävande skiktmåleri och bygger upp mitt måleri i många tunna skikt utan spår av penselföring.
Istället arbetar jag i stor utsträckning med tekniker som schumring och lasurmåleri. Detta ger mig känslan som påminner om fotokonstens uttrycksätt men med en målerisk finish. Samtidigt ger skiktmåleriet i många lager mitt måleri komplexitet, djup och lyster i färgerna.

Min målsättning har varit att skapa ett modernt/contemporary figurativt måleri hemmahörande här och nu.
Source: http://ralfarzt.com/welcome.htm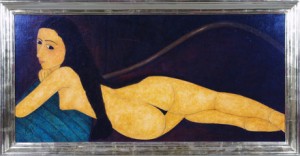 Kvinnostudier
Price EUR 130
Estimated EUR 43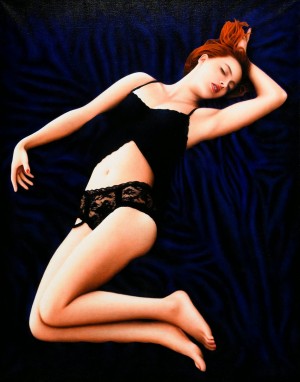 Dreaming Girl
Price SEK 34,000 (€3,727)
Estimated SEK 12,000–15,000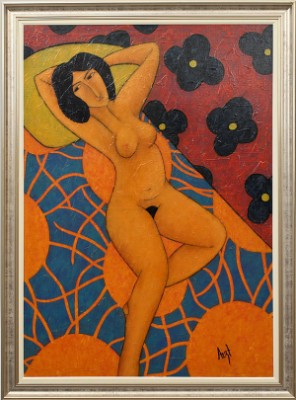 Liggande Modell
Price SEK 1,100 (€118)
Estimated SEK 3,000