Reika Iwami was born in 1927 and graduated from the Tokyo Bunka Gakuin Art College. She pursued the art of doll-making and doll-carving for eleven years, before becoming a printmaker in 1954.

Iwami is a rarity among woman woodblock artists in her avoidance of color. Solid, pure blacks are blended with finely textured grays and some metallic gold or silver. Large full moons often dominate her prints, with rocketlike gold thrusts piercing them in bold curves. Wavelike patterns like communication symbols sometimes bisect the circles. Sprinklings of powdered mica over the white areas give them impression of windblown sand. In the absence of brilliant colors, form and texture are strongly evident.

Her subject is water and flow, and her genius lies in the almost mystical ability of being able to transmute the grain and texture of pieces of wood into visual images of patterns of water. Her titles all reflect her preoccupation with this theme. She executes all phases of the printmaking, cutting the blocks, inking them and rubbing the paper. Influenced by her work with the Koshiro Onchi and Sekino Jun\'ichiro.

She has held numerous one-woman shows throughout Japan and Europe, and has won prizes in several international print competitions. Her works are in the collections of the Museum of Modern Art of New York (MOMA), Library of Congress, Cincinnati Art Museum, and the University of California.
Source: http://4bernardhurtig.com/JapaneseArts/IwamiReika_Profile.htm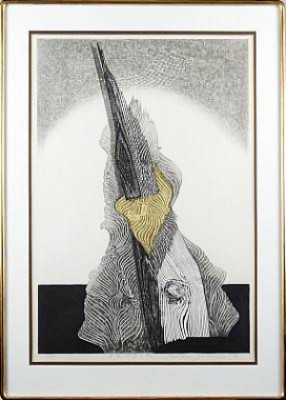 Price SEK 1,200 (€117)
Estimated SEK 1,000