Reinhart WOLF
1930–1990, Germany
Reinhart Wolf wird als einer der besten Photographen nicht nur in Europa, sondern auch weit über diese Grenzen hinaus betrachtet.

Reinhart Wolf wurde am 1. August 1930 in Berlin geboren, der Vater war Architekt, die Mutter Zeichenlehrerin. Auch er wollte, wie der Vater, Architektur studieren, jedoch stellte sich sehr schnell heraus, dass ihm dieses Metier nicht lag. So widmete er sich in Hamburg dem Studium der Literatur, Kunstgeschichte und Psychologie. Ein Stipendium brachte ihn an das Wabash College in Crawsfordville , Indiana, wo er erstmals Fotos von Irving Penn und Edward Weston kennen lernte . Diese Begegnung führte dazu, sich nach der Rückkehr aus Amerika zu entschliessen, Photograph zu werden.

Zunächst besuchte er die Fotoschule A. Schwoerer in Hamburg, legte 1956 die Meisterprüfung an der Bayerischen Lehranstalt für Photographie in München ab. Er kehrte nach Hamburg zurück und richtete sein eigenes Studio für Werbephotographie ein. Parallel zur Werbephotographie begann er mit einer 18 x 24 cm Kamera, Fassaden von Gebäuden zu photographieren – \"Gesichter von Gebäuden\". 1979 photographierte er die Türme der Wolkenkratzer von New York, dokumentiert in einem vielfach ausgezeichneten Buch. 1981/82 entstand die Serie der \"Burgen von Spanien\".

Reinhart Wolf war Gründungsmitglied und Präsident des Art Director\'s Club in Deutschland und New York, Mitglied zahlreicher Fachjurys, Gastdozent verschiedener Hochschulen und hatte Einzelausstellungen in Paris, Hamburg, München, Frankfurt, Hannover, Nürnberg, Houston, Lausanne, Genf, Zürich sowie auf der Photokina in Köln. Er erhielt den Kulturpreis der Deutschen Gesellschaft für Photographie sowie mehrere Goldmedaillen des Art Director\'s Club. Reinhart Wolf starb am 10. November 1988 in Hamburg .
Source: http://www.reinhartwolf.de/reinhart_wolf.htm
Reinhart Wolf is considered one the leading photographers in Europe . He was born in Berlin in 1930 as son of an architect. With a scholarship provided by the American State Department, he studied psychology, literature and history of art in USA and later in Paris and Hamburg .

In 1956 Reinhart Wolf was awarded the degree of "Master Photographer" by the Bavarian State College of Photography in Munich . He then established his own studio for commercial photography in Hamburg . He has taught in the faculty of the College of Design and Fashion in Hamburg and has served as a member of numerous professional juries. He was a founder and past president of the Art Directors Club of Germany .

He built his Studio- Haus in Hamburg in 1969 and founded his own production company for commercials. He has been exhibiting in one man shows in Hanover and Munich and he has served as guest lecturer of seminars for young photographers at various universities. In 1969 he began to use an 8 x 10 inch camera to photograph buildings and other historical structures. His "Faces of Buildings", presented at the Photokina 1976, won him wide international acclaim.

At the invitation of the Polaroid Corporation USA , Reinhart Wolf toured Georgia in 1977 and photographed buildings for another documentary series. His first book, "Faces of Buildings" was published in 1979. His editorial assignments have increasingly become focal point of Reinhart Wolf\'s development as a photographer.

Both STERN and GEO magazines have commissioned work from him. In the course of several trips during 1979, Reinhart Wolf photographed the towers of New York City . The unusual results are the basis for his book.

In the same year he undertook a tour of Japan in order to photograph Japanese culinary art in pictures of great austerity and sensual simplicity. For that work he received the Gold Medal of Art Directors Club of Germany . Reinhart Wolf died 1988 in Hamburg.
Source: http://www.reinhartwolf.de/reinhart_wolf.htm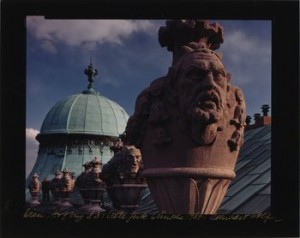 Wien/hofburg 83
Price SEK 0 (€0) Not sold
Estimated SEK 2,000