Reinhold CALLMANDER

1840–1922, Sweden
Also known as: RC-R
Name
Carl, Reinhold, Konstantin CALLMANDER
Reinhold Callmander studied at Dusseldorf and Paris and the Academy in Stockholm. He was a founding member of Valand Art Academy in Gothenburg. He was a pioneer in the decorative arts and executed murals in rich ornamentation. In the glass painting, he was a leading figure and has been described as the father of Swedish glass painting.
Represented: National Museum in Stockholm, Gothenburg Art Museum, and the Uppsala University Library.
Reinhold Callmander studerade med hjälp av ett stipendium från Karl XV och änkedrottning Josefina i Antverpen, Düsseldorf och Paris samt vid Konstakademin i Stockholm. Han var en av stiftarna av Valands konsthögskola och sällskapet Gnistan. Han undervisade i ornamentsmålning och teckning vid Göteborgs slöjdsskola och var anlitad som illustratör vid ett antal samtida tidningar under signaturen Callmus. Han var banbrytande inom dekorativ konst och utförde väggmälningar i rik ornamentering. Inom glasmåleriet var han en föregångsgestalt och har betecknats som det svenska glasmåleriets fader.

Offentlig utsmyckning:
Uppsala domkyrka, Oskar Fredriks kyrka i Göteborg, samt ett flertal kyrkor bland annat i Karlstad, Umeå, Gränna, Hjo, Falköping, Falkenberg, Asmundstorp, samt i realläroverket i Göteborg.

Representerad:
Nationalmuseum i Stockholm, Göteborgs konstmuseum, samt Uppsala Universitetsbibliotek.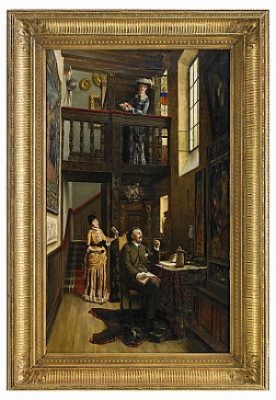 Price SEK 28,000 (€3,071)
Estimated SEK 15,000–20,000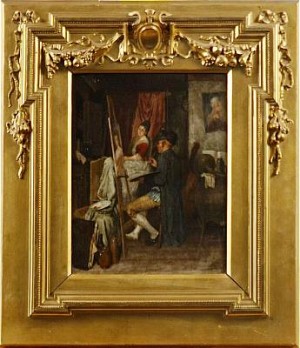 Fredmans Ep No 66 - Till Movits Målare
(1877)
Price SEK 4,200 (€434) Not sold
Estimated SEK 8,000