Robert Rafaelovich FALK

1886–1958, Russia
Also known as: RF

Verdict of guilty
K324839-08
Oil on canvas, title: "Village Landscape with a Horse and Cart", Cubist landscape with figures, 60,2X80,3 cm. Signed in Cyrillic letters and certified painted from 1912 to 1913. Together with three other false objects of art Mr EM submitted this painting to an auction house for Internet commerce. He said that he was the owner of the objects, which together were valued at USD 9.4 million. The auction house paid an advance of 800.000 Swedish crowns! It turned out, at a later hearing, that Mr EM was not the owner of the objects, he had been commissioned by a close friend to sell the items on his behalf but that the objects actually owned by a third person. He has no recollection of how or where the objects came into his possession or its value. He also has no recollection of what he did with the large sum which was paid in advance and would not say whether the alleged owner received any portion of the advance. He had no authorization to sell the objects. Court Decision: In view of this, and when art objects were already being posted for sale, there is clearly a danger that they can re-entering the market as genuine works why they should forfeit.
Oljemålning på duk, kubistiskt landskap med figurer, titel: "Village landscape with a Horse and Cart", 60,2x80,3 cm. Signerad med kyrilliska bokstäver och enligt intyg målad 1912-1913. Tillsammans med ytterligare tre falska konstföremål lämnade Herr E.M. denna målning till ett skandinaviskt auktionsverk för internethandel för försäljning. Herr E.M. uppgav att han var ägare till föremålen som tillsammans värderades till SEK 9,4 miljoner. Herr E.M. övertygade auktionshuset om dess äkthet som betalade ut ett förskott på hela 800.000 kronor! Det visade sig, vid senare förhör, att Herr E.M. inte alls var ägare till föremålen, han hade fått i uppdrag av en nära bekant att sälja föremålen för dennes räkning men att föremålen i själva verket ägdes av en tredje person. Han har inget minne av hur eller när föremålen kom i hans ägo eller att de skulle vara värdefulla. Han har heller inget minne av vad han gjorde med den stora summan som betalades i förskott och vill inte uppge om den påstådda ägaren fått någon del av förskottet. Han hade heller ingen fullmakt för att försälja föremålen. Rättens beslut: Med hänsyn härtill och då konstföremålen redan en gång lagts ut till försäljning finns det en uppenbar risk att de åter kan komma ut på marknaden som äkta verk varför de ska förverkas.

Verdict of guilty
0201-K340246-09
Watercolor, city scene with a car and figure, 16x21 cm, Signed in Cyrillic letters. The painting has damage. It was submitted to a small auction house in Stockholm, nov. 2009, for the sale but was handed over to the police technical department for investigation when it was suspected that it could be a forgery. At the screening of watercolors lower right corner appears clearly an underlying signature that has been painted over with new color. District Court: Signature forgery, aggravated fraud, 6 months imprisonment.
Akvarell, stadsscen med bil och figur, 16x21 cm, Signerad med kyrilliska bokstäver, målningen är trasig. Målningen var inlämnad till ett mindre auktionshus i Stockholm, nov. 2009, för försäljning men överlämnades till polisens tekniska rotel för utredning då man misstänkte att det kunde vara en förfalskning. Vid genomlysning av akvarellens nedre högre hörn framträder tydligt en övermålad signatur. Tingsrättens dom: Signaturförfalskning, grovt bedrägeri, 6 månaders fängelse.

Verdict of guilty
0201-K106269-10
Oil on board, landscape with houses, signed and dated "R. Falk" 1916, 24x34 cm. The painting was submitted to an auction house in southern Sweden for sale. It was presented in the auction house's catalog estimated price: 18000-20000 Swedish crowns. Suspicion of signature forgery arose and the painting was confiscated by police. After the investigation concluded that the painting has not been painted by the Russian artist Robert Falk and the signature is a forgery. Note. The district court decides that the signature R. Falk and the year 1916 shall be removed and on the painting's back is written: "The signature R. Falk has been removed. The painting is not an original work by Robert Falk". Thereafter, the painting shall be returned to the owner. Warning: There is a risk that the painting gets a new signature, and once again become for sale as a genuine work. Probably on a foreign market in Europe or the United States.
Oljemålning på pannå, Landskap med hus, signerad "R. Falk" och daterad 1916, 24x34 cm. Målningen lämnades till ett auktionshus i Götaland för försäljning på "Vårkvalitén 2010". Målningen togs in i auktionshusets katalog och utropspriset angavs till 18.000-20.000 kronor. Misstanke om signaturförfalskning uppkom varpå målningen togs i beslag av polis. Efter utredning och genomgång finner tingsrätten det utrett att målningen inte har målats av den ryske konstnären Robert Falk och att signaturen således är en förfalskning. Obs. Tingsrätten beslutar att signaturen R. Falk samt årtalet 1916 ska avlägsnas samt att det på målningens baksida påskrivas: "Signaturen R. Falk har avlägsnats. Tavlan är inte ett originalverk av Robert Falk". Därefter ska målningen återlämnas till ägaren. Varning: Det finns risk att målningen får en ny signatur och återigen blir till salu som ett äkta verk. Troligen på en någon utländsk marknad i Europa eller USA.



Name
Robert Rafaelovich FALK
Falk spent ten years in France, from 1928 to 1938, \\\"in order to study the classical heritage\\\" as he declared in an official form he had to fill in for the authorities. While there he took part in numerous exhibitions, culminating in a personal exhibition at the Galerie Van Leer, but was always struggling with poverty. In Paris he lived in a studio that was cold in winter and hot in summer, surrounded by factories and the constant noise of lorries making deliveries. By 1934 the economic crisis in Europe was such that many artists had left Paris altogether and Falk was able to take on another studio in the Rue de la Pompe near the Bois de Boulogne. He wrote to his mother that such places were now affordable to \\\"us proletarian artists, who previously would not have dared stick our noses into the area\\\". Later in the year he was in Bretagne, at La Finistere, from where he wrote \\\".this is one of the most dangerous areas of Europe. Everything is full of a wild romanticism and painterliness, and also I have never managed to settle anywhere else as well and as cheaply as here.\\\"
Falk was to fall from favour during the Socialist Realist years, with him being perceived as an aloof, intellectual artist and in 1946 was criticised as a result of the first Zhdanov decree, after which he was not allowed to exhibit and it became dangerous to associate with him. Indomitably he continued to work and exhibit in private and during the last years of his life he became a major influence on the emerging generation of non-conformist artists. An exhibition of his work was held at the State Russian Museum in 1972.
Best known for his Cezannistic style, Falk is much loved by many contemporary painters in Russia whose teacher he was, and therefore linked them with masters of the previous generation.
Source: Stockholms Auktionsverk, Stockholm Sweden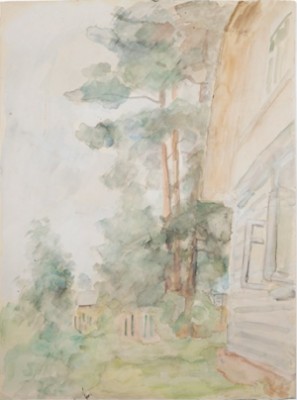 View Of A Country House
(-54)
Price USD 6,250 (€5,761) Incl. buyer's premium
Estimated USD 5,000–10,000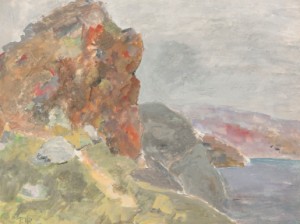 Alupka, Crimea
Price USD 0 (€0) Not sold, incl. buyer's premium
Estimated USD 15,000–20,000