Robert PHILIPP
1895–1981, USA
Robert Philipp began to draw at the age of three which seems only natural since family members were highly attuned to the arts, prominent in Europe and America in opera singing, composing, and theatre management.


Robert Philipp was born Moses Solomon Philipp on February 2, 1895 in New York City. He showed early talent and grew up in a family atmosphere that fed and cultivated his creativity. At age of 15, he entered the Art Students League for four years and then continued his training at the National Academy of Design. His teachers at the League included George Bridgeman and Frank DuMond, and at the National Academy he studied with Douglas Volk and George Willoughby Maynard.

Recognition cam quickly to Philipp, and his early works exhibit an eclectic range of artistic sources: Vermeer, Rembrandt, Renoir, Bonnard, Sargent and Fantin-Latour. After the death of his father, Philipp turned away from painting for a time and joined his uncle's opera company as a tenor. He eventually returned to painting and settled in Paris, living there in the 1920s. The exact date of Paris sojourn is not known, but he reportedly lived there for ten years, supporting himself through the sale of his paintings.

Back in New York in the early 1930s, Philipp was gaining a reputation for his portraits and figure studies. His – Olympia – won the Logan prize at the Art Institute of Chicago in 1936 and was subsequently purchase by J. Paul Getty. During the Depression, he worked for the Public Works of Arts Project.

In 1934, he married artist Shelly (Rochelle) Post, who became his favorite model until her death in 1971. Critic Henry McBride called Philipp "One of the top ten painters in America." It was during the 1930s that he began to paint landscapes, still lives and nudes evolving a distinctively lyric and modern style.

Philipp painted passionately and directly creating a synthesis of observation and poetic vision using high keyed colors and rhythmic treatment of form. Philipp's work, in his later years, began to increasingly resemble the Expressionist and emotional style of Chaim Soutine.

Philipp, as a teacher at the Art Students League for over thirty years and at the National Academy for sixteen years, was an important influence on American art. As a teacher, he was well known for his attention to color and his constant emphasis on the importance of drawing. He was a member of the Lotus Club, National Academy of Design and Royal Society of Arts.

His works are in the collections of the Corcoran Gallery, Washington, D.C.; High Museum, Atlanta, Georgia; Dallas Museum, Texas; Metropolitan Museum of Art and Whitney Museum of American Art, New York City.

Through constant travel, beginning with the turn of the century, Philipp was exposed to the invaluable cultural influences of some of the major cities of the world. Renoir, Monet, and Degas were active in his favorite Paris, the "City of Light," which, along with London, Amsterdam, and Venice, attracted and inspired him for a lifetime.

He studied art in Paris and at the National Academy and at the Art Students League in New York, developing the masterful, yet intensely personal style, which produced his success. Collectors from around the world, Tokyo or Tel Aviv, Sydney or Capetown, Rio or Montreal, made him one of the rare Americans with a truly international following. Among Phillipp's famous collectors was the distinguished J. Paul Getty.

Robert Philipp was elected to the National Academy as Associate in 1935, full Member in 1945. An extensive biography would be necessary to discuss all the exhibitions, prizes and awards, gold, silver and bronze medals, and various honors accorded him from 1917 onward, not to mention a listing of his extensive representation in museum collections such as the Metropolitan, Whitney, Brooklyn, Corcoran, Dallas, Houston, to name only a few.

As important to him as painting was his teaching, which preoccupied him continually for over forty years at the Art Student League, National Academy, University of Illinois, and Atlanta High Museum.

A powerful and memorable instructor, he teased and challenged his students, encouraging some, infuriating others, leaving a few in tears, but imbuing all with what he considered a serious responsibility,,, to awake in each an awareness of talent for artistic expression.

Sometimes called "America's last impressionist," Philipp projected an image romantic and evocative, colorful and engaging, haunting or humorous, always perceptive. The observer is spellbound by his daydreaming girls, swept up in the glamour of his restaurant parties and glittering opening nights, touched by emotional involvement with each character caught in a frozen moment. His adored wife Rochelle was a favorite model.

Robert Philipp's place in American art is secured by his legacy of beautiful works remaining to enrich the lives of future generations and by the vital creativity he sparked in thousands of pupils who will continue in the tradition of his dedication to fine painting.
Source: http://rogallery.com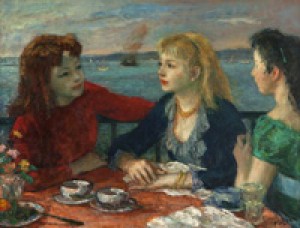 Gloucester Harbor
Price USD 6,600 (€5,907) Incl. buyer's premium
Estimated USD 3,000–5,000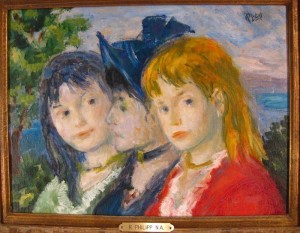 Three Girlfriends
Price USD 1,080 (€813) Incl. buyer's premium
Estimated USD 1,000–1,500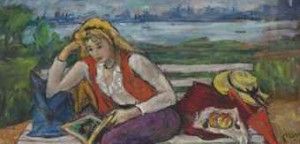 Price USD 6,000 (€4,465) Incl. buyer's premium
Estimated USD 5,000–7,000