Rosa EKELUND
1933, Sweden
Rosa Ekelund studied at the Ecole des Beaux Arts, Brussels, Belgium, Gerlesborgsskolan, Sweden. She works with oil and tempera. The subjects are often people in everyday life. Represented: Ministère de la Culture Francaise, Belgium. Danderyd-, Nacka-, Sigtuna-, Sollentuna-, Torslandas-, and Tyresö Vingåkers Municipalities. Västmanland County Council.
Rosa Ekelund studerade vid Ecole des Beaux Arts, Bryssel, Belgien, Gerlesborgsskolan, Sverige. Hon arbetar med olja och tempera. Motiven föreställer ofta människor i vardagen.

Separatutställningar:
Galerie Tamara Pfeiffer, Bryssel 1983. Galerie S:t Paul, Stockholm 1984. Galleri Versalen, Sundsvall 1985. Galleri Kretsen, Södertälje 1985. Rådhuset, Mariefred 1985. Galleri Geijer, Nybro 1985. Agardhs Galleri, Båstad 1987. Gallerie Galax, Göteborg 1987. Hagelstams Galleri, Helsingfors 1987. Galleri Aniara, Sollentuna 1988. Galleri Viktor, Djursholm 1988. Galerie Mistral, Uppsala 1989. Galleri Nykvarn, Enköping 1989, 1992, 1995. De Ungas Salong, Stockholm 1990. Nacka Konsthall, Nacka 1991. Rådhuset Marstrand 1991, 1995. Galleri Gamla Väster, Malmö 1993. Galleri Sjöhästen, Nyköping 1993, 1996. Galleri HP Halmstad 1993. Galleri Orpheus, Eskilstuna 1993. Galleri Kasper, Norrköping 1993. Galleri Småland, Alvesta 1994, 1996. Galleri 17, Stockholm 1994. Café Lucas, Stockholm 1994. Sjöfartsmuséet, Göteborg 1995. Galleri Bellman, Stockholm 1996, 1997, 1999, 2001. Trä & teknikmässan, Göteborg 1996. Prästgårdsgalleriet, Linköping 1996. Galleri Viktoria, Göteborg 1997. Galleri Skåne, Mörarp 1997. Konsthallen, Ljungby 1998.

Samlingsutställningar:
Ett flertal utställningar i Belgien 1979 -1983. Konst åt alla, Stockholm 1985, 1990. Danderyds Konstnärsgrupp, Djursholm. Liljevalchs Konsthall 1987, 1992. Trosa Kvarn 1988. Sofiero 1990. Aftonbladet, Stockholm 1996. Länsmuséet Halmstad 2000. Konstliv i Halland från 1996-2005.
Offentlig utsmyckning: Autoliv, Conferest Club, Dalheimers Hus, Astra, Pharmacia, Fabege, Folkparkernas HK, Q8, Länsförsäkringar, NCR - Data, Skandia, SPP, Vattenfall, Volvo, Telia. Danderyds Sjukhus för Stockholms Läns Landsting. Bostadshus för HSB Jarlaberg och Handen. Svenska Bostäder i Hammarbyhöjden och Nockeby. Kevinge Servicehus för Danderyds bostäder samt Sikreno Strand. Jubileumsaffisch för, Tjejmilen, 1993. Litografi för Alcro Beckers jubileum samt för Stadsdelsnämnden Torslanda.

Representerad:
Ministére de la Culture Francaise, Belgien.
Danderyds, Nackas, Sigtunas, Sollentunas, Torslandas, Tyresös och Vingåkers Kommuner. Västmanlands Läns Landsting.
Medlem av KRO och KC Väst.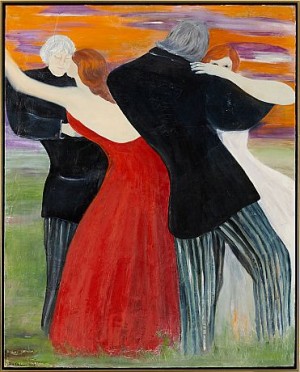 Price SEK 5,600 (€604)
Estimated SEK 2,000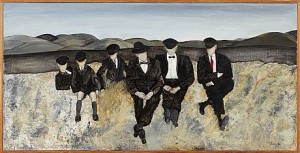 Price SEK 5,400 (€614)
Estimated SEK 2,000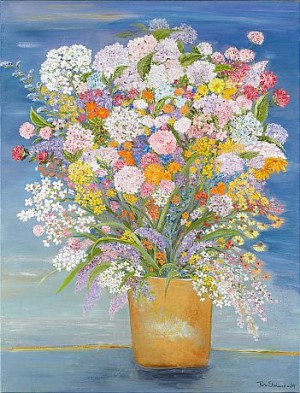 Price SEK 2,400 (€277) Not sold
Estimated SEK 5,000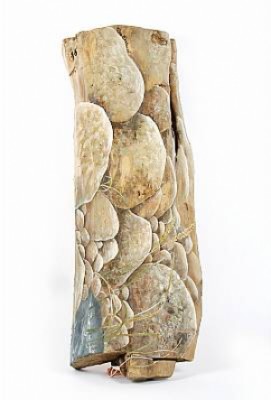 Väggobjekt
Price SEK 800 (€83)
Estimated SEK 2,000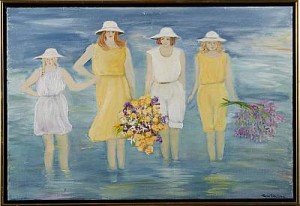 Fyrklöver
Price SEK 500 (€52)
Estimated SEK 1,500