Ruben NILSSON
1893–1971, Sweden
Name
Ruben, Isendorf NILSSON
Ruben Nilsson worked initially as metal workers in Stockholm. He debuted as an artist with an exhibition 1929. He was also singing and song writer. A short film was shot on him in 1984, Ruben Nilson, songwriter - artist - sheet metal worker.
Represented: Stockholm City Museum and visarkivet.
Ruben Nilsson arbetade ursprungligen som plåtslagare i Stockholm. Han debuterade som konstnär med en utställning 1929. Han fortsatte sitt arbetade som plåtslagare fram till debuten med vissamlingen Vanvördiga visor 1935, han gav senare ut ytterligare två samlingar illustrerade av honom själv. Han tilldelades Ferlinpriset 1963. En kortfilm spelades in om honom 1984, Ruben Nilson, visdiktaren - bildkonstnär - plåtslagaren.

Representerad:
Stockholms stadsmuseum och Visarkivet.

Vissamlingar:
Balladen om Eken 1947. Vår vackra värld 1937. Vanvördiga visor 1935.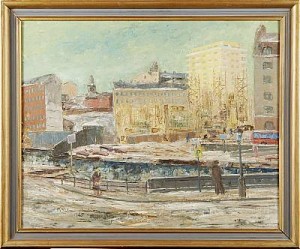 Motiv Från Kungsholmen - Stockholm
(1925)
Price SEK 3,500 (€359)
Estimated SEK 2,000