Sidney Richard PERCY
1821–1886, England
Name
Sidney Richard Williams PERCY
Sidney Richard Percy

Sidney Richard Percy Williams, known as Sidney Richard Percy, was the second-youngest son of the landscape artist Edward Williams (1781-1855) and one of six brothers, all of whom were accomplished and successful painters. They were: Edward Charles Williams (1807-1881); Henry John Williams, known as Henry John Boddington (1811-1865); George Augustus Williams (1814-1901), Arthur Gilbert Frederick Williams, known as Arthur Gilbert (1819-1895); and Alfred Walter Williams (1824-1905). Their prominence necessitated the various versions of the family name.
Percy\'s accomplished and evocative paintings were based on sketches made during extensive travels throughout the British Isles, often accompanied by one of his brothers.
Source: http://www.paol-co.com/search_artist_uk.asp?ArtistID=165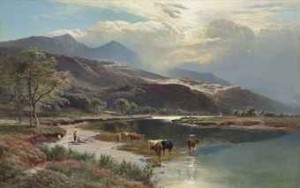 Cader Idris, North Wales
(1874)
Price GBP 73,875 (€85,849)
Estimated GBP 30,000–50,000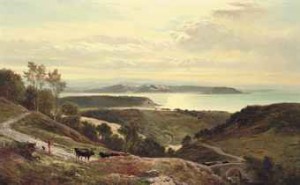 Grange Over Sands, Cumbria
(1874)
Price GBP 22,500 (€26,147)
Estimated GBP 20,000–30,000