Sixten NILSSON
1911–1962, Sweden
Name
Sixten, Arnold NILSSON
Sixten Nilsson studied at the Art Academy in Stockholm and at the Academie Scandinave in Paris in 1935 and at the Escuela Superior de Bellas Artes de San Jorge in Barcelona from 1952 to 1953. He has made trips to Norway, France and Spain. He has modeled busts, portrait heads, children\'s heads, plaques. He has performed Churches Sculptures and mosaics at different locations in Sweden. Drawings with figure subjects and landscapes. Represented: Värmland Museum and HMK collections in Sweden.
Sixten Nilsson studerade vid Konstakademien i Stockholm och vid Academie Scandinave i Paris 1935 samt vid Escuela Superior De Bellas Artes De San Jorge i Barcelona 1952-1953. Han har företagit resor till Norge, Frankrike samt Spanien. Han har modellerat byster, Porträtthuvud, barnhuvud, plaketter. Han har utfört Kyrkoskulpturer och mosaikarbeten på skilda platser i Sverige. Teckningar med figurmotiv och landskap.

Representerad:
Värmlands museum och H.M.K. samlingar.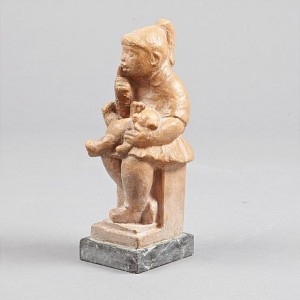 Väck Ej Den Björn Som Sover
(-58)
Price SEK 800 (€92)
Estimated SEK 1,000