Stig NELSON
1946, 20th century, Sweden
Lived & Active In
Dalsland, Sweden
Stig Nelson work with monumental compositions. Color choice is limited to red, blue and black to accentuate the material\'s strength. The material is oak and birch to the sculptures. Old, worn, thick sheets of large oil paintings, rich in life and a peculiar beauty.
Stig Nelson arbetar med monumentala kompositioner. Färgvalet är begränsat till rött, blått och svart för att accentuera materialets styrka. Materialet är ek och björk till skulpturerna. Gamla, slitna, grova presenningar i stora
oljemålningar, rika på liv och en säregen skönhet.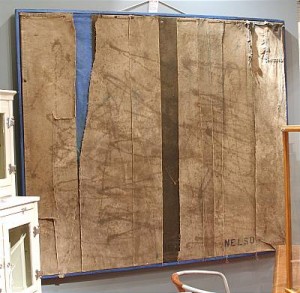 Collage Med Skeppsduk, Mallsignerad
Price SEK 0 (€0) Not sold
Estimated SEK 5,000