Sven-Erik JOHANSSON
1925, Sweden
Sven-Erik Johansson attended the School of Arts and Crafts Association and the Endre Nemes Valand at art school. Made his debut at Borås Art Museum 1957th Inspired by Pieter Bruegel, Albrecht Dürer and Hieronymus Bosch painting he was sure in a legalistic style, which he later partially waived.
Public art: He has done a tapestry of the Ministry of Education, 1968-1969. The exhibition, from the unknown, at Borås Museum in 2007, covering more than 150 works.
Represented: National Museum in Stockholm, Moderna Museet in Stockholm, Gothenburg Museum of Art, Malmö Museum, Borås Art Museum and the Museum of Modern Art in New York. He has participated in group exhibitions, Western Swedish Avantgarde, Röda Sten in Gothenburg.
Source: Art Signature Dictionary
Sven-Erik Johansson studerade vid Slöjdföreningens skola och för Endre Nemes på Valands konstskola. Gjorde sin debut på Borås konstmuseum 1957. Inspirerad av Pieter Bruegel, Albrecht Dürer och Hieronymus Bosch målar han i en surealistisk stil, som han senare delvis frångår.

Offentlig utsmyckning:
Han har utfört en gobeläng för Undervisningsdepartementet 1968-1969. Utställningen, Från det okända, på Borås Museum 2007, omfattade mer än 150 verk.

Representerad:
Nationalmuseum i Stockholm, Moderna Muséet i Stockholm, Göteborgs Konstmuseum, Malmö Museum, Borås Konstmuseum, och Museum of Modern Art i New York.
Han har deltagit i samlingsutställningen, Västsvensk Avantgarde, Röda Sten i Göteborg.
Source: Art Signature Dictionary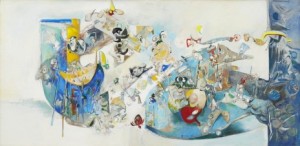 Landskap Från Myriaden
(1961)
Price SEK 21,000 (€2,260)
Estimated SEK 15,000–18,000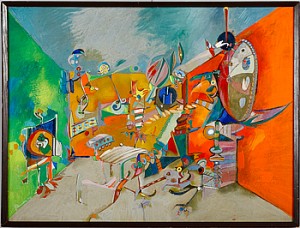 Price SEK 27,500 (€3,250)
Estimated SEK 22,000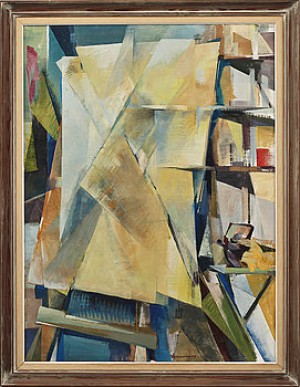 Komposition Med Staffli
(-54)
Price SEK 6,600 (€722)
Estimated SEK 8,000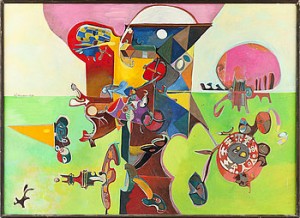 Price SEK 17,600 (€1,926)
Estimated SEK 10,000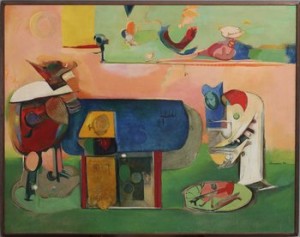 Price SEK 12,500 (€1,388)
Estimated SEK 10,000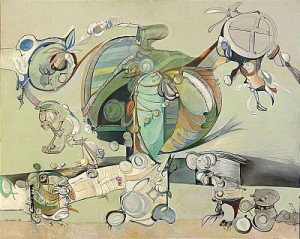 Price SEK 19,000 (€2,064)
Estimated SEK 12,000–15,000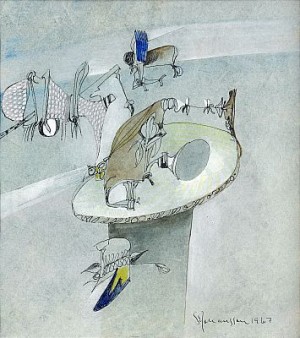 Price SEK 4,500 (€489)
Estimated SEK 2,000–3,000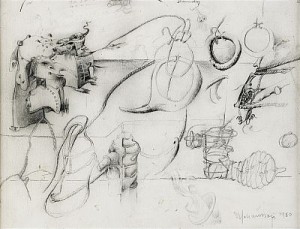 Price SEK 1,500 (€150)
Estimated SEK 1,000–2,000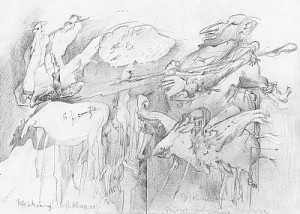 Titta Inte På Mig! Nu Får Det Vara Nog
(1997)
Price SEK 1,200 (€120)
Estimated SEK 1,000–1,500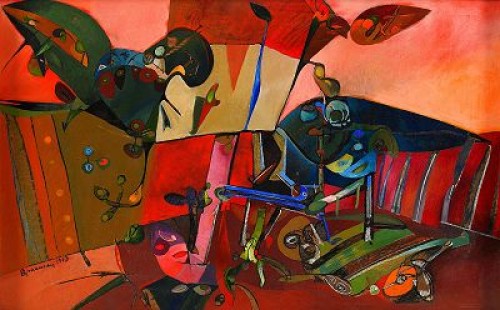 Price SEK 14,000 (€1,308)
Estimated SEK 8,000–10,000