Sven JONSON
1902–1981, Sweden
Sven Jonson was born in 1902 to a fisherman's family in Söndrum outside Halmstad. He becomes a painters apprentice and aims at a craftsman's career as a professional painter; however he becomes increasingly interested in art. In 1922 he takes the step into artistic expression and the following year establishes the group De Unga (The Young) with Esaias Thorén. Axel Olson becomes the group's teacher. The group exhibits in Halmstad in 1924. In 1925 Jonson studies in Stockholm at Carl Wilhelmssons painting school.

In the autumn of 1926 Jonson and Thorén travel to Paris via Cologne where the monumental arches in the cathedral fascinate Jonson. In Paris they draw for Otte Sköld but can not manage to make a living without benefactors and have to leave in the spring of 1927. Back in Halmstad they open Modern Reklam (Modern Advertising), a combined painting school and atelier which becomes a gathering place for the town's artists, musicians and intellectuals. In 1928 Jonson meets the artist Gösta Adrian-Nilsson. GAN's paintings influence Jonson to a series of sports motifs, among others Bandyspelaren (The Bandy Player) 1930.

In 1929, Jonson forms the Halmstad Group together with Axel and Erik Olson, Waldemar Lorentzon, Esaias Thorén, and Stellan Mörner. Towards the end of the 20's, Jonson paints in a post-cubist style oriented towards purism. In 1930 he paints a number of compositions in concretist style, for example Plangeometrisk komposition (Planar-Geometric Composition) 1930. That year he participates in Otto G. Carlslund's scandalous exhibition Art Concret in Stockholm.

In 1934 the Halmstad Group members have developed towards surrealism. In 1935 the group participates in the international exhibition Kubisme=Surrealisme in Copenhagen. Jonson's surrealism is characterised by barren landscapes in light, yellow and brown shades, often with small human figures to exemplify mans smallness in the universe. Architectural elements and vast distances to the horizon with mile long shadows, arches and arcades are all typical elements of Jonson's work of this period. In 1937, he participates in a large international surrealist show in London. During the second half of the 30's Jonson mirrors the fear of a new World War in a series of visions of a destroyed world, for example Ecce Homo 1937.

During the 40's Jonson takes part in Söndrumskolonin (the Söndrum Colony) a grouping of artists in Halmstad´s coastal area- along with Sven X:et Erixson, Felix Hatz and members of the Halmstad Group. The beginning of the 1960's finds Jonson painting labyrinthine cathedrals where, in part, he refers back to the cubism of the 20's. During the latter part of the 60's and the 1970's, the blue shades of sea and sky return to dominate his work; also reflecting his lifelong interest in space, planets, and celestial constellations. Sven Jonson passes away in 1981.
Source: http://www.mjellbykonstmuseum.se/english/k_sven_jonson.asp?forfluten=2009-03-30%2015:49:42
Föds i Halmstad 1902. Växer upp i en sjömans- och hantverkarfamilj i Söndrum utanför Halmstad. Blir tidigt målarlärling och yrkesmålare men intresserar sig även för konst. Han börjar måla på allvar 1922 och tar initiativet att bilda målargruppen De Unga tillsammans med Esaias Thorén 1923. Här deltar Axel Olson som lärare. Gruppen ställer ut i Halmstad 1924. Jonson studerar vid Carl Wilhelmssons målarskola i Stockholm 1925.

Hösten 1926 far Sven Jonson tillsammans med Esaias Thorén till Paris via Köln, där han fascineras av Kölnerdomens höga valvbågar. I Paris tecknar Jonson och Thorén modell för Otte Sköld, men har svårt att försörja sig utan mecenater. Våren 1927 återvänder de till Halmstad och öppnar Modern Reklam, en kombinerad ateljé och målarskola som blir en samlingsplats för stadens konstnärer och intellektuella. 1928 möter Sven Jonson konstnären Gösta Adrian-Nilsson. GAN:s måleri influerar Jonson till en serie sportmotiv, bl.a. Bandyspelaren 1930. 1928 möter han också Stellan Mörner, sonen till landshövdingen i Halmstad, som engagerar honom att tillsammans med Thorén utföra väggmålningar på slottet.

1929 är Jonson med att bilda Halmstadgruppen tillsammans med Waldemar Lorentzon, bröderna Axel och Erik Olson, Esaias Thorén och Stellan Mörner. Mot slutet av 1920-talet målar han postkubistiskt och orienterar sig mot purismen. 1930 gör han en serie kompositioner i konkretistisk stil, t. ex Plangeometrisk komposition 1930. Samma år deltar han i Otto G. Carlsunds utställning Art Concret i Stockholm.

1934 gifter Jonson sig med Brita Svensson. Vid denna tid är Halmstadgruppens medlemmar surrealister. En renodlat surrealistisk av Jonson är Den vaknande vidden, 1935. Samma årdeltar han i den internationella utställningen Kubisme=Surrealisme i Köpenhamn. Sven Jonsons surrealism kännetecknas av ödsliga landskap i ljust gula och bruna toner, ofta med små människogestalter för att påvisa människans litenhet i universum. Arkitektoniska element, vidsträckta horisonter med milslånga skuggor, valvbågar och arkader är typiska kännetecken för Jonsons måleri. 1937 deltar han i en stor internationell surrealistutställning i London. Under andra hälften av 1930-talet speglar Jonson skräcken inför ett nytt världskrig i en serie visioner av en raserad värld, bl. a Ecce Homo från 1937.

1943 har Sven Jonson en separatutställning på Gummesons konsthall i Stockholm. Han är också delaktig i Söndrumskolonin – en konstnärssammanslutning vid Halmstads kustband, tillsammans med bl. a Sven X:et Erixson, Felix Hatz och medlemmarna i Halmstadgruppen. Vid 1960-talets början gör han en serie bilder med labyrintiska katedraler, där han till viss del återkopplar till 20-talets kubism. Under senare delen av 60-talet samt under 70-talet kommer havets och himlens blåa färgskala att dominera hans verk. Detta speglar även hans livslånga intresse för rymden, stjärnbilder och planeter. Sven Jonson går ur tiden 1981.

Halmstadgruppen bildades 1929 av bröderna Erik och Axel Olson, kusinen Waldemar Lorentzon, Sven Jonson, Esaias Thorén samt Stellan Mörner. Gruppen kom att göra betydande avtryck i svensk konsthistoria, mycket tack vare sina internationella kontakter – på 20-talet studerade konstnärerna i Paris och Berlin för berömda avantgardkonstnärer som Archipenko och Léger.

I början av 30-talet går Halmstadgruppen in i en ny fas – den surrealistiska. De möter surrealismen i Paris, i en tid då Europa befinner sig i en djup politisk och ekonomisk kris. Halmstadgruppen introducerar konstriktningen i Sverige. Dock sätter gruppens medlemmar en säregen prägel på sin surrealism där det nordiska ljuset och den halländska kuststräckan ofta är närvarande.

Halmstadgruppen upplöstes 1979 i samband med Stellan Mörners bortgång. Idag räknas den som en av världens längst bevarade konstnärsgrupper.
Source: http://www.mjellbykonstmuseum.se/k_sven_jonson.asp?forfluten=2009-01-22%2014:22:49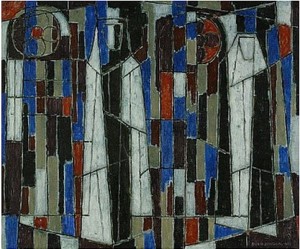 Komposition Med Två Figurer
(-48)
Price SEK 16,000 (€1,742)
Estimated SEK 15,000–18,000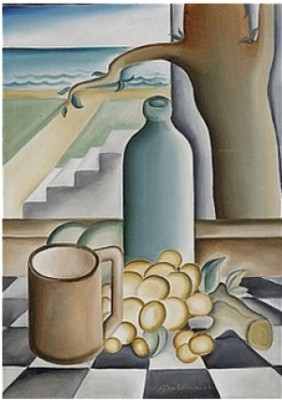 Sydländskt Stilleben
(-26)
Price SEK 80,000 (€8,840)
Estimated SEK 100,000–125,000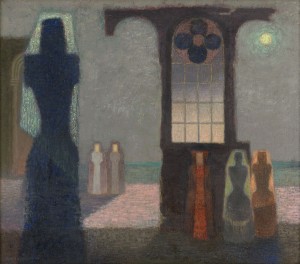 Price SEK 18,000 (€2,097)
Estimated SEK 20,000–25,000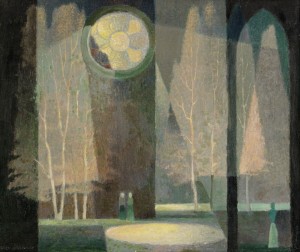 Price SEK 55,000 (€6,408)
Estimated SEK 40,000–50,000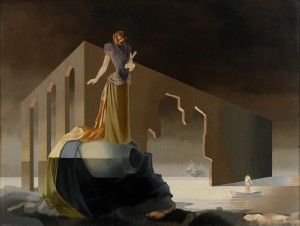 Price SEK 480,000 (€55,920)
Estimated SEK 600,000–800,000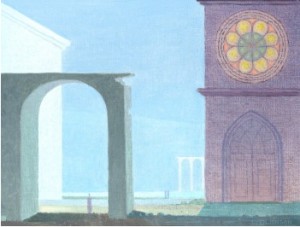 Vesper
Price SEK 12,000 (€1,349)
Estimated SEK 12,000–15,000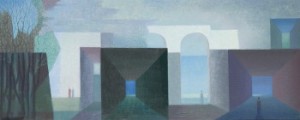 Fragment Av Morgonhimmel
Price SEK 29,000 (€3,261)
Estimated SEK 15,000–18,000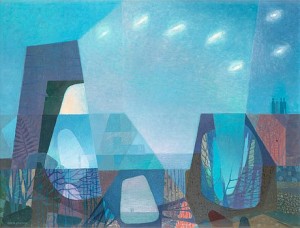 Tecken I Skyn
Price SEK 62,000 (€6,615)
Estimated SEK 40,000–50,000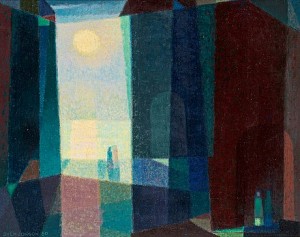 Price SEK 21,000 (€2,241)
Estimated SEK 20,000–25,000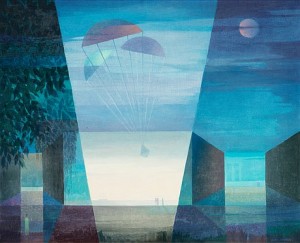 Price SEK 43,000 (€4,644)
Estimated SEK 40,000–60,000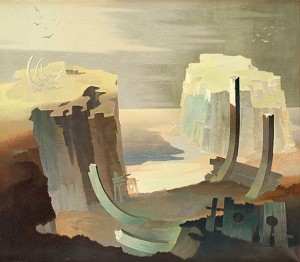 Price SEK 68,000 (€7,385)
Estimated SEK 60,000–70,000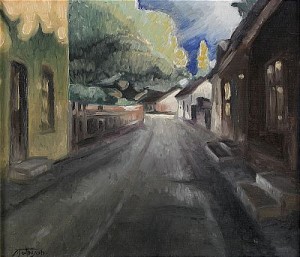 Vallgatan
Price SEK 16,000 (€1,738)
Estimated SEK 18,000–20,000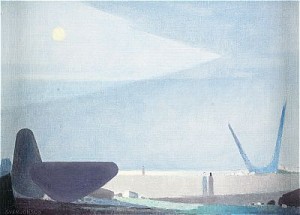 Sommarnatt Vid Havet
Price SEK 23,000 (€2,498)
Estimated SEK 15,000–18,000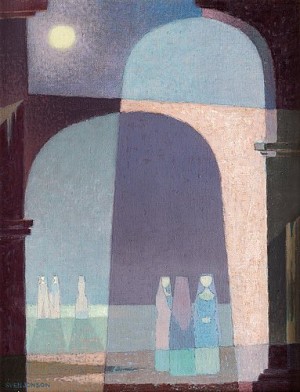 Den Ljusa Natten
Price SEK 12,000 (€1,303)
Estimated SEK 15,000–18,000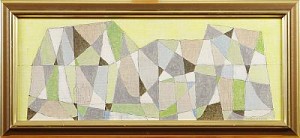 Komposition I Maj
Price SEK 5,000 (€540)
Estimated SEK 5,000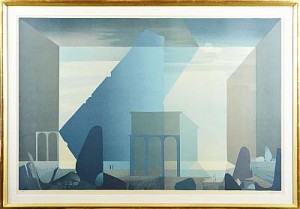 Komposition
Price SEK 1,800 (€194)
Estimated SEK 2,000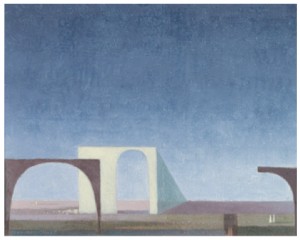 Price SEK 18,000 (€1,721)
Estimated SEK 10,000–12,000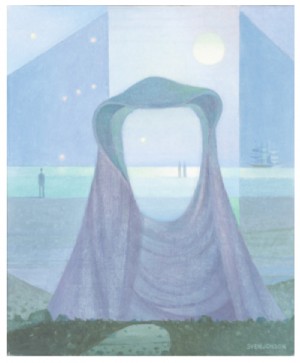 Surrealistisk Strand
Price SEK 24,000 (€2,294)
Estimated SEK 25,000–30,000

Spirande Liv
Price SEK 100,000 (€9,820)
Estimated SEK 125,000–150,000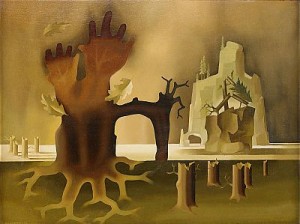 Price SEK 24,000 (€2,357)
Estimated SEK 30,000–35,000
Den Vita Portalen
Price SEK 1,000 (€98)
Estimated SEK 1,200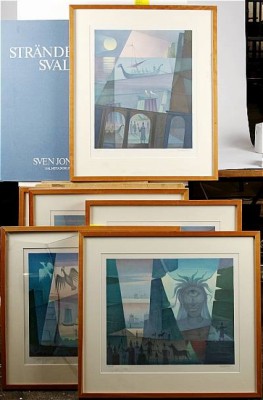 (6) Strändernas Svall, Portfölj Med Sex Färglitografier
Price SEK 4,200 (€416)
Estimated SEK 4,000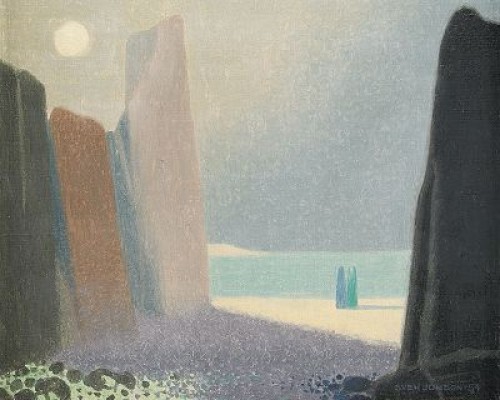 Price SEK 18,000 (€1,682)
Estimated SEK 20,000–25,000
Ruin Och Riddarsporre
(1942)
Price SEK 55,000 (€5,140)
Estimated SEK 50,000–60,000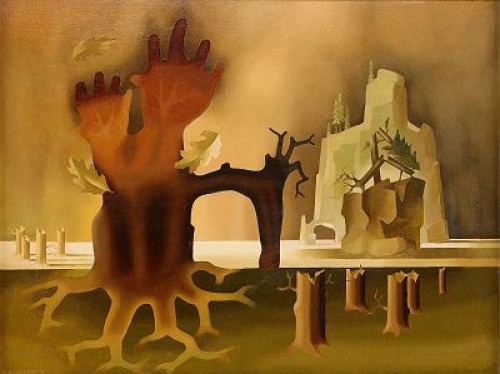 Price SEK 0 (€0)
Estimated SEK 50,000–60,000
Price SEK 0 (€0)
Estimated SEK 25,000–30,000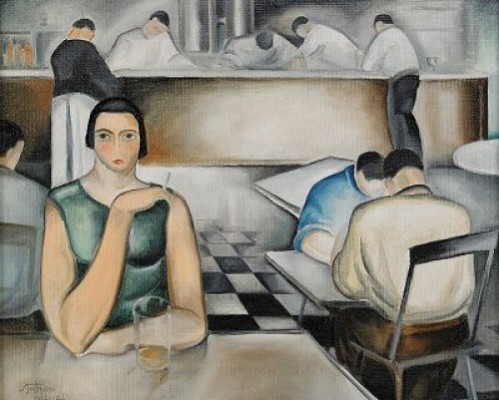 Price SEK 200,000 (€18,692)
Estimated SEK 100,000–125,000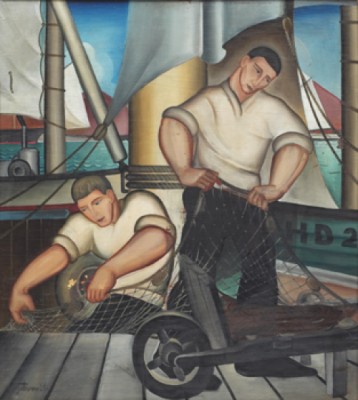 Fiskare Med Sina Nät
(-26)
Price SEK 110,000 (€10,000)
Estimated SEK 80,000–100,000