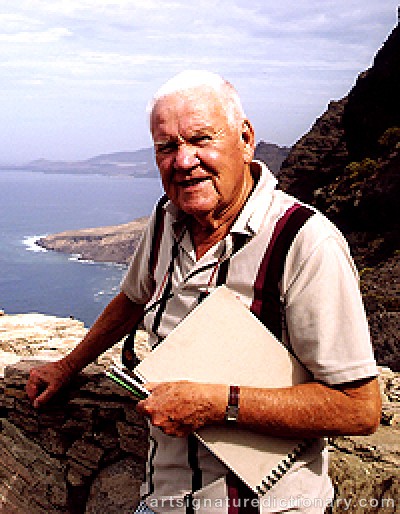 Sven RYDÉN
1925, Sweden
Name
Sven, Erik Sture RYDÉN
Sven Rydén studied for Anders Beckman. He made small elegant drawings of insects and plants. He has also provided illustrations for several daily newspapers.
Represented: National Museum, National Portrait Collections Gripsholm, Gustav VI Adolf\'s collections, Tessin Institute of Paris, several museums in the country. Solna\'s Cultural Prize 1968.

Source: Composed of a variety of sources from the internet.
Sven Rydén född 1925 i Bollnäs, tecknare, målare. Uppväxt och skolgång i Bollnäs, bosatt i Solna. Han studerade vid Beckmans reklamskola i Stockholm och är verksam tecknare i tidnings- och tidkriftspress.
Sven Rydéns teckningar består av naivistiskt lagda tuschteckningar med ett myller av människor och ting, med en ironisk hållning samt realistiskt utförda naturstudier av kustlandskap, växter och insekter. Han har också gjort teckningar med Bollnäsmotiv.
Sven Rydén har deltagit i Gävleborgs läns- och Jämtlands läns konstföreningars utställningar, Linköpings museum, samt utställningar i Helsingborg.

Separatutställningar:
De Ungas Salong 1963, 1968. Gummesons Konstgalleri 1973, 1976. Prins Eugens Valdemarsudde 1979. Konstnärshuset 1996. Krapperups Konsthall 1996. Galleri Överkikaren 1990, 1994, 1999, 2002, 2005. Teckningsmuséet i Laholm 2003, Bollnäs Konsthall 2004. Fast medarbetare i Svenska Dagbladet 1959-1990.

Representerad:
Nationalmuseum, Statens Porträttsamlingar Gripsholm, Gustav VI Adolfs samlingar, Tessinska Institutet Paris, Nationalmuseum, Museet i Linköping, Helsingborg coh Hälsinglands museer, Bollnäs Konstmuseum samt kommunala samlingar samt ett flertal muséer i landet. Solnas Kulturpris 1968.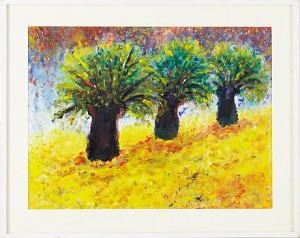 Price SEK 750 (€81)
Estimated SEK 2,000