Svenerik JAKOBSSON
1934, Sweden
Lived & Active In
Trångsund, Sweden
Svenerik Jakobsson studerade vid Konstfackskolan i Stockholm 1953-1958. Grafikstudier för Adelyne Cross-Eriksson 1961-1966.

Utställningar:
Ett 80-tal separatutställningar på gallerier, konsthallar och museer i Sverige och utomlands, bland annat på Ålands Konstmuseum i Mariehamn och Grönlands Nationalmuseum i Nuuk
En mängd grupp- och samlingsutställningar i Sverige och ett 20-tal andra länder.

Offentliga utsmyckningsuppdrag:
Huddinge kommun 1993 (reliefer och skulpturer i bostadsområdet Koljan), Nacka kommun 1993 (skulpturer och grafik i Saltsjöbadens samskola), Uddevalla kommun kommun 1995 (grafik i Hoveshultskolan), Järfälla 1998 (stenskulpturer och grafik), Huddinge kommun 1998 (stenskulpturer och grafik).

Representerad:
The New York Public Library, Temple University i Philadelfia, Bibliothèque National i Paris, Statens museum for Kunst i Köpenhamn, Staatliche Museen su Berlin, Kupferstichakabinett DDR, Graphische Sammlung Albertina i Wien, Listasafn Island, Wäinö Altonen Museum i Åbo, Museum of Contemporary Art i Helsingfors, Grönlands Nationalmuseum i Nuuk, Museo Moderno i Santo Domingo, Nacional de la Estampa i Mexico C, Nationalmuseum i Stockholm, Statens konstråds samlingar samt i en mängd kommuners och landstings samlingar.

Övrigt:
Har som konstnär deltagit i den svenska Antarktisexpeditionen 1989.
Deltagit i en mängd snöskulpturtävlingar i Sverige och på Grönland.
Source: www.svenerikjakobsson.se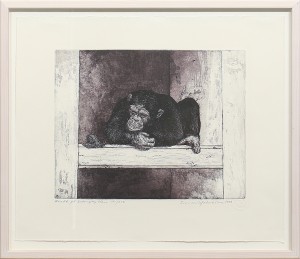 Besök På Betonghyllan
(1980)
Price SEK 300 (€32)
Estimated SEK 1,500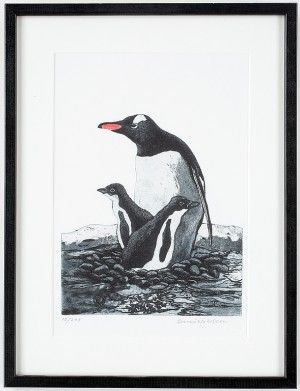 Motiv Av Pingviner
Price SEK 1,650 (€172)
Estimated SEK 1,500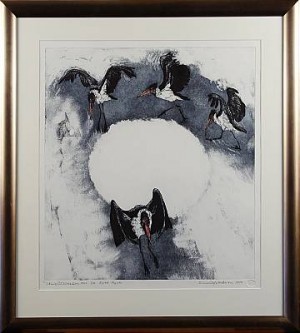 Ikaros På Lissabon Zoo 1990
(1990)
Price SEK 0 (€0) Not sold
Estimated SEK 2,000