Tadeusz 'Tade' MAKOWSKI
1882–1932, Poland
Name
Tadeusz 'Tade' MAKOWSKI
Tadeusz Makowski studerade filosofi vid Jagiellonska universitetet i Krakow. Han fortsatte 1908 sin utbildning vid Académie des Beaux-Arts i Krakow tillsammans med vännerna Jan Stanislawski och Józef Mehoffer. Efter några besök i Italien omkring 1910 bosatte han sig i Paris och presenterade sina verk på bland annat på Salon des Indépendants. I början av 1920-talet ställde han ut tillsammans med konstnärsvänner som Marcel Gromaire, Pierre Dubreuil, Édouard Goerg, Per Krogh och Jules Pascin på Galerie Berthe Weill i Paris. Han visade också sina målningar på två separatutställningar på samma galleri 1927 och 1928. Marcel Gromaire var ordförande i Society of Friends of Tadeusz Makowski, som bildades efter Makowskis död.
Makowskis måleri var i hög grad influerat av Pierre Puvis de Chavanne, efterhand inspirerades han även av fauvismen och kubismen. Genom Le Fauconnier kom han i kontakt med den kubistiska rörelsen i Montparnasse med bland andra Albert Gleizes, Jean Metzinger, Fernand Léger, Alexander Archipenko, Piet Mondrian och Peter Alma, Conrad Kickert och Guillaume Apollinaire.
Efter en vistelse i Bretagne, i Doëlan, där han besökte sin vän, den polske konstnären Wladyslav Slewinski, utförde Makowski ett antal landskapsmålningar som gränsade till naivismen. Han målade 1922, i Auvergne, Concert d enfants, en betydande målning i hans oeuvre. Han utvecklade sin stil genom att använda matematisk geometri men behöll samtidigt sina rötter i den polska landsbygden och med detta inspirationen från sitt hemlands bondesamhälle. Makowski intresserade sig mycket för barn och bilden av de unga är ett återkommade tema i hans måleri.
Trois enfants är ett lysande exempel på detta kärleksfulla motiv.
Source: Stockholms Auktionsverk, Stockholm Sweden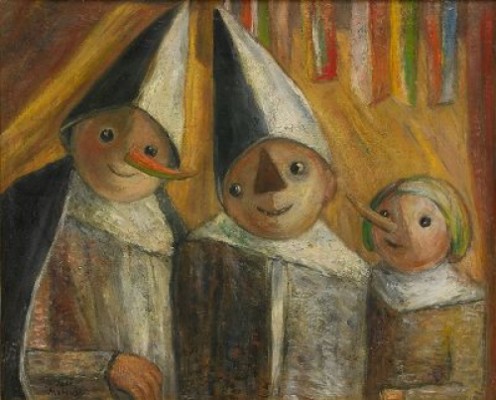 Trois Enfants Au Drapeau
Price SEK 185,000 (€17,290)
Estimated SEK 150,000–200,000