Tatiana KOTLIAROVA
1959, Russia/Sweden
Tatiana Kotliarova was born in St Petersburg in Russia. Even as a little child she enjoyed painting, and her mother encouraged her daughter\'s interest and bought art books and took Tatiana with her to art exhibitions. When Tatiana was seven years old she started to take art lessons after school.

When she was sixteen and had finished school Tatiana began looking for a studio, but it was hard to find one in the Soviet Union and private lessons were expensive. Therefore Tatiana started to attend a course at the College of Design. After only a few lessons one of her teachers offered Tatiana a place in his artist group. He had an attic flat in St Petersburg where about 40 young artists could stay for free during the days, and in the evenings he taught them in different techniques.

Some years later Tatiana was admitted to the Institute of Art and Graphics in St Petersburg where she studied for five years. Before the fall of the Soviet Union there were no private galleries in Russia. To exhibit your art you had to be a member of the Association of Soviet Artists, but it was hard and your art had to fit the regime. Tatiana earned a living by making pictures and wall paintings for public premises.

In 1989 the first private gallery opened in St Petersburg, and you could easily sell your art if it appealed to the owner of the gallery. But there was still just one gallery in St Petersburg, and the artists were many. Tatiana started to copy famous Flemish artists as Jan and Pieter Brueghel and Isaac Soreau, both to make a living and to learn.

In 1993 Tatiana visited some Russian artist friends who had moved to Sweden. Being an artist in Russia was hard, and Tatiana wanted to go abroad. Sweden was a beautiful county and seemed exciting, and one year later Tatiana moved to Sweden.

In Sweden Tatiana started to paint in water-colours. She had tried it before, but finding the right material in Russia wasn\'t easy. But in Sweden you could easily get hold of all kinds of papers and colours. Nowadays Tatiana paints almost only in water-colours, as she thinks that it is a technique that fits her well and that the colours are so beautiful.

Today Tatiana works full time as an artist. She has exhibitions in galleries in Sweden and takes orders from companies and private persons. She also gives classes in water-colour painting.
Source: http://www.tatianakotliarova.com/ (2010)
Tatiana Kotliarova kommer från St Petersburg i Ryssland. Redan som liten tyckte hon mycket om att måla och Tatianas mamma uppmuntrade dotterns intresse genom att köpa konstböcker och ta med henne på konstutställningar på helgerna. När Tatiana var sju år började hon gå i konstskola på eftermiddagarna efter skolan.

När hon var 16 år och hade gått klart skolan började Tatiana leta efter en ateljé, med det var svårt i Sovjet och privatlektioner var dyrt. I stället började Tatiana på en kurs på Designhögskolan, och efter bara några gånger erbjöd en av lärarna henne en plats i hans konstnärskollektiv. Läraren hade en takvåning i St Petersburg där ungefär 40 unga konstnärer fick hålla till gratis på dagarna och på kvällarna undervisade han dem i olika tekniker.

Några år senare kom Tatiana in på Institutet för Konst och Grafik i St Petersburg och gick en femårig konstutbildning där. Före Sovejetunionens fall fanns det inga privata gallerier i Ryssland. Ville man ställa ut sin konst i statliga konstaffärer var man tvungen att tillhöra föreningen för Sovjetiska konstnärer, men att komma in där var svårt och ens konst skulle passa regimen. Tatiana försörjde sig genom att göra väggmålningar och tavlor till offentliga lokaler.

1989 öppnade det första privata galleriet i St Petersburg och man kunde sälja sin konst där om den föll galleriets ägare i smaken. Men det fanns fortfarande bara ett galleri och konstnärerna var många, och Tatiana började kopiera kända flamländska konstnärer som Jan och Pieter Brueghel och Isaac Sorreau, både för att försörja sig och för att det var lärorikt.

1993 hälsade Tatiana på några ryska konstnärsvänner som flyttat till Sverige. Att leva som konstnär i Ryssland var svårt, och även Tatiana ville flytta utomlands. Sverige hade en vacker natur och verkade spännande, och ett år senare flyttade Tatiana hit.

Det var först i Sverige som Tatiana började måla i akvarell. Hon hade försökt i Ryssland, men att få tag på rätt material där var inte lätt. Men i Sverige fanns alla möjliga sorters papper och alla färger som behövdes. I dag målar Tatiana nästan bara akvarell eftersom hon tycker att det är en teknik som passar henne bra och att färgerna är så vackra.

I dag arbater Tatiana som konstnär på heltid. Hon ställer ut konstverk på gallerier i Sverige och tar beställningar från företag och privatpersoner. Tatiana håller även kurser i akvarellmålning.
Source: http://www.tatianakotliarova.com/ (2010)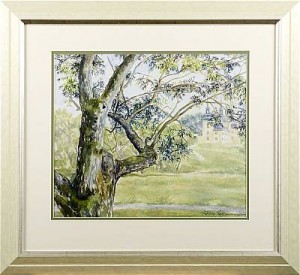 Price SEK 0 (€0) Not sold
Estimated SEK 1,500