Thomas Sidney COOPER

1803–1902, England
Name
Thomas Sidney COOPER
Birth
1803, 26/9, England
Cooper was born in Canterbury on 26 September, 1803. He studied under Doyle, a scene painter and himself began his career as a scenery painter. In 1823 he moved to London and studied with George Richmond and Catterson Smith at the British Museum. Cooper traveled throughout his life, visiting France, Holland, the Isle of Wright, Switzerland, and Skye, and lived in Brussels in the late 1820s, where he taught. He was friends with William Burgess of Dover, a landscape artist, and the painter Eugene Verboeckhoven, by whom he was greatly influenced.

Cooper was both a watercolorist and oil painter, cattle and sheep in landscapes being his preferred theme. He began exhibiting at the Academy in 1833, became an Associate in 1845, and was elected a Member in 1867. He was a prolific painter and showed over two hundred and fifty works at the Academy until his death in 1902, examples of which include: Milking Time: Study of a Farmyard near Canterbury in 1834, Scene on a Farm, East Kent in 1839, Peasant Girls Herding Cattle in 1841, Drovers Halting, On their Way Over the Mountains in 1847, A Goat Herd on Moel Shiabod, North Wales in 1848, Ewe Milking in 1853, a Dairy Farm on the Marshes, East Kent in 1861, Sheep Shearing in 1869, The Herdsman's Charge in 1876, A Group in the Meadows in 1879, Cooper's Shorthorns in 1882, and Return to the Farm: Milking Time in 1897.

Cooper also exhibited at the Royal Society of British Artists, Birmingham; Glasgow Institute of Fine Arts; Royal Hibernian Academy, Royal Institute of Oil Painters, British Institution, Society of British Artists, and New Water-Colour Society. He founded the Sidney Cooper Art Gallery in Canterbury in 1882.

Institutions holding his works include the Birmingham Museum and Art Gallery; the Tate Collection, London; and the Victoria and Albert Museum, London.

Cooper died near Canterbury in February 1902.


Source: http://www.redfoxfineart.com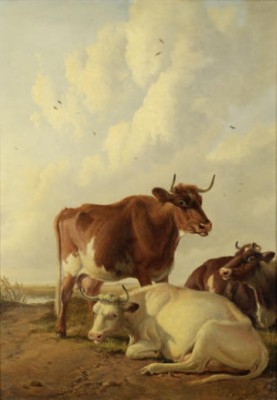 Cattle In A Meadow
(1877)
Price GBP 0 (€0) Not sold, incl. buyer's premium
Estimated GBP 2,000–3,000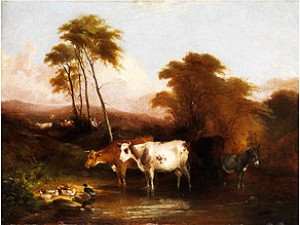 Hirtenvieh An Der Wassertränke In Spätsommerlandschaft
Price EUR 0 Not sold
Estimated EUR 1,200–1,500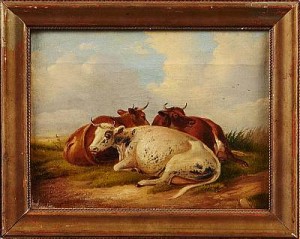 Liggande Kor
Price SEK 0 (€0) Not sold
Estimated SEK 5,000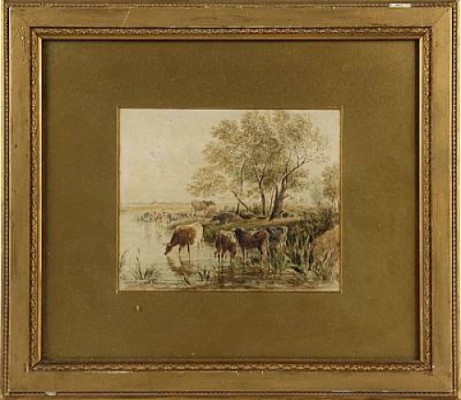 Vattendrag Med Kor
Price SEK 0 (€0)
Estimated SEK 1,500