Thomas FEARNLEY
1802–1842, Norway/Germany
Also known as: TF

Verdict of guilty
01KB-76141-00606-86. (PHM 1332.10.21d)
Oil on board, signed "TF". Ostensibly depicting a genuine painting by the Norwegian artist Thomas Fearnley (1802-1842). The painting has been seized by police and after examination been assessed as a forgery.
Oljemålning på board, signerad "TF". Skenbart föreställande en äkta målning utförd av den Norske konstnären Thomas Fearnley (1802-1842). Målningen har tagits i beslag av polis och efter utredning bedömts som en förfalskning.


Maleren Thomas Fearnley, Oslo 1932
Following a long sojourn in Norway, his home country, during the summer of 1836, Thomas Fearnley travelled to London, arriving in October that year. Once established in London he made many new friends and exhibited works at the Royal Academy and at the Royal Society of British Artists. He also became the first honorary member of the newly founded Etching Club in London. In August 1837, he arrived in the beautiful Lake District in Cumbria, a landscape immortalised in verse by the British poet William Wordsworth. In Dentdale, he met the painter Charles West Cope - an English friend from his years in Italy - and together the two friends set out to explore the landscape. Thomas Fearnley painted in and around Rydal, Vast Water, Coniston Water, Keswick and Derwent Water, from which this study, painted on 29 August 1837, stems. The painting, now being offered, has only recently been discovered and is a previously unknown and unrecorded work, which makes it an exciting, beautiful and most important addition to Fearnley´s \"Lake District\" oeuvre.\" The studies Fearnley painted during these six weeks in the Lake District, are considered by both, Sigurd Willoch, the artist´s biographer, and Dr. Frode Haverkamp, The National Museum of Art in Oslo, to be amongst the absolute highlights of a very rich but short career. A career that ended with Fearnley´s premature demise, in Munich, 1842.
Source: Stockholms Auktionsverk, Stockholm Sweden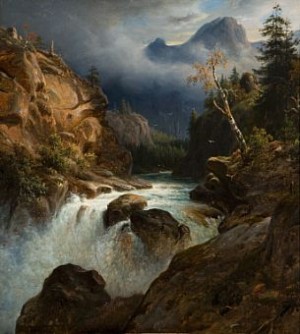 Landskap Med Fossestryk
(1841)
Price NOK 0 (€0) Not sold
Estimated NOK 250,000–300,000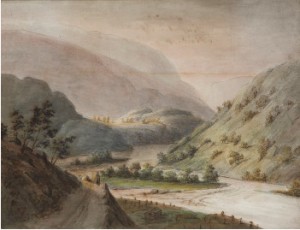 Prospect Of Maaböe Dalen I Eifiord I Hardanger, Bergens Stift
Price SEK 12,000 (€1,349)
Estimated SEK 8,000–10,000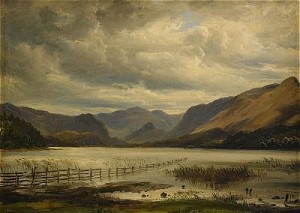 Landskap Från Derwent Water, Lake District
(1837)
Price SEK 270,000 (€25,826)
Estimated SEK 100,000–125,000