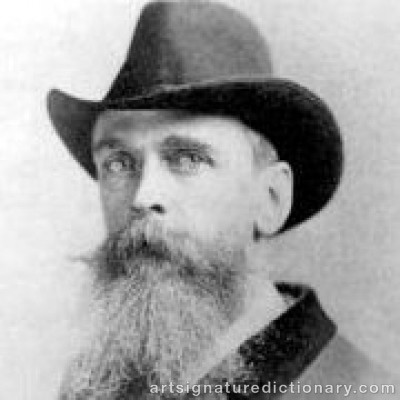 Thomas MORAN

1837–1926, England/USA
Also known as: TM
Thomas Sidney Moran was a 19th Century American artist born in England whose focus was as a painter and printmaker of the Hudson River School. Moran's field of work was primarily landscape painting and his pieces often featured the Rocky Mountains.
Thomas Moran immigrated to America from England with his family as a child. Though he received no formal art training, he was an apprentice to a wood engraver in Philadelphia during his teens. From his experience, he learned the skillful manipulation of texture and value (light and dark), that became so evident in his works. Moran became a western artist after working as an illustrator for magazines including Harper's and Scribner's. At the age of thirty-four, he was invited to accompany Ferdinand V. Hayden's 1871 Geological Survey Expedition to "the Yellow Stone Territory." Also traveling with the Hayden Expedition was pioneer photographer William Henry Jackson, with whom Moran forged a life-long friendship and collaborated on many artistic projects. Moran's paintings of Yellowstone's geysers, hot springs canyons, and cliffs, combined with Jackson's remarkable photos, played a major role in convincing Congress to make the region a national park in 1872. After the Yellowstone trip, Moran's career as an expedition artist and painter blossomed. He continued to travel with subsequent Hayden surveys, and painted Yellowstone, Yosemite, and the Grand Canyon as well as other wilderness regions for the next forty years. In all his works Moran strived to recreate nature colorfully, vibrantly, and idealistically, while at the same time evoking the viewer's strong emotional response. He used many media to achieve his artistic goals and created thousands of oil paintings, watercolors, drawings, and chromolithographs during his long life.

-----------------

Thomas Moran: Regarded as one of the foremost American artists of the nineteenth century, Thomas Moran is best known for his magnificent views of the American West, in particular his detailed depictions of Yellowstone that played a major role in convincing Congress to make the region a national park in 1872. Like the other great landscapists associated with the Hudson River School, such as Frederic Church and Albert Bierstadt, Moran ventured far into nature for firsthand inspiration of the breathtaking scenery he later worked up in the studio from small drawings and watercolors he had produced on site. Though the artist spent a great deal of time painting the American frontier, it is his dreamy, jewel-toned depictions of Venice that perhaps best epitomize his intent to imaginatively capture the romantic, picturesque beauty and the unique sensory experience of a locale, rather than depicting reality in topographically accurate detail. Moran's ability to convey the scenic splendor of the Venice canal in a unique, poetic manner led to the widespread popularity of his views of the Italian city. Born in Bolton, England, in 1837 as one of seven children, Thomas Moran immigrated to the United States with his family in 1844, settling in Philadelphia. At the age of sixteen, he was apprenticed to a local engraving firm and spent his spare time painting and drawing. In 1856 the young artist began exhibiting his work at the Pennsylvania Academy of the Fine Arts. Although Moran was self-taught, he received guidance from the painter James Hamilton, who introduced him to the work of the popular English landscape and marine painter Joseph Mallord William Turner. After studying illustrations of Turner's dynamic paintings, Moran was determined to see the artist's work in person. In 1862 he sailed for Britain and spent several weeks at the National Gallery in London studying Turner's works firsthand. Moran began to emulate the artist's atmospheric, light-filled compositions, deriving inspiration from his striking color effects and masterful handling of light, air and mist. In 1916 Moran moved from his longtime home and studio in East Hampton, New York, to the more hospitable climate of Santa Barbara, California. No longer able to undertake arduous journeys by horse or mule into the rugged mountains and canyons he still enjoyed painting, the elderly artist relied instead upon a trove of plein air reference material he had made earlier, sometimes decades before.




Source: http://www.aspireauctions.com http://fineart.ha.com/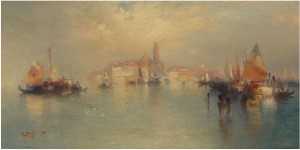 Venice
Price USD 141,450 (€113,655) Incl. buyer's premium
Estimated USD 60,000–80,000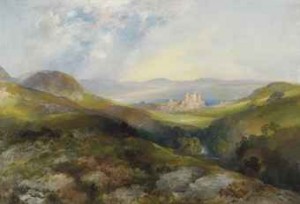 Conway Castle
Price USD 62,500 (€47,818) Incl. buyer's premium
Estimated USD 30,000–50,000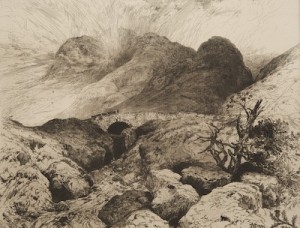 Bridge In The Pass Of Glencoe - Scotland
(1882-1888)
Price USD 161 (€119)
Estimated USD 400–600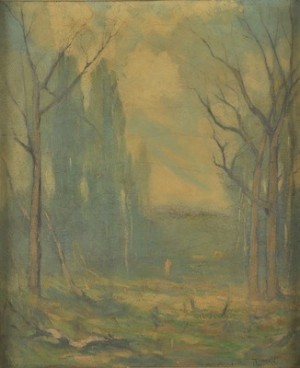 Woodland Landscape
Price USD 489 (€364)
Estimated USD 800–1,200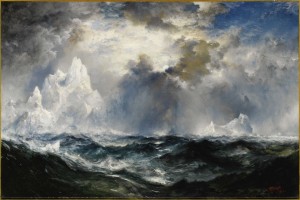 Moonlight. Icebergs In Mid Atlantic
(1910)
Price USD 567,625 (€442,717) Incl. buyer's premium
Estimated –