Thure THÖRN
1918–2005, Sweden
Name
Thure, Waldemar THÖRN
Thure Thörn studied at Skånes Art School, the College of Art in Stockholm and in Italy. He has designed characters portrayed, genreart. sculptures and reliefs. Participated in a large number of Skåne Art Association Fall salons.
Represented: Malmö Museum, Moderna Museet, Stockholm, The Museum of Sketches in Lund has 17 of his preparatory work. These were donated after his death there.
Thure Thörn studerade vid Skånska Målarskolan, vid Konstfackskolan i Stockholm samt i Italien. Han har utformat porträttfigurer, genreart. friskulpturer, Stenblomman, Lund och reliefer. Deltog i ett stort antal av Skånes Konstförenings höstsalonger.
Offentlig utsmyckning:
Passionsblomman, 1963, Fridhemstorget, Malmö. Samling vid punpen, Brunnskaret, 1973, Lilla Torg, Malmö. Fasadreliefer, Rådhusets tillbyggnad, Malmö. Årstiderna, Minneslunden, S:t Pauli mellersta kyrkogård, Malmö. Familjen, 1962, Limhamns torg sydvästra hörnet flyttad från Simmaregatan. Tackling, bronsskulptur, 1969, Hermodsdalsskolan, Eriksfältsgatan 99, Malmö. Utsmyckning i keramik, 1955, bredvid entréerna. Kronborgsvägen 7, Malmö. I ett brev till MKB några år senare skrev han: I uppdraget ingick att jag i mina bilder skulle inkomponera runda glasprismor för ljusinsläpp till trappan. Vidare skulle luftintaget för ventilationen också ingå i bilden. Dessa funktionella krav begränsade i viss mån kompositionen. Mor och barn, 1973, bronsskulptur ca 2 m hög, Harakärrsgården, Åkarp. Vilda djur, Lekskulpturer, Sörbäcksgatan 22-24, Hyllievångsvägen 15, Malmö. Fontänkar, Persborgstorget, Malmö. Keramikreliefer, 1952, Korsörvägen 23 A-B, Malmö. Vattenskulptur, Hårlemans plats, Lund. Skulptur, bronsskulptur, Minneslunden, Fredentorps kyrkogård, Lund. Vattenlek, Föreningstorget, 1972 i Eslöv. Rådhusfontänen, Söderslättshallen, Trelleborg. Skulptur, Liljeborgsskolan, Trelleborg. Gestalt, bronsskulptur, 1990, fd polishuset, Trelleborg. Ömhet, 1968, Barn och Ungdomspsyk, Floravägen 3, Kristianstad. Gravutsmyckning, Härslöv. S:t Franciskus, Djurens vänners begravningsplats, Aggarp. Skulptur, fd regementet, Ystad.
Representerad:
Malmö Museum, Moderna muséet i Stockholm, På Skissernas museum i Lund finns 17 av hans förarbeten. Dessa skänktes dit efter hans död.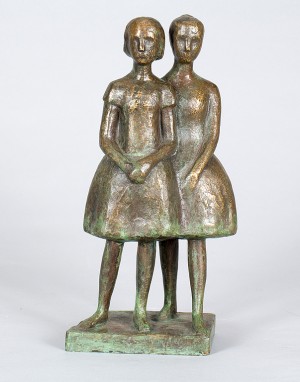 Två Flickor
Price SEK 3,533 (€376)
Estimated SEK 3,000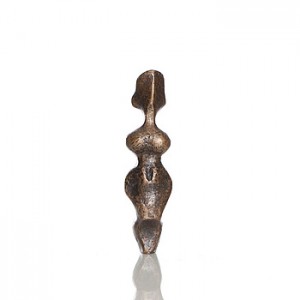 Kvinnofigur
Price SEK 1,500 (€182)
Estimated SEK 2,000

Lekande Former
Price SEK 0 (€0) Not sold
Estimated SEK 6,000–8,000