Timo SOLIN

1947, Finland/Sweden
Lived & Active In
Stockholm, Sweden
1960s At the age of 15–16 Timo Solin starts to embark on art seriously, painting abstract art, listening to jazz and writing poetry. His writing results in a novel and a collection of poems. Neither are published.
Early 1970s Sees for the first time a sculpture by Henry Moore, "Mother and Child", which makes a great impression on him. He begins to sculpture when he is chopping wood for the sauna at the family\\\\\\\'s country cottage. Still writing haiku-like poems.
1975 Moves to Stockholm, where his brother is already living. Studies history of art for a while. Still has a dream of being a writer, changes languages and writes in Swedish – but his work is rejected.
Moves to Öråker\\\\\\\'s Farm north of Stockholm, where he is inspired to make large wooden sculptures in the spirit of Henry Moore. Corresponds with Henry Moore.
1972 First separate exhibition at Galleri Aix, Stockholm. Exhibits at Rottneros Sculpture Park.
1983 Works for the first time in bronze. Marries Tina Dyrssen.
1984 Exhibition at Watatu Gallery, Nairobi, Kenya.
1985 Mälargalleriet, Stockholm. Works primarily with wood, begins to use plywood. His first metal figures.
1986 Exhibitions in London and Madrid.
1987 Exhibition at the Oliva Mara Gallery in Madrid. Article about him written by the critic Jose Ramon Davila in the art magazine El Punto. Participates in Stockholm Mobile, an exhibition arranged by Claes Sweger, who has just returned to Stockholm from New York.
1988 Exhibits at the Schiller Wapner Gallery, New York. Rents a studio on Manhattan close to Madison Square Garden. Meets the writer Jerzy Kosinski and the journalist and newspaper owner Bill Tatum at The Amsterdam News.
1989 A series of exhibitions in the United States.
1990 Galleri Sweger, Stockholm. His first exhibition in France, at the Palais des Expositions in Lyons. Exhibits works at Liljevalchs Art Gallery, Stockholm and at Kalmar Museum
1991 Exhibition in Mexico, Exposition Mexico City. Catalogue in Spanish written by Teresa del Conde of the Museum of Modern Art. Represented at Hafnarfjördur Sculpture Park in Iceland.
1992 Is awarded a Ueno Royal Museum prize at the fourth Rodin Prize Exhibition at the Hakone & Utsugushi-ga-hara Open-Air Museum, Japan. Spends a week in Japan. The Museum buys two five-metre-tall Guardians. Exhibition at Camage Gallery in Västerås and at the Stockholm Art Fair.
1993 Marries for the second time, Helen Cheng. Their son Theodor is born. Exhibitions in Sweden and Germany.
1994 Catalogue published with articles by Nils-Petter Sundgren, Kristina Mezei and Gerard A. Goodrow, Curator at the Ludwig Museum in Cologne. The town of Kristianstad purchases a large Guardian who stands in front of the Art
Hall; exhibition there.
1995 Awarded the Prize for Excellence at the Fuji Sankei Biennal at Utsugushi-ga-hara Open-Air Museum, Japan, where 17 sculptors from seven countries are chosen by a jury from more than 700 works from 50 countries. The Open-Air Museum purchases another work for its collection. Exhibition at Sotheby\\\\\\\'s, Stockholm.
1997 Exhibition at the Jose Luis Cueva Museum, Mexico City. Catalogue with articles by Jose Luis Cuevas and Alejandra Rodrigues Diaz of the University of the New World, Mexico. Begins to make bronzes again.
1998 Exhibitions in Sweden, at Karlskoga Art Gallery and other places.
1999 Exhibits at the Theo Waddington Gallery in Boca Raton, Florida, USA, and in Mariehamn City Park on Åland. Works purchased by Mariehamn.
2000 Exhibits for the first time in Finland, in Helsinki. Participates in art fairs in the the United States.
2001 Exhibits at Galleri Saskia in Tampere, Finland. His parents see Timo\\\\\\\'s work for the first time exhibited in his native town. Participates in the Palm Beach and Chicago Art Fairs in the United States.
2002 Exhibitions in Sweden and further participation at Theo Waddington in the United States.

Up
Price EUR 21,090 Incl. buyer's premium
Estimated EUR 15,000–20,000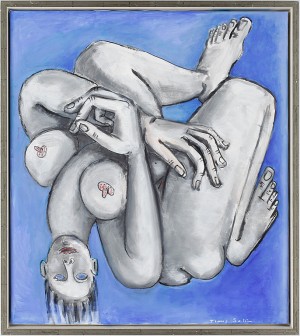 Untitled
Price SEK 4,400 (€497)
Estimated SEK 6,000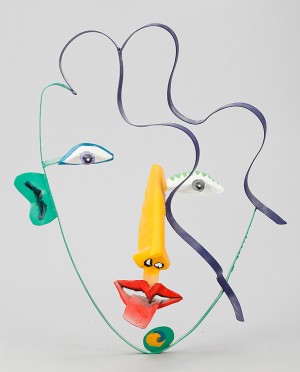 Price SEK 9,300 (€1,006)
Estimated SEK 5,000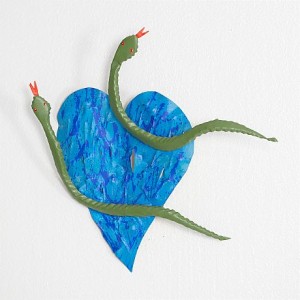 Blått Hjärta Med Ormar
(-74)
Price SEK 1,600 (€195)
Estimated SEK 3,000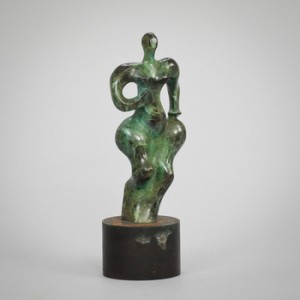 Price SEK 8,400 (€949)
Estimated SEK 10,000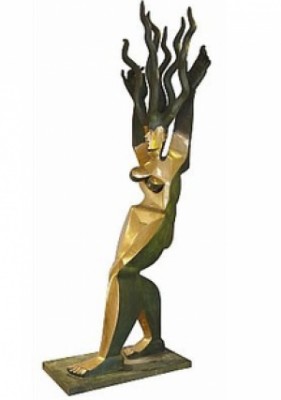 Kvinna
Price SEK 230,000 (€25,263)
Estimated SEK 200,000–250,000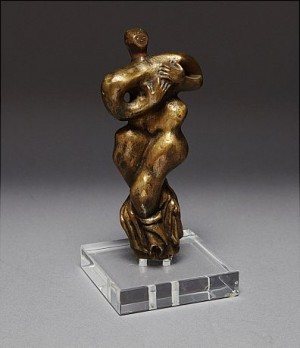 Stående Kvinna
Price SEK 4,800 (€525)
Estimated SEK 6,000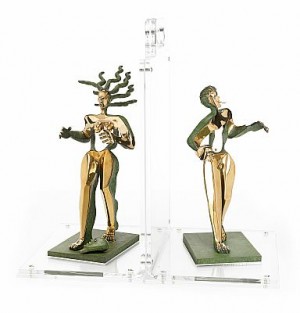 Kvinna - Man Och Hjärta
Price SEK 27,000 (€3,015)
Estimated SEK 30,000–40,000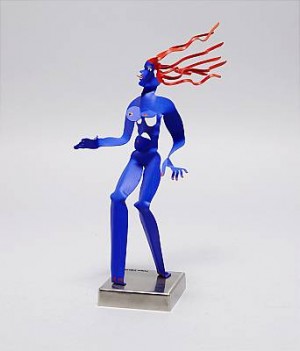 Flicka Med Rött Hår
Price SEK 6,500 (€742)
Estimated SEK 3,000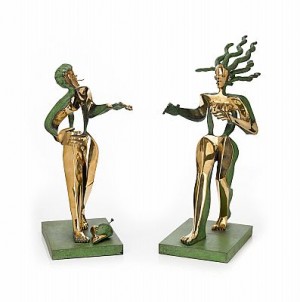 Kvinna - Man Och Hjärta
Price SEK 42,000 (€4,464)
Estimated SEK 30,000–40,000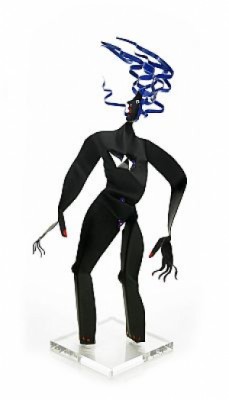 Flicka Med Blått Hår
Price SEK 8,500 (€903)
Estimated SEK 6,000–8,000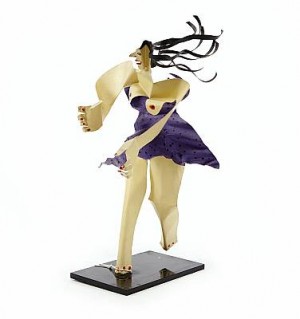 Flicka Med Vind I Håret
Price SEK 6,000 (€650)
Estimated SEK 4,000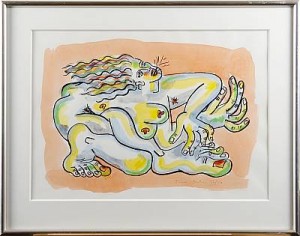 Kvinnokomposition
Price SEK 700 (€69)
Estimated SEK 1,200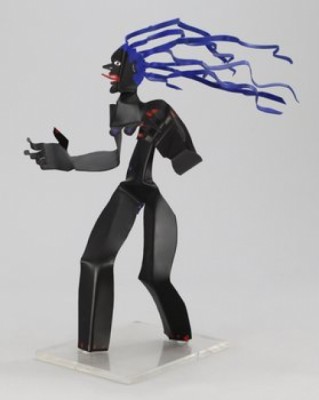 Kvinna Med Blått Hår
(1995)
Price SEK 7,000 (€687)
Estimated SEK 4,000–5,000
Kvinna Med Rött Hår
Price SEK 4,800 (€471)
Estimated SEK 2,000–3,000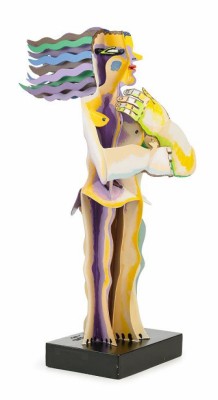 Price SEK 34,000 (€3,177)
Estimated SEK 15,000–20,000