Torfrid OLSSON
1913–2003, Sweden
Name
Torfrid, Johannes OLSSON
Torfrid Olsson was self-taught. He paints images of fantasy landscapes and figurative motifs in watercolor or oil portrait in pencil. He also sculpts in wood and iron. His art is highly abstract and symbolist. Represented: National Museum, Museum of Modern Art, Gothenburg Art Museum, Västerås Art Museum, Umeå Museum, National Arts Council\'s collections, Umeå, Skellefteå and Stockholm city\'s collections and several local governments.
Torfrid Olsson var autodidakt. Han målar fantasibilder med landskap och figurmotiv i akvarell eller olja och porträtt i blyerts. Han skulpterar även i trä och järn. Hans konst är starkt abstrakt och symbolistisk.

Utställningar:
Separat och samlingsutställningar på ett stort antal platser i Sverige, samt Norge, Finland och Estland.

Offentliga uppdrag:
Badhusets entréhall i Burträsk 1974, Byske centralskola 1975, Regionsjukhuset i Umeå 1978, Entréhallen vid Fredsförbandet i Arvidsjaur på uppdrag av Statens konstråd 1980, Arjeplogs sjukhem 1981, Lasarettet i Skellefteå 1983, Industriellt Utvecklingscentrum i Skellefteå 1983, Västerbottensteaterns teaterhus med utsmyckning både inom- och utomhus 1984, Inom och utomhusutsmyckningar i Norsjö 1990-1992, samt en stor skulptur utanför gamla skolan i Bygdeträsk.

Representerad:
Nationalmuseum, Moderna muséet, Göteborgs konstmuseum, Västerås konstmuseum, Umeå museum, Statens konstråds samlingar, Umeå, Skellefteå och Stockholms stads samlingar samt ett flertal kommuner och landsting.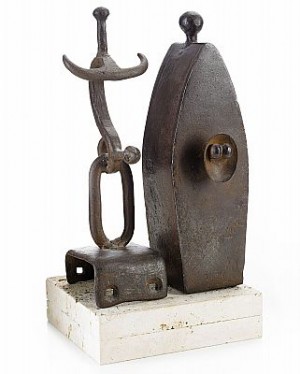 Price SEK 6,000 (€599)
Estimated SEK 2,000–3,000