Tsuguharu FOUJITA

1886–1968, Japan
Japanisch-französischer Maler und Grafiker. Der Künstler war Sohn eines Generals in der kaiserlich-japanischen Armee, studierte an der Akademie in Tokyo, erhielt 1910 einige Medaillen und Preise für seine Arbeiten, der Kaiser von Japan erwarb ein Werk von ihm. Erste Ausstellung 1917 in Paris, zählte bereits 1924 zu den wichtigsten Ausstellern im Salon d'Automne. Ausstellungen in Berlin, London, New York und Chicago. Es wurde ihm die Ehre zuteil, in der Kathedrale in Reims, die er selbst ausstattete, bestattet zu werden.
Source: www.hampel-auctions.com
Japanese-French painter and printmaker. The artist was a son of a general in the Imperial Japanese Army, studied at the Academy in Tokyo, received in 1910 a few medals and awards for his work, the Emperor of Japan acquired one of his works. First exhibition in 1917 in Paris, counted in 1924 to the most important exhibitors at the Salon d'Automne. Exhibitions in Berlin, London, New York and Chicago. He was honored, buried in the cathedral at Reims, which he endowed to be.
Source: www.hampel-auctions.com
Tsuguharu Foujita studerade på National University of Fine Arts and Music i Tokyo. I Paris blev han snart god vän med konstnärerna Pablo Picasso, Juan Gris och Henri Matisse och mötte bland många andra Amadeo Modigliani, Pascin, Chaim Soutine och Fernand Léger. Han tog danslektioner på Raymond och Isadora Duncans legendariska dansskola och kom att kallas för Fou-Fou eller Mad-Mad av sin samtid. Han var synnerligen excentrisk, hans frisyr klipptes efter förebild av en egyptisk staty, han hade ett armbandsur tatuerat runt handleden, ringar i öronen, gick gärna klädd i grekiskinspirerad tunika och bar ofta en lampskärm på huvudet istället för hatt ! Tsuguharu Foujita blev trots detta en av de mest berömda konstnärerna under 1920-talet i Montparnasse och var på toppen av sin karriär mer uppskattad än Picasso (franska staten köpte ett av Foujitas konstverk redan 1926, nästan 25 år före de förvärvade något av Picasso). Foujitas första ateljé låg på 5 Rue Delambre i Montparnasse som utrustades med en riktig modernitet som väckte allas avund: ett badkar med varmt, rinnande vatten ! Många modeller kom dit bara för att få njuta denna lyx däribland den mytomspunna modellen Kiki, som egentligen var Man Rays älskarinna. Foujita fick avbilda henne naken i \"Reclining Nude with Toile de Jouy\". Målningen blev en sensation på Höstsalongen 1922 och såldes för 8.000 francs till en privat samlare redan på invigningskvällen. Vänskapen emellan Foujita och Kiki varade under hela deras liv. Foujita skrev bl a inledningen till Kikis memoarer. Foujita är en av få konstnärer i Montparnasse som kom att tjäna mycket pengar redan i unga år. Foujita levde intensivt och många celebriteter satt modell för honom däribland Gertrude Stein. Tillsammans med Fernand Léger designade han kulisser till kända teateruppsättningar och kostymer åt Rolf de Marées \"Ballet Suédois\". När han inte målade festade han med alla i Montparnasse från Bonnard till Vlaminck och semestrade i södra Frankrike med bl a Chaim Soutine.

Tsuguharu Foujita gifte sig tre gånger. Fernande Barrey, hans andra hustru, mötte han på Café de la Rotonde 1917 och hon blev hans främsta modell i slutet av 1910-talet. 1921 gifte han om sig med Lucie Badoul som han kallade \"Rose Snow\", men äktenskapet slutade tvärt då han fick kännedom om hennes kärleksaffär med den surrealistiske poeten Robert Desnos. 1931 gav han sig iväg till Brasilien och reste under ett par år runt i Sydamerika och ställde ut sina konstverk med mycket stor framgång. 60.000 personer besökte hans utställning i Buenos Aires i Argentina och mer än 10.000 personer sägs ha köat för att få hans autograf ! År 1933 hälsades Foujita välkommen tillbaka till Japan där han firades som en stor celibritet. Under andra världskriget blev han en viktig spridare av militär propaganda och hans konst höjdes till skyarna. Han räknas som en av 1900-talets viktigaste konstnärer i Japan. Efter kriget lämnade Foujita Japan för att återvända till sitt älskade Frankrike där han kom att stanna livet ut. När Foujita dog 1968 beskrevs han i europeiska tidningar som \"en av vår tids viktigaste konstnärer\". Framförallt blev Foujita berömd för sina självporträtt och originella kvinnoporträtt med katter. Påverkad av japanska träsnitt och den japanska bildtraditionen skapade han ett säreget uttryckssätt med en för tiden ovanlig teknik. Med små detaljrika streck mejslar han fram motiven i stark kontrast till den elfenbensvita bakgrunden. Kvinnorna, katterna och han själv träder fram ur ytan och utstrålar självsäkerhet och lugn. Mest intressant räknas hans tidiga Parisperiod före 1931 och resan till Sydamerika, då hans konstnärsskap genomgick en stor förändring. Eftersom Foujita blev en hyllad konstnär redan på 1920-talet inköptes många verk av privatpersoner. Verk av Foujita återfinns framförallt i Japan på Hirana Masakichi Art Museum ( världens största samling av hans konst) och Museum of Contemporary Art Tokyo, i Frankrike på Museum of Montparnasse, Bridgestone Museum of Art och Art Institute i Chicago.
Source: http://www.bukowskis.se/cgi-bin/show.cgi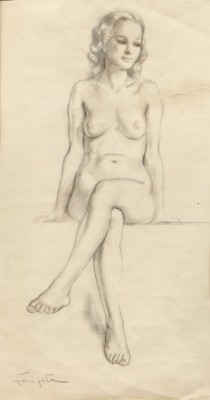 Female Nude
Price USD 3,250 (€2,889)
Estimated USD 6,000–9,000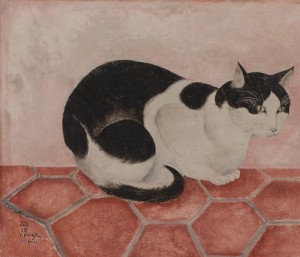 Chat Assis Collioure
(1920)
Price EUR 30,000
Estimated EUR 300,000–50,000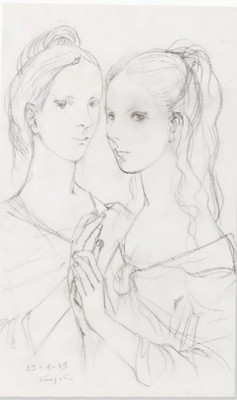 Price EUR 6,000
Estimated EUR 4,500–9,000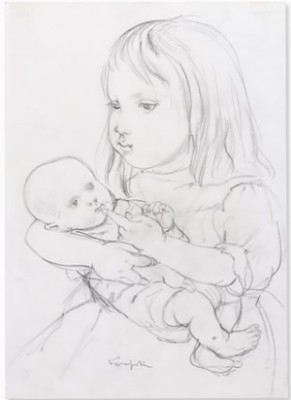 Price EUR 5,500
Estimated EUR 4,500–9,000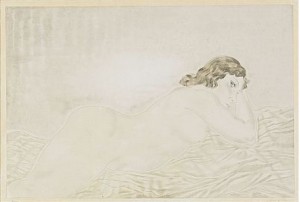 Nu Allongé
(Executed ca. 1930)
Price SEK 22,000 (€2,396)
Estimated SEK 25,000–30,000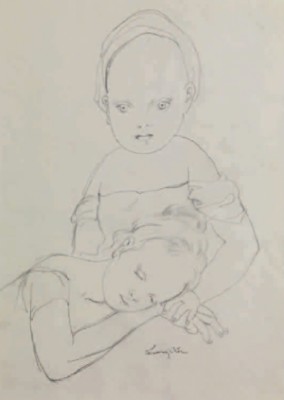 Price EUR 0 Not sold
Estimated EUR 7,000–9,000

Jeune Fille En Rose
Price EUR 11,500
Estimated EUR 12,000–15,000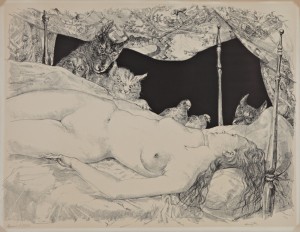 Le Rêve
Price EUR 1,000
Estimated EUR 500–700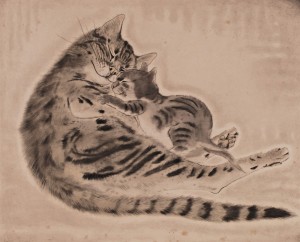 Chatte Et Chaton Endormis
(1929)
Price EUR 4,800
Estimated EUR 1,500–2,000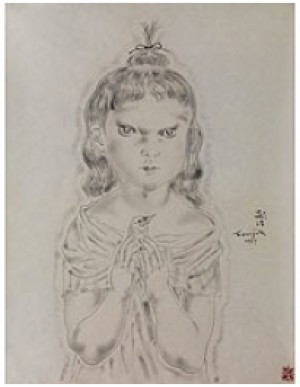 La Fille Avec L'oiseau
(1929)
Price EUR 17,000
Estimated –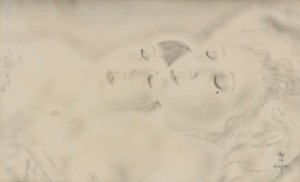 Les Deux Amies
Price USD 25,000 (€19,295) Incl. buyer's premium
Estimated USD 20,000–30,000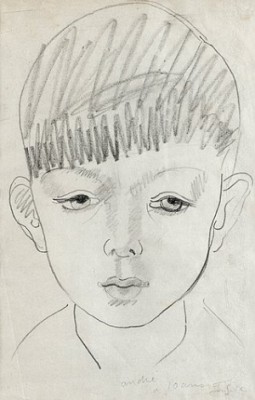 André A 10 Ans
Price SEK 0 (€0) Not sold
Estimated SEK 800,000–100,000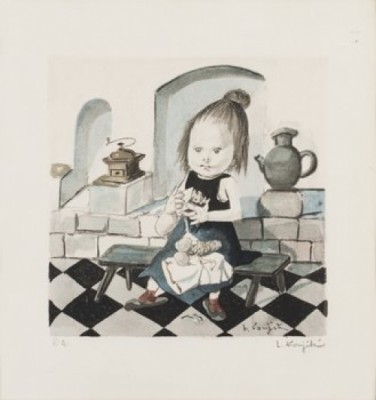 Petit Fille
Price SEK 0 (€0)
Estimated SEK 2,500–3,000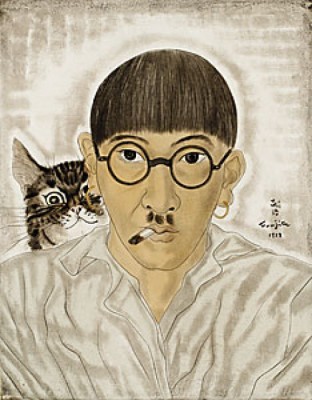 Autportrait Au Chat
(1928)
Price SEK 1,000,000 (€93,458)
Estimated SEK 1,000,000–1,500,000