Tyra KLEEN

1874–1951, Sweden
Tyra Kleen was the granddaughter of Anne Kleen. She studied art in Germany and Paris. She undertook trips to East Asia and the Caribbean. She has painted portraits and figure compositions with native motifs, and illustrated their own travelogues. She has also worked with watercolor, etching, drawing and lithography.
Source: Art Signature Dictionary
Tyra Kleen var sondotter till Anne Kleen. Hon studerade konst i Tyskland och Paris. Hon företog resor till Ostasien och Västindien. Hon har målat porträtt, samt figurkompositioner med infödingsmotiv, samt illustrerat egna reseskildringar. Hon har även arbetat med akvarell, etsning, teckning och litografi.

Utställningar:
Berlin, Wien, Paris, London, St. Petersburg, Rom och Milano. Minnesutställning, 2005 i Riddarhuset i Stockholm. Vem var Tyra Kleen?, med verk av konstnären, upptäcktsresanden och författaren Tyra Kleen 1874–1951. Hon testamenterade sina samlingar till Riddarhuset, med direktivet, att arkivet inte fick öppnas på 50 år. Besökarna fick ta del av ett unikt material.

Representerad: Nationalmuseum i Stockholm.
Source: Art Signature Dictionary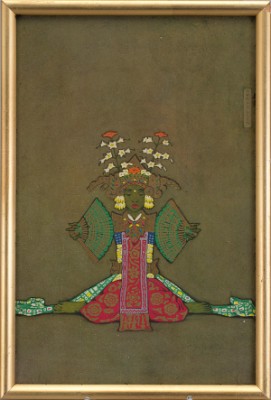 (2) En Krigare Samt En Dansare. Ur "the Temple Dances In Bali"
Price SEK 3,200 (€338)
Estimated SEK 2,000