Willem PAERELS
1878–1962, Netherlands/Belgium

Verdict of guilty
42K1-76141-03066-95
Oil on canvas, marine scene with boats, approx. 48x48 cm. A woman "EI" submitted, in aug. 1994, this painting to a major auction house in Copenhagen, Denmark for sale. The painting was sold for 7.000 DK. The buyer suspected it was a counterfeit and contacted police. During a search of the forger "EI" in Denmark found a painting studio with a great number of counterfeit works of art by famous artists such as William Paerels, Alixis Kreyder, Edward Cucuel, Ilya Repin, Magnus von Wright, Ragnar Ekelund, Fritz Thaulow ... Police also found a large archive that suggested that many forgeries have already been sold in foreign auction houses across Europe. "EI" is of Russian origin and lived for a short period in Denmark. She managed to escape the police and it is believed that she is now based in Holland. After an expert assessment and judgment declared that the painting is not genuine. It is a forgery.
Oljemålning på duk, marint motiv med båtar, ca. 48x48 cm. En kvinna "EI" lämnade in, i aug. 1994, denna målning till ett större auktionshus i Köpenhamn, Danmark för försäljning. Målningen blev såld för 7.000 DK. Köparen misstänkte att det var en förfalskning och kontaktade polisen. Vid en husrannsakan hos förfalskaren "EI" i Danmark hittades en målarateljé med ett stort antal förfalskade konstverk av kända konstnärer som: William Paerels, Alixis Kreyder, Edward Cucuel, Ilya Repin, Magnus Von Wright, Ragnar Ekelund, Fritz Thaulow... Polisen hittade också ett stort arkiv som tydde på att många förfalskningar redan blivit sålda hos utländska auktionshus i hela Europa. "EI" är av ryskt ursprung och bodde under en kort period i Danmark. Hon lyckades undkomma polisen och man tror att hon numera är verksam i Holland. Efter expertutredning och dom förklarades att målningen inte är äkta. Det är en förfalskning.


Willem Paerels

As a student at the Technische Hogeschool in Delft, the young Paerels abandoned his studies and his native land for a precarious existence as a painter in Brussels. He taught himself to paint and quickly came under the influence of Flemish Luminism.
In 1898 he was one of the co-founders of the Brussels association for young, independent painters, «Le Labeur». In 1906 Octave Maus, who ran the most important annual Belgian Salon for contemporary art, «La Libre Esthétique», invited the Labeur members Paerels and Thévenet to join his salon. Maus had vaunting international ambitions and attracted a number of French Fauvists such as Matisse, De Vlaminck and Derain. Paerels came permanently under the influence of Fauvism and together with Wouters and Schirren formed a group who originally called themselves «De Brusselse Coloristen» and later went on to change their name to the «Brabant Fauvists» because of their use of pure colours. The famous Galerie George Giroux in Brussels, founded in 1912, was to exhibit the work of the «Brabant Fauvists» from the very beginning, as a result of which the fame of both the group and the gallery became inextricably linked.
During the First World War Paerels lived in The Netherlands, where he was to create a number of distinctive works using the beach at Scheveningen as his subject. On his return to Belgium after the war, Paerels' work became progressively more robust, and with a tendency more towards Expressionism.
Source: http://www.paol-co.com/search_artist_uk.asp?ArtistID=49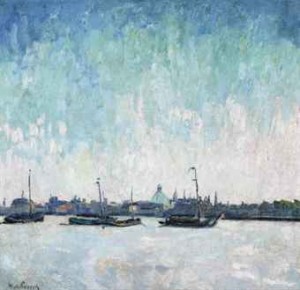 A View Of Amsterdam Seen From The Ij
Price EUR 10,000 Incl. buyer's premium
Estimated EUR 10,000–15,000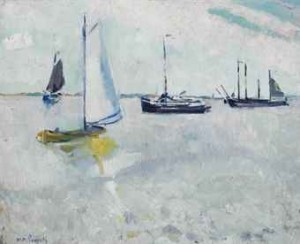 Sailboats Near Scheveningen
(Executed ca. 1915)
Price EUR 15,000 Incl. buyer's premium
Estimated EUR 12,000–16,000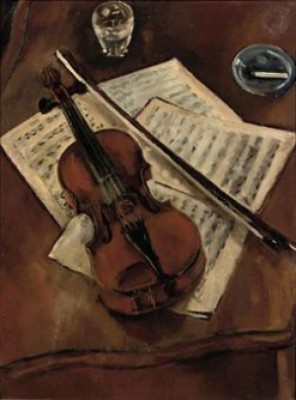 The Violin
Price EUR 1,625 Incl. buyer's premium
Estimated EUR 1,200–1,600