William Smithson BROADHEAD
1888–1960, England
Name
William Smithson BROADHEAD
Broadhead, known to his friends as "Broady", was born in Barrow-in-Furness, England, in 1888. He studied at the Sheffield (England) School of Art and at the Royal College of Art in London, England. He went to Canada in 1911 to take a job as an illustrator. Finding the opportunities for shooting and fishing in Canada altogether too tempting, he moved in the following year to New York City, where he illustrated for Judge. Two years later he was in Germany, where he avoided being imprisoned as an enemy alien by using his employment with Judge to pass himself off as a citizen of the still-neutral United States. Returning to England, he joined the army and fought in France for three years.

From 1920 to 1934 Broadhead lived and worked in London, becoming well known for his horse portraiture. Broadhead was one of a number of English animal and sporting painters and sculptors who visited and lived in the United States in the 20th century by invitation of American patrons who commissioned portraits of their pets, sporting dogs, hunting and racing horses and prized livestock. Some of these artists include, among others, Ruben Ward Binks (qv), Richard John Monroe Dupont (qv), Maud Earl (qv), Peter Howell (qv), Thomas Sherwood La Fontaine (qv), Michael Lyne (qv), Sir Alfred James Munnings, James Lynwood Palmer (qv), John Rattenbury Skeaping, and Martin Stainforth (qv). Broadhead was in the United States from 1934 to 1938, illustrating for such periodicals as Harper's Bazaar and Cosmopolitan. He returned to England to serve in the Home Guard for the duration of the Second World War, coming back to the United States again in 1947. After four years in California and a one-man show in Los Angeles, he lived briefly in Cleveland, OH, and finally settled in Middleburg, VA. He was particularly known for his portraits of thoroughbred racehorses, both steeplechase and flat. One such example was a 1954 portrait commissioned by Mrs. F. Ambrose Clark of New York City and Middleburg of her racehorse, Teamaker, the Champion Sprinter of 1952. Broadhead illustrated his own book, Hoofprints Over America, with a series of Western subjects.

Broadhead exhibited at the Royal Academy of Arts in Londonduring the 1920s, 1930s and 1940s, showing mostly equine portraiture. The National Museum of Racing and Hall of Fame in Saratoga Springs, NY, has an extensive collection of his work. He is also represented in the collection of The Museums of Oglebay Institute in Wheeling, WV. A retrospective exhibition of his works, along with those of Jean Bowman (qv), was held at the Sporting Gallery, Inc. in Middleburg, VA, May 8 - 31, 2006. Paintings in the exhibition included portraits of Ms. Sarita Burton on the Show Horse Holystone, Charles V. Hickox's Five Greys in the Family Class at Madison Square Garden and Crispin Oglebay's polo pony Ticker Tape.

Broadhead was living in the village of Middleburg after about 1951. He died in 1960.
Source: http://www.redfoxfineart.com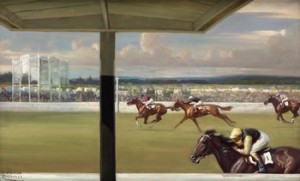 Hästkapplöpning
Price SEK 0 (€0) Not sold
Estimated SEK 40,000–60,000