William PAPE
1859–1915, Germany/Sweden
Name
Friedrich Georg, William, PAPE
Pape studierte zunächst Philosophie und Naturwissenschaften an der Berliner Universität. Anschließend besuchte er dort die Kunstakademie in Berlin. Weiteren Unterricht erhielt er bei Hermann Prell und an der Académie Julian in Paris bei Jules-Joseph Lefebvre and Jean-Joseph Benjamin-Constant. Studienreisen führten ihn nach Italien, Dänemark und Russland. Er malte in Berlin Veduten, spezialisierte sich aber vor allem auf Historienmalerei. Das Bild "Ein Reich, Ein Volk, Ein Gott", das die Feier am 18. Januar 1896 anlässlich des 25. Jahrestages der Deutschen Reichsgründung darstellte, erzielte die Aufmerksamkeit des Kaiserlichen Hofes, der das Bild auch ankaufte.
Das genannte Bild und die Enthüllung des Denkmals Kaiser Wilhelm I. in Berlin dienten ab 1900 als Vorlage der hohen Dauerwerte von 5 und 3 Reichsmark der Briefmarken-Serie Repräsentative Darstellungen des Deutschen Kaiserreichs des Deutschen Reichs. Diese Serie war die Ergänzung der bekannten Germania-Briefmarken für Werte ab einer Mark und wurden daher millionenfach gedruckt. Das Bild der Reichsgründung sowie Die Konfirmation des Kronprinzen und des Prinzen Eitel Friedrich von 1898 befanden sich im persönlichen Besitz Kaiser Wilhelm II. Pape konnte sowohl den Kaiser als auch seine Familie mehrmals persönlich porträtieren. Er benutzte auch das Monogramm WP.
Source: Wikipedia
William Pape studied philosophy and natural science at the University of Berlin at the same time as he visited the Kunstakademie. He soon realized that his artistic talent was dominant and went to Paris where he took lessons at the Académie Julian. This was followed by field trips to Italy, Denmark and Russia. Back in Berlin again he mainly focused in history painting.
His best known work is the Enthüllung des Denkmals Kaiser Wilhelm I, which served as the model for the 5 and 3 Reichsmark stamp. Pape was often engaged to portray the German emperor and his family which also made him a popular artist among the high society in Berlin at the beginning of the 20th century.
Source: http://auktionsverket.se/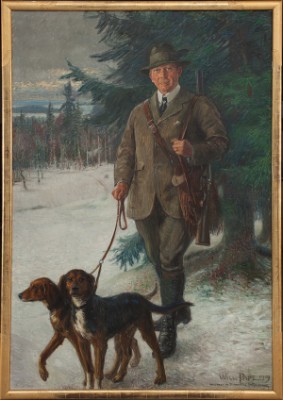 Jägare Med Jakthundar. "vollendet Am St. Annatag Im Fylleskog"
(1919)
Price SEK 28,000 (€3,052)
Estimated SEK 30,000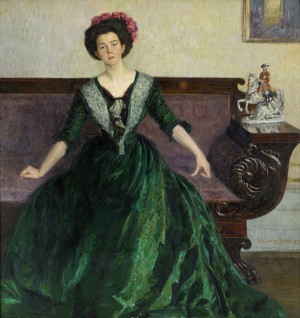 Salongsinteriör Med Elegant Dam
(1909)
Price SEK 67,000 (€7,799)
Estimated SEK 60,000–80,000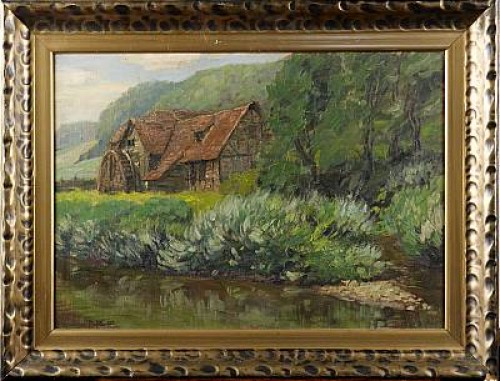 Price SEK 0 (€0)
Estimated SEK 2,000