Wojciech FANGOR
1922, Poland
Also known as: Voy Fangor
Wojciech FANGOR is one of the most outstanding Polish painters. He debuted in 1949 with an individual show at the Young Artists and Scholars Club Gallery in Warsaw. Fangor is the creator of the world\'s first environment art, titled A Study of Space, arranged by the artist together with his friend, architect Stanisław Zamecznik, in 1958 at the New Culture Salon in Warsaw. Fangor\'s paintings also focus on the problem of space. In the years 1966 and 1999, Fangor lived in the United States. He was professor at the painting department at Fairleigh Dickinson University in New Jersey. Fangor, is the only Polish artist, to have been invited to and participated in the famous international exhibition The Responsive Eye at the Museum of Modern Art in New York in 1965, and the only Polish artist to have had, in 1970, an individual exhibition at the Guggenheim Museum in New York. After 1975, Fangor returned to figurative painting. A major exhibition of the artist\'s works was held at the Centre for Contemporary Art in Warsaw in 2003.

\"The prime reactions to Wojciech Fangor\'s work are visual pleasure emanating from a vital painted surface, and curiosity about the technical means through which the artist proposes his intriguing relationship between the color and space\".

\"Exploring colour, space and their manifold relationships as his fundamental means of expression the artist evolved a unique visual language reflecting his artistic interests, discoveries and innovations. His. very personal approach to form and the manner in which it was intended to affect viewers resembled much more closely the three-dimensional perception of sculptor or architects, than that of the painters with their emphasis on the two-dimensional and the mimetic. This phenomenon set Fangor apart from other contemporary painters then focusing on purely formal search, based on the elaboration of the conventional idiom derived from the post-Cubist language of the Ecole de Paris or that of the Bauhaus. His artistic experiments placed Fangor among the leading avant-garde artists of the time in Europe and beyond. The culmination of that recognition within the New York art circles represented the exhibition at the Guggenheim Museum.
Source: http://www.finearts.pl/index.php?ac=100&id=11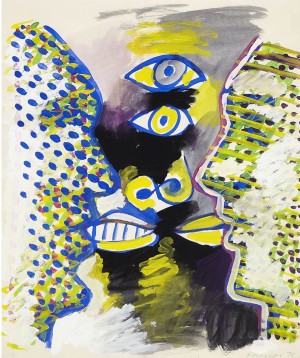 Price SEK 46,000 (€4,694)
Estimated SEK 20,000–25,000