Acke OLDENBURG

1923–2005, Sweden
Acke Oldenburg studied at the School for book and advertising art, and at Valand in Gothenburg, Sweden 1947-1952. He paints fantasy points with a dynamic expressionism and an often aggressive toxicity in color, which associates to the landscape and seasons.

Source: Composed of a variety of sources from the internet.
Acke Oldenburg studerade vid Skolan för bok och reklamkonst och vid Valand 1947-1952. Han målar fantasibetonat med en dynamisk expressionism och en ofta aggresiv giftighet i färgen, som associerar till landskap och årstider.

Utställningar:
Separat i Malmö 1955, 1966. Göteborg 1960, Stockholm 1960, 1965, 1973. Köpenhamn 1963 och i Lund 1963.

Offentlig utsmyckning:
Stucco lustro för Polishuset i Stockholm, teaterdekor för Borås Stadsteater. 1973, betongreliefer i Huddingehallen i Huddinge. Tingshustunneln 1995, målade klinker, Huddinge, Mitt Huddinge, 1985-1990, motivmålade klinker, Myrstuguberget i Huddinge smyckning av entréhallen i kvarteret Domarringen vid Fullersta Torg i Huddinge 1999. stucco lustro på Polishuset i Stockholm, väggmålning på Hotell Galaxen i Borlänge. Karin Boye och Sven X-et Erixson, målade klinker i Huddinge centrum. Fröken Ek, ek, kvarteret Lilla Katrineberg i Liljeholmen i Stockholm.

Representerad:
Moderna Muséet i Stockholm, Göteborgs Konstmuseum, Malmö Museum, Linköping, Falun, Skövde och Norrköpings museum.

Källa: Sammansatt av olika källor från internet.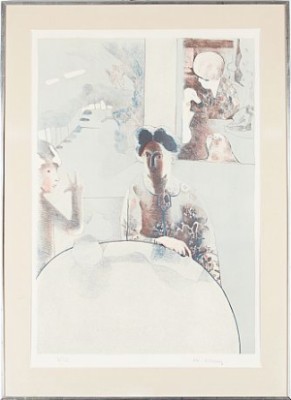 Interiör
Price SEK 300 (€34)
Estimated SEK 800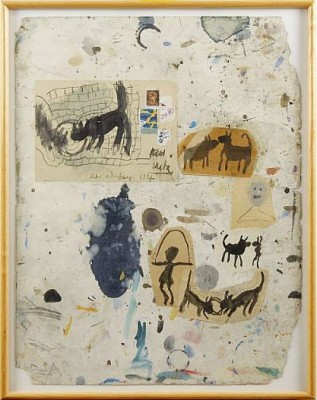 Price SEK 600 (€59)
Estimated SEK 1,000

Price SEK 0 (€0)
Estimated SEK 12,000–15,000