Alberech Ralf Winckler 'A. R.' PENCK
1939, Germany

Verdict of guilty
05338/5338-1. PHM 5338-01
In 1996 received an auction house in Copenhagen, a large painting of "AR Penck" 150x150 cm. The painting came to the auction house with an international carrier. According to a covering letter indicated that "Gaerie Nicolas Burdett in Belgium" wanted the auction house would sell the painting for him. At the auction house began to explore the painting and Galerie Edition Copenhagen, Danny Viet, photographed the painting and sent a photo to Penck, who immediately replied that he had not done this painting. Since it is established that the painting was a forgery, reported Danny Viet this on to the police.
I april 1996 modtog man hos et auktionshus i København et stort maleri af "A.R. Penck" 150x150 cm, bragt til auktionshuset med et internationalt transportfirma. Af et følgebrev fremgik det at "Gaerie Nicolas Burdett i Belgien" ønskede at auktionshuset skulle sælge maleriet for ham. Hos auktionshuset begyndte man at undersøge maleriet og via Galerie Edition Copenhagen – Danny Vieten fotograferet maleriet og sent et foto til Penck, som straks havde svaret, at det maleriet havde han ikke lavet. Da det var slået fast, at maleriet var en forfalskning, anmeldte Vieten det passerede til politiet.
År 1996 mottog ett auktionshus i Köpenhamn, en stor målning av "AR Penck" 150x150 cm. Målningen kom till auktionshuset med ett internationellt transportföretag. Enligt ett följebrev framgick det att "Gaerie Nicolas Burdett i Belgien" ville att auktionshuset skulle sälja tavlan för honom. Hos auktionshuset började man utforska målningen och genom Galerie Edition i Köpenhamn, Danny Viet, fotograferades målningen och skickade ett foto till Penck, som genast svarade att han inte gjort denna målning. Eftersom det fastställts att målningen var en förfalskning, anmälde Danny Viet detta vidare till polisen.










Name
A. R., Alberech Ralf Winckler, 'A. R.' PENCK
A. R. Penck (Alberech Ralf Winckler Penck) biography:

Born in Dresden in 1939, the painter and sculptor Ralf Winkler adopted several pseudonyms. 'A. R. Penck' was the name that followed through and that he is today famous for. He started taking drawing lessons with Strawalde. In the early 1950s, he was trained as an advertising artist. In 1966, he adopted the pseudonym 'A. R. Penck'. As off 1973, he also signed his works with 'Mike Hammer', 'T. M.' or 'Y.'. Whilst his work was under various restrictions in the German Democratic Republic, he received the Wilhelm-Grohmann Award from the Academy of Arts in West Berlin in 1975. In 1976, he made the acquaintance of the artist Jörg Immendorff, with whom he collaborated for a few years. In 1980, Penck moved to West Germany. Three years later, he settled in London, and in 1988 he moved to Düsseldorf for a job as a professor for painting at the Academy of Arts. After his retirement in 2003, he settled in Dublin, where he lives and works today. Works by A. R. Penck are on display in major museums collections, including the Museum of Modern Art in New York, the Städel Museum in Frankfurt/Main, the Kunstmuseum Basel and the Staatsgalerie Stuttgart
Source: http://auctionata.com/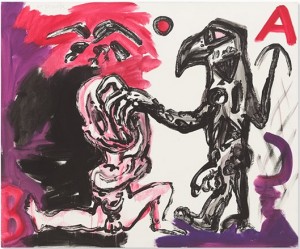 Price EUR 8,000
Estimated EUR 8,000–16,000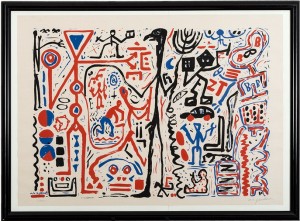 Composition
Price EUR 800
Estimated EUR 700–1,400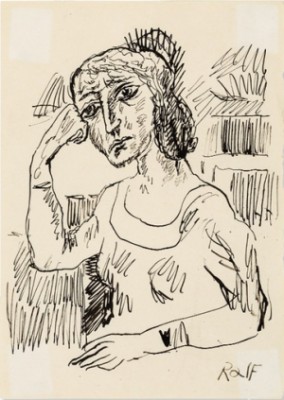 Seated Woman
(Executed ca. 1965)
Price EUR 900
Estimated EUR 800–1,600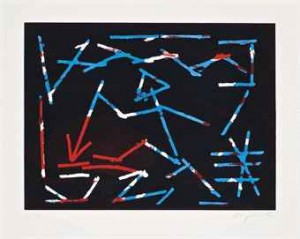 (5) Das Rote Flugzeug; Jule Und Anna; Konzert In München; Welt Des Aldler
(1986-88)
Price GBP 500 (€578) Incl. buyer's premium
Estimated GBP 800–1,200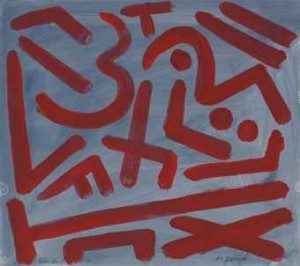 Standard Retro
(Executed in 1999)
Price GBP 10,000 (€11,576) Incl. buyer's premium
Estimated GBP 5,000–7,000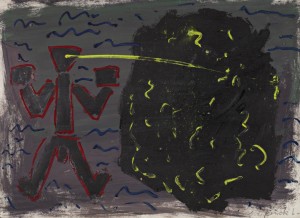 Price EUR 4,000
Estimated EUR 4,000–6,000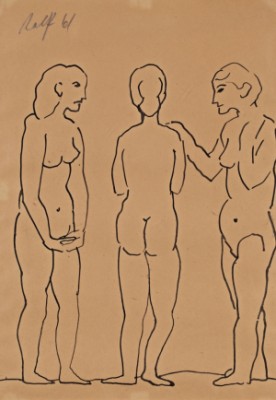 Price EUR 200
Estimated EUR 200–300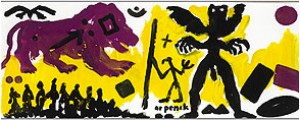 Komposition Ohne Titel
Price EUR 2,700
Estimated –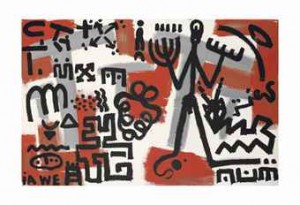 Welt Des Adlers V
(Executed in 1981)
Price USD 110,500 (€86,810) Incl. buyer's premium
Estimated USD 80,000–120,000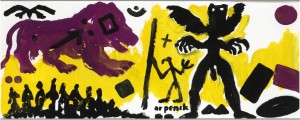 Komposition Ohne Titel
Price EUR 0 Not sold
Estimated EUR 4,000–6,000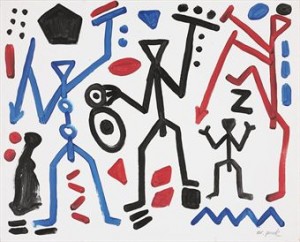 Untitled
Price GBP 18,750 (€22,953) Incl. buyer's premium
Estimated GBP 15,000–20,000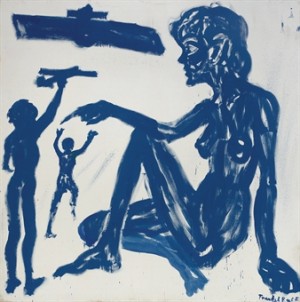 Traudel Rolf
(Executed in 1974)
Price GBP 139,250 (€177,368) Incl. buyer's premium
Estimated GBP 100,000–150,000