Albert ELDH
1878–1955, Sweden
Albert was Eldh was the brother of Carl Eldh. He studied with Richard Bergh of Artist League school in Stockholm and Carl Wilhelmsson of Fine Arts in Gothenburg. He worked primarily with churches, art, frescoes and stained glass. He has painted motifs from the countryside west coast and central Sweden as well done book illustrations and graphics. Represented: Museum in Lund.
Source: Art Signature Dictionary
Albert Eldh var var bror till den kände skulptören Carl Eldh. Han studerade för Richard Bergh på Konstnärsförbundets skola i Stockholm och för Carl Wilhelmsson på Valand i Göteborg. Han arbetade främst med kyrklig konst, kartonger till glasmålningar för kyrkor i Göteborg och i Lysekil. Han har även målat motiv från Västkusten, upplandsslätten, samt stads och hamnbilder från Göteborg. Dessutom fresker och glasmålningar i västsvenska kyrkor, Kronprinsessan Margaretas minnesfönster i Svenska kyrkan i London, samt bokillustrationer och grafik.

Representerad:
Muséet i Lund.
Source: Art Signature Dictionary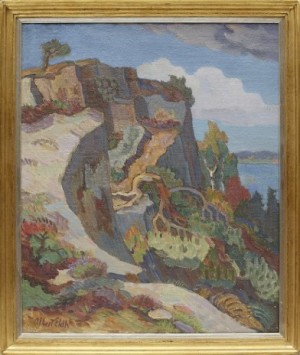 Klippor
Price SEK 0 (€0) Not sold
Estimated SEK 1,500–2,000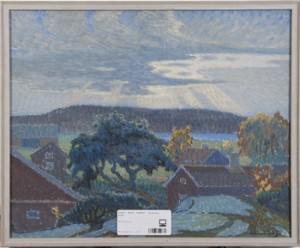 Gård Vid Sjö
Price SEK 200 (€22)
Estimated SEK 1,200