Amalia Ulrika Sofia Von 'Amelie' SCHWERIN

1819–1897, Sweden/Germany

Verdict of guilty
0602-78-265-30. PHM Nr,17
Oil on canvas, landscape with road, cows and houses, signed "A. von Schwerin", 59x49 cm. Ostensibly depicting a genuine painting by Amalia Ulrika Sofia Schwerin. The painting has been seized by police and after examination been assessed as a forgery.
Oljemålning på duk, landskap med väg, kor och hus, signerad "A. von Schwerin", 59x49 cm. Skenbart föreställande en äkta målning utförd av Amalia Ulrika Sofia Schwerin. Målningen har tagits i beslag av polis och efter utredning bedömts som en förfalskning.





Name
Amalia Ulrika Sofia Von 'Amelie' SCHWERIN
Amalia von Schwerin studied in Düsseldorf for her husband Adam Otto von Schwerin, and for F. Voltz in Munich. She usually has painted landscapes from Germany and from Skåne in Sweden.
Amalia von Schwerin studerade i Düsseldorf för maken Adam Otto von Schwerin samt för F. Voltz i München. Hon har oftast målat landskapsmotiv från Tyskland och från Skåne i Sverige.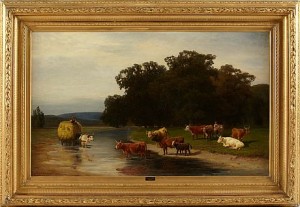 Price SEK 7,600 (€864) Not sold
Estimated SEK 12,000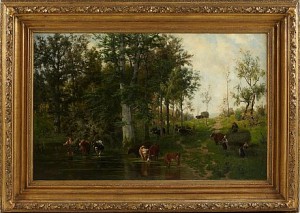 Price SEK 8,400 (€955)
Estimated SEK 12,000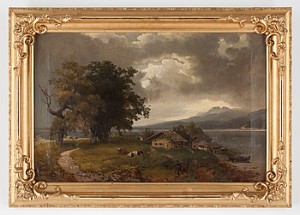 Landskapsbild
Price SEK 3,150 (€355)
Estimated SEK 3,000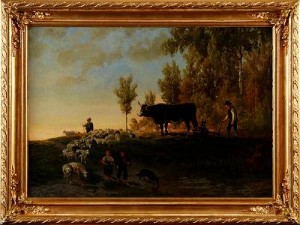 Lanskap Med Figurer
(1870)
Price SEK 6,500 (€613)
Estimated SEK 7,000