Anders KALLENBERG
1834–1902, Sweden
Also known as: Hansson
Anders Kallenberg studied at the Art Academy in Stockholm. From 1867 he worked for Andreas Achenbach at the Academy in Dusseldorf, Paris and in Holland. He painted animals, usually sheep, and landscape.
Source: Art Signature Dictionary
Anders Kallenberg studerade vid Konstakademien i Stockholm. Från 1867 arbetade han för Andreas Achenbach vid Konstakademin i Düsseldorf, Paris och i Holland. Hans tidiga konstnärskap dominerades av en romantisk inriktning, men efter paristiden så inriktade han sig mer på att måla djur och landskap, ofta med slättmotiv och tung luft, men är mest känd för sina realistiskt målade djurtavlor, ofta får. Han har utfört teckningarna till planschverket, Halländska herrgårdar.
Representerad: Nationalmuseum i Stockholm, Göteborgs Konstmuseum, Malmö Museum.
Source: Art Signature Dictionary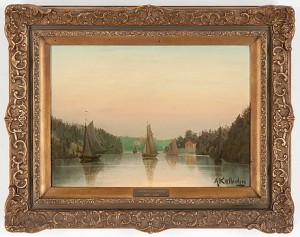 Price SEK 1,700 (€181) Not sold
Estimated SEK 5,000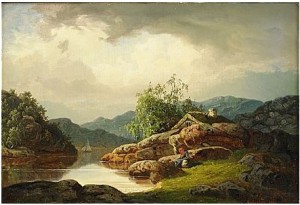 Price SEK 6,500 (€717)
Estimated SEK 6,000–8,000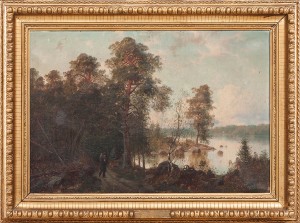 Landskap Med Vandrare
(1867)
Price SEK 3,200 (€354)
Estimated SEK 3,000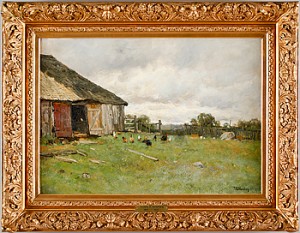 Gårdsexteriör Med Pickande Höns
Price SEK 6,200 (€745)
Estimated SEK 7,000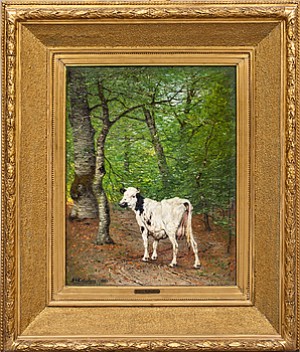 Price SEK 7,700 (€889)
Estimated SEK 3,000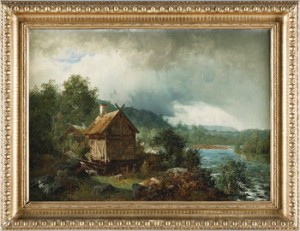 Price SEK 5,700 (€644)
Estimated SEK 5,000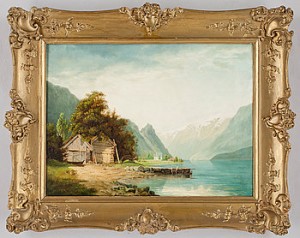 Fjordlandskap
Price SEK 4,200 (€475)
Estimated SEK 6,000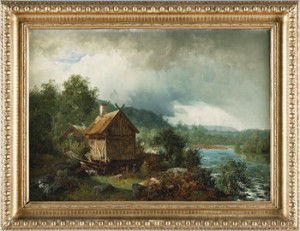 Price SEK 2,200 (€246) Not sold
Estimated SEK 5,000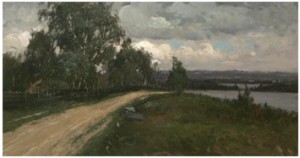 Landskap Med Väg
Price SEK 200 (€22)
Estimated SEK 1,200–1,500